Using trending songs for Tik Tok videos and Instagram reels has evolved as a great way to go viral by fetching the audience's attention. But, with the ever-changing TikTok world, it is super hard to stay with the trend. Not now! As we have made it easier for you. We have searched all the catchy tunes and have come up with a list of the Trending Songs For TikTok Videos in 2022.
To many, TikTok is not more than merely just a joke-filled with crap. But it's not the whole truth! If you understand it, you will get the best out of it. In contrast to the generalized view, this platform is filled with creative videos and gets viral easily.
The list of the popular and trending songs for TikTok videos in 2022 is packed with songs of all genres. From old jazzy beats to modern hip-hip songs, the list has it all for you. The Perfect Trending Songs For TikTok Videos right now are:
"Oh No" by Kripa
"Aesthetic" by Xilo
"Buss It" by Erica Banks
"Lotus Flower Bomb" by Wale feat. Miguel
"drivers license" by Olivia Rodrigo
"Sugarcrash!" by ElyOtto
"So Pretty" by Reyanna Maria
"Dangerous" by Kardinal Offishall
"Vacation" by Dirty Heads
"Streets" by Doja Cat
"Pieces" by Danilo Stankovic
"Up" by Cardi B
"telepatía" by Kali Uchis
"Batman" by LPB Poody
"I Am" by Yung Baby Tate feat. Flo Milli
"oops!" by Yung Gravy
"Caution" by Kaytranada
"It's Not The Same Anymore" by Rex Orange County
"Church Bells" by Carrie Underwood
"UCKERS" by Shygirl
"Day 'n' Nite" by Kid Cudi
Your heart craving for more? Don't worry it was just the ice-breaker. Below is the complete list of the Perfect Trending Songs For TikTok Videos 2022. So, Let's see about these songs as can change your dream of gaining popularity into reality.
Trending Songs For TikTok Videos 2022
Finding a trending song for TikTok is similar to find a lost dress in the women's wardrobe. LOL!!!!. After all, there are a lot of music albums and so many songs to listen to. But still, after a little research and dedicated observation, we have collected the best songs on TikTok for you.
But do you know why need these songs?
Is it just for the purpose of coming up with a fancy video?
No! Instead, 2022 winds suggest that people are getting more hype in promoting their art and businesses through this platform when they use the trending songs for Tiktok Videos. They build a community by sharing what they have for the audience and engage them. It is mostly in the form of videos about singing, portraying talent, and dancing.
No doubt you might have the trending playlist songs, yet those songs cannot be good enough in comparison to your dazzling moves to jazz on them.
So, If you got the moves, we have got the best ever Tik Tok songs. These are:
Havana by Camila Cabello
Shape of You by Ed Sheraan
Thank You, Next by Ariana Grande
Perfect by Ed Sheeran
Mo Bamba by Sheck Wes & Cactus Jack Records
God's Plan by Drake
This Is America by Childish Gambino
Sorry by Justin Beiber
Payphone by Maroon 5
Bohemian Rhapsody by Queen
I Love It by Lil Pump and Kanye West
All The Stars by Kendrick Lamar and SZA
Boys by Charli XCX
IDGAF by Dua Lipa
Shooting Stars by Bag Raiders
Proud by Rita Ora
Love Scenario by iKON
No Tears Left To Cry by Arian Grande
Thunder by  Imagine Dragons
All I Want For Christmas Is You by Mariah Carey
Friends by Anne Marie
Attention by Charlie Puth
In My Mind by Dynoro and Gigi D'Agostino
Mia by Drake
What Lovers Do by Maroon 5 featuring SZA
Pray For Me by Weekend and Kendrick Lamar
Sicko Mode by Travis Scott
The Spectre by Norwegian DJ and record producer, Alan Walker
Girls Like You by Maroon 5 
Notice Me by Post Malone
Alone by Alan Walker
Dura by Daddy Yankee
Kiss and MakeUp by Dua Lipa
Shallow by Lady Gaga and Bradley Cooper
Pretty Girl by Maggie Lindeman
In My Feelings by Drake
Without Me by Halsey
Sunflower by Swae Lee and Post Malone
No Romance by Lura and Ruggerio
Done For Me by Charlie Puth
Tik Tok by Kesha
Paper Planes by M.I.A
Work by Rihanna Ft. Drake
Cheerleader by OMI
Dusk Till Dawn by Zayn Ft. Sia
How Long by Charlie Puth
I'm The One by DJ Khaled Ft. Justin Beiber
Wolves by Selena Gomez, Marshmellow
All Night by The Vamps
My Girl by Mindless Behaviour
Also, read 10 Most Popular Funny Videos of Khaby Lame That Made Him Go Viral
Trending Songs For TikTok Videos For Couples 2022
All the above songs might be the best but staying in trend also counts for gaining popularity in a short span. Yes, above mentioned songs are trending songs for Tiktok videos 2022 as well, but the latest trends on tik-tok for couples belong to:
Chaos by Rich Brian
The Middle by Zedd
Watch Me by Silento
Stay With You by Cheat Codes
No Limit by G-Eazy, ASAP Rocky, Cardi B
Count On Me by Bruno Mars
Silence by Marshmello Ft. Khalid
A Sky Full Of Stars by Coldplay
Wait by Maroon 5
Heathens by Twenty One Pilots
Delicate by Taylor Swift
Never by Marcus by Martinus
The Weekend by SZA
Rewrite The Stars by Zac Efron Ft. Zendaya
Symphony by Clean Bandit Ft. Zara Larsson
Rockstar by Post Malone Ft. 21 Savage
Closer by The Chainsmokers Ft. Halsey
Your Song by Rita Ora
I Like Me Better by Lauv
Thang Ugly by Jason Derulo
Stay by Zedd and Alessia Cara
Never Be The Same by Camila Cabello
Boom by Tiesto
Now Or Never by Halsey
So Good by Zara Larsson
Young, Dumb & Broke by Khalid
Paris by The Chainsmokers Ft. Halsey
Dat Stick by Rich Brian
Pumped Up Kicks by Foster the People
You Should See Me In a Crown by Billie Eilish
Stargazing by Travis Scott
Broccoli by D.R.A.M ft. Lil Yachty
Likey by Twice
Mic Drop by BTS
Take You Down by Illenium
Seve by Tez Cadey
Wonderland by Caravan Palace
Butterflies by Zendaya
Star Treatment by Arctic Monkeys
WHO by Tujamo Ft. Plastic Funk
Zombie by Bad Wolves
Five More Minutes by Scotty McCreery
Fire and Ice by Andrew Smith Ft. Catherine Britt
Slow Dancing In The Dark by Joji
Infra-Red by Three Days Grace
All I Want by Sarah Blasko
Lovely by Billie Eilish & Khalid
Be Mine by Casey Barnes
Ashes by Celine Dion
Waste It On Me by Steve Aoki
Tik Tok Viral Songs By Arianna Grande
"Bang Bang" by Jessie J featuring Ariana Grande and Nicki Minaj
"Focus"
"Don't Call Me Angel" with Miley Cyrus and Lana Del Rey
"Boyfriend" featuring Social House
"Break Free"
"NASA"
"Love Me Harder" featuring The Weeknd
"7 Rings"
 "The Way" featuring Mac Miller
"Break Up With Your Girlfriend, I'm Bored"
"Problem" featuring Iggy Azalea
"Breathin"
"Dangerous Woman"
"Side to Side" featuring Nicki Minaj
"One Last Time"
"No Tears Left to Cry"
"Needy"
"God Is a Woman"
"Into You"
"Thank U, Next"
Tik Tok Viral Songs By BTS
Dynamite (2020)
ON (2020)
Boy With Luv ft. Halsey (2019)
IDOL (2018)
Fake Love (2018)
Euphoria (2018)
Spring Day (2017)
DNA (2017)
Not Today (2017)
MIC Drop (2017)
I Need U (2015)
Silver Spoon / Baepsae (2015)
Cypher Pt. 3: Killer (2014)
No More Dream (2013)
Also, read 11 Most Followed Accounts On TikTok | Expression Queen At 4th Position
Tik Tok Viral Songs By Dua Lipa
Swan Song
Scared to be Lonely (with Martin Garrix)
Lost in your light
Break My Heart
Kiss and make up
Levitating
Last Dance
Hotter than Hell
Physical
Don't Start Now
Blow your Mind
We're Good
Be the One
One Kiss
IDGAF
New Rules
Trending Songs For TikTok Videos 2022 By Lady Gaga
The Cure
GUY
Speechless
John Wayne
Gypsy
I'll Never Love Again
Heavy Metal Lover
You and I (Mark Taylor Remix)
Shallow
Million Reasons
Perfect Illusion
Telephone (feat Beyoncé)
LoveGame
Monster
Applause
Stupid Love
Always Remember Us This Way
Born This Way
Just Dance (feat Colby O'Donis)
Marry the Night
Scheiße
Dance in the Dark
Sexxx Dreams
Poker Face
Hair
Judas
Alejandro
Paparazzi
The Edge of Glory
Bad Romance
Trending Songs For TikTok Videos 2022 By Taylor Swift
"All Too Well" (2012)
"New Romantics" (2014)
"Mirrorball" (2020)
"Delicate" (2017)
"August" (2020)
"Long Live" (2010)
"Lover" (2019)
"Blank Space" (2014)
"Dear John" (2010)
"Cruel Summer" (2019)
"Holy Ground" (2012)
"Enchanted" (2010)
"The Last Great American Dynasty" (2020)
"Clean" (2014)
"Fifteen" (2008)
"This Is Me Trying" (2020)
"We Are Never Ever Getting Back Together" (2012)
"The Archer" (2019)
"Seven" (2020)
"New Year's Day" (2017)
Trending Songs By Shawn Mendes
Señorita
Treat You better
Stitches
There's Nothing Holdin' Me Back
If I Can't Have You
This is what it takes
Bad Reputation
Nervous
Lost In Japan
Falling all in you
Mercy
I Know What You Did Last Summer
In My Blood
Something Big
One of Those Nights
A Little Too Much
Dream About You
Monster
Youth
Wonder
Also, read Best Ways to Make Your Own Sound on TikTok to Get it Viral (2022)
Trending Songs By Selena Gomez
Back to You (2018)
Bad Liar (2017)
Wolves (2017)
Souvenir (2020)
The Heart Wants What It Wants (2014)
Slow Down (2013)
Rare (2020)
Me & the Rhythm (2015)
Like A Champion (2013)
Forget Forever (2013)
Come and Get It (2013)
Boyfriend (2020)
Baila Conmigo (2021)
Cut You Off (2020)
Feel Me (2020)
Good For You (2015)
Kill 'Em with Kindness (2015)
Nobody (2015)
Same Old Love (2015)
Vulnerable (2020)
Trending Songs For TikTok Videos 2022 By Beyonce Knowles
"Love on Top," 4, 2011
"Dangerously in Love 2," Dangerously in Love, 2003
"Party" (feat. André 3000), 4, 2011
"Get Me Bodied (Extended)," B'Day, 2006
"Bigger," The Lion King: The Gift, 2019
"***Flawless," Beyoncé, 2013
"Formation," Lemonade, 2016
"Me Myself & I," Dangerously in Love, 2003
"All Night," Lemonade, 2016
"Déjà Vu" (feat. Jay-Z), B'Day, 2006
"Don't Hurt Yourself (Live)," Homecoming: The Live Album, 2019
"The Closer I Get to You" (feat. Luther Vandross), Dangerously in Love, 2003
"Crazy in Love" (feat. Jay-Z), Dangerously in Love, 2003
"Single Ladies (Put a Ring on It)," I Am … Sasha Fierce, 2008
"I Care," 4, 2011
"If I Were a Boy," I Am … Sasha Fierce, 2008
"Daddy Lessons," Lemonade, 2016
"Sorry (Demo)," Lemonade, 2016
"Hold Up," Lemonade, 2016
"Blow," Beyoncé, 2013
Trending Songs By The Weeknd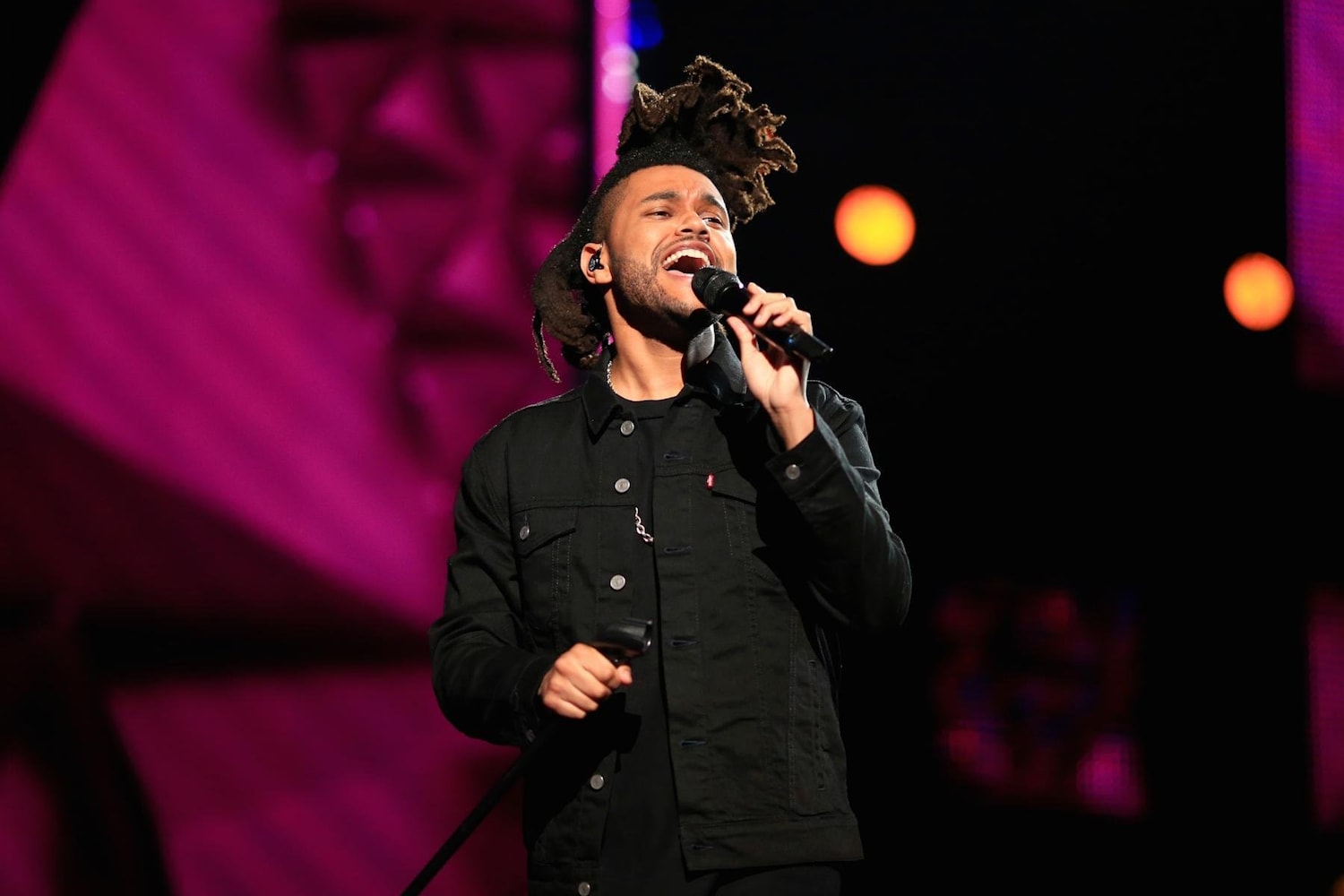 "wicked games," from house of balloons
"loft music," from house of balloons
"the party & the after party," from house of balloons
"call out my name," from my dear, melancholy
"blinding lights," from after hours
"earned it," from beauty behind the madness
"often," from beauty behind the madness
"the hills," from beauty behind the madness
"in your eyes," from after hours
"I feel it coming (feat. daft punk)," from starboy
"can't feel my face," from beauty behind the madness
"tell your friends," from beauty behind the madness
"what you need," from house of balloons
"professional," from kiss land
"the zone" feat. drake, from thursday
Trending Songs By Billie Eilish
'Bury A Friend' (2019)
'Bad Guy' (2019)
'When I Was Older (2019)
'Bellyache' (2017)
'When The Party's Over' (2019)
'&Burn' (2017)
'Everything I Wanted' (2019)
'You Should See Me In A Crown (2019)
'Copycat' (2017)
My Future (2020)
'Ocean Eyes' (2016)
'Ilomilo' (2019)
'Xanny' (2019)
'Come Out and Play' (2018)
'Party Favor' (2017)
'I Love You' (2019)
'All The Good Girls Go To Hell' (2019)
'Bitches Broken Hearts' (2017)
'My Strange Addiction (2019)
'IDontWannaBeYouAnymore' (2017)
Also, read Reels, Triller: Platforms Overshadowing TikTok?
Wrapping Up
So, Tik-Tokers… These are the trending songs for Tiktok videos 2022 that are popular in the social media feed. Even famous celebrities have used these songs.
What are you waiting for now?
Now it's your turn to try these songs and make creative and viral videos out of these Best TIKTOK Songs 2022. Also, tell us in the comment section below, which is your personal favorite song among these.
ENJOY!!!!
Frequently Asked Questions
Which is the most liked video on TikTok by far?
You must be thinking the top one among the Most Liked Videos On TikTok 2022 is of a celebrity or of a cute pet?
If you are nodding as yes, then you are wrong! Instead, the most liked video on Tiktok is of Bella Poarch with 50.0 likes on her TikTok video. She recently got viral because of her cute face and incredible expressions.
Which are the most used Songs On TikTok?
The most used songs on Tiktokare used by almost every person with the trends. These are:
"Laxed [Siren Beat]" – Jawsh 685
"Bagaikan Langit" Cover
"Relationship" – Young Thug ft. Future
"Lottery (Renegade)" – K Camp
"Savage" – Megan Thee Stallion
"Banana [DJ FLe – Minisiren Remix]" – Conkarah ft. Shaggy
"Tampa Curhat Beat"
"Coño" – Puri x Jhorrmountain x Adje
"Sunday Best" – Surfaces
"Say So" – Doja Cat
Who has the most followers on TikTok?
The Reel life Superheros, Celebrities, Famous players, and even the popular BTS are not the Most Followed Accounts On TikTok. Shocking right?
instead, the most followed account on Titok belongs to Charli D'Amelio with 118.8 Million followers