After the hit comeback of several superhero movies, fans are craving for the release of "Venom: Let There Be Carnage." And why not? After all, it is the biggest super movie of all time. If you are one of those eager fans, then marvel movies have come up with the Venom: Let there be Carnage trailer for you. Curious to know about it? If yes, then here is a post to calm your Curiosity.
No matter how many times superheroes movies won millions of hearts by defeating the villains, people are going crazy for Venom. He has been ruling the hearts of Marvel movie fans since the first movie got released. It is evident from the fact that it's been three years, but the craze has not decreased to date.
The Venom: Let there be carnage Trailer rolled out on 2nd August and made every fan curious to know as to what will happen this time. Venom is Marvel's one of most complicated characters. The trailer of the new installment of the series has set a benchmark for the movie.
But, what is there in the trailer? What will be the storyline? What about the cast? When will it release? Oh! So, many questions, but don't worry! We are all set to answer your queries. Below you will get all the answers.
Venom: Let There Be Carnage Trailer Breakdown
Well, you must have seen a lot of superhero movies, but this time get ready to experience the most iconic supervillain movie. This movie mainly emphasizing the two evil spirits fighting against each other.
As soon as the Venom: Let There Be Change Trailer rolled out over the internet, there was a wave of thrill and excitement among the fans about what will happen. As, this time, two supervillains have come forward to fight against each other.
Well, this might be the biggest hit of the Marvel era, and that's exciting! So, let's talk about this in detail.
But before jumping to the Trailer, do you remember how Venom ends?
Well, you must do!
At the end of the saga, journalist Eddie Brock (Tom Hardy) tries to coexist with his symbiote pal Venom (also Tom Hardy).
Since Venom ate criminals (bad guys) to wash out the bad, they both agreed to a decision of not eating anyone, neither good nor bad.
Do you know why?
Ahh! It might sound lame, but Eddie thinks that if he continues to do so, the police take him to area 51, known to be a place for aliens.
This venom sequel has introduced a marvel comic character to the story, Shriek. She is a mutant and has the superpowers to shout with high frequency. Well, what is interesting is that she can produce sonic sounds as well.
But, how is she connected to the story?
So, if you remember, the sonic sounds are the weakness of Venom.
Also, as per the comic, she is the lover of Carnage. So, this means Shriek can help Carnage against Venom.
But wait!
It's about Carnage, so, do you know how he entered the body of Cletus?
As per the comics, Cletus and Eddie were in the same prison. Once Eddie tried to escape from the jail room with the help of Venom, he left a small drop of his essence on the wall. When Cletus came in contact with the vemon drop, he transformed into Carnage.
However, this is not depicted in the trailer.
Also, read 5 Best Superhero Shows on Amazon Prime You Can't-Miss
As per the trailer, Eddie being the journalist went to jail to interview Cletus. A small verbal fight among the two made Cletus eat Eddie's Thumb. That is how venom's blood entered Cletus's body.
When everybody got to know about this incident, they tried to kill Cletus by injecting poison into his body. However, its contrast happened that was beyond everybody's imagination. The reaction between the venom blood and the poison made Cletus develop into Carnage.
And, this gave fire to the deadly red-colored Carnage develop inside Cletus's body.
Now, what's more, interesting to know is that the two have a great symbiotic relationship, and this blend made the two live inside one body with more powers than Venom.
Yes! Even more than Venom!
Since he has more powers than Venom, he is seen overpowering Venom along with Shriek.
Now, All we need to see is who will win among the two and how?
Cast Venom: Let There Be Carnage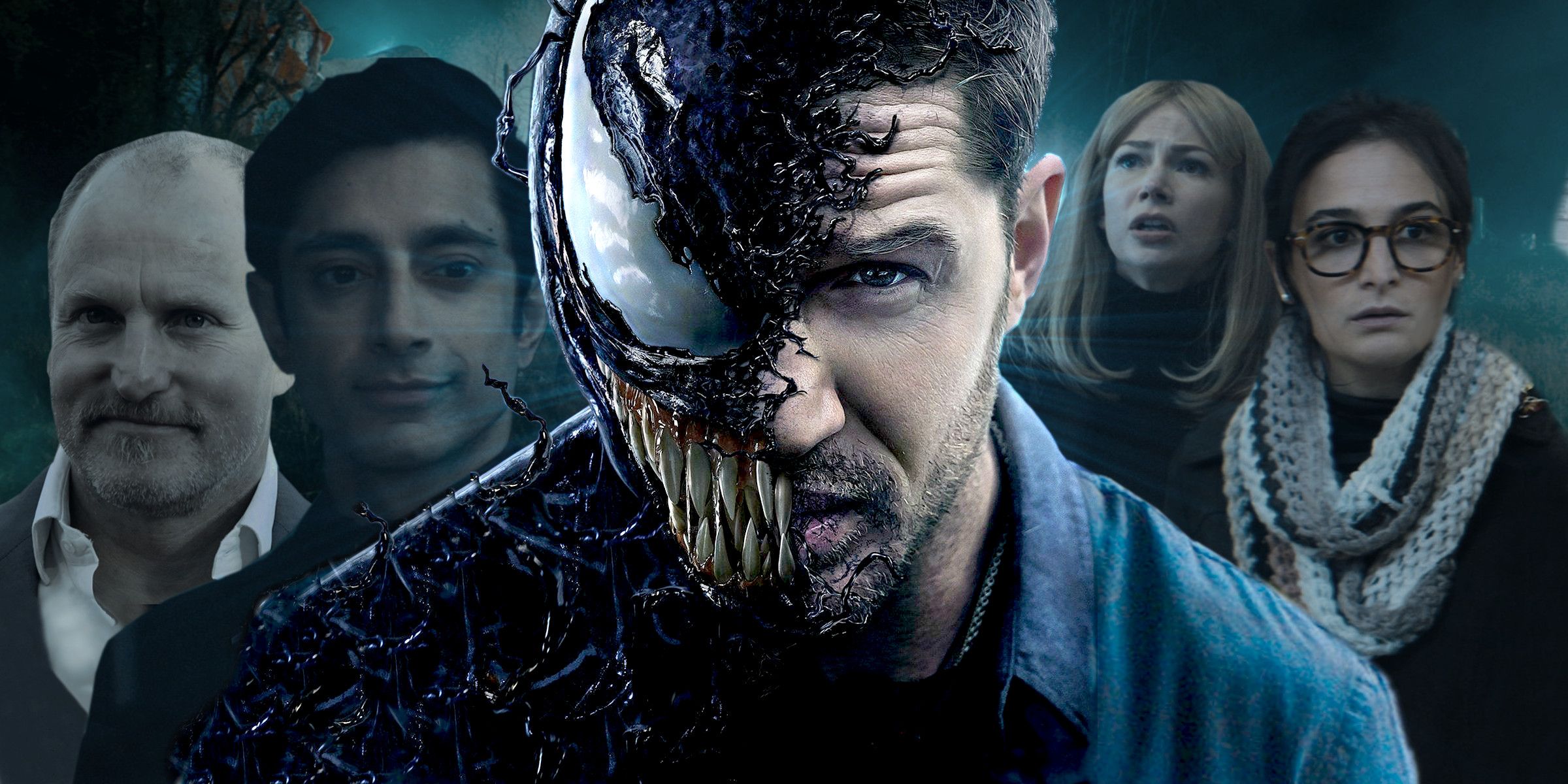 Venom: Let There Be Carnage trailer shows that the cast holds no significant changes for this sequel. You can expect the same faces as Tom Hardy, Michelle Williams, and Reid Scott playing their iconic roles.
But, along with this, Andy Serkis is all set to introduce some new talent in the house, including Woody Harrelson, playing the role of the deranged psychopath turned supervillain Cletus Kasady, aka Carnage. But with them, it is rumored to see Tom Holland (Peter Parker/Spider-Man).
No one knows it is just a rumor or the actual truth.
But, there is a piece of sad news for the Tom howling fans expecting him to be part of this big show. Yeah, you guessed it right! He is not part of the movie!
The complete list of the cast includes:
| | | |
| --- | --- | --- |
| S. No. | Actor | Role |
| 1. | Tom Hardy | Eddie Brock / Venom |
| 2. | Michelle Williams | Anne Weying |
| 3. | Woody Harrelson | Cletus Kasady |
| 4. | Stephen Graham | Detective Mulligan |
| 5. | Naomie Harris | Shriek |
| 6. | Reid Scott | Dr. Dan Lewis |
| 7. | Alfredo Tavares | SFPD Uniformed |
| 8. | Sean Delaney | – |
| 9. | William W. Barbour | Sedan Driver |
| 10. | Peggy Lu | Mrs. Chen |
| 11. | Ed Kear | Reveler |
| 12. | Laurence Spellman | – |
| 13. | Michelle Greenidge | Mugging Victim |
| 14. | Jessie Vinning | Carnival Adult |
| 15. | Etienne Vick | Pedestrian |
| 16. | Otis Winston | Street Man |
| 17. | Andrew Koponen | Police Officer |
| 18. | Mel Powell | Marin County Sheriff |
| 19. | Sean Michael McGrory | Carnival adult |
| 20. | John Lobato | SFPD Officer |
| 21. | Erwin Felicilda | Carnival Adult |
| 22. | Rick Richardson | SWAT Officer |
Also, read 6 Most Entertaining Superhero Movies for Kids: Must Watch in 2021
Venom: Let There Be Carnage | Release Date
The movie was planned to release in 2020, but the pandemic changed the whole plan.
Due to the pandemic, the release date was revised, and it was decided to release this much-awaited venom sequel in Sept 2021. However, the trailer has, now, became the hot topic of discussion and there has been no news regarding the exact release date.
Contrary to this fact, there are rumors that the movie will release on 17 Dec 2021.
Wait! Do know that this was the release date for spiderman's sequel?
So now, if Venom is about to release on the said date, then when will Spiderman's next series release?
Wrap Up:
So, this was all for the Venom: Let there be carnage trailer. This trailer has left the fans with a lot of unanswered questions. Will Carnage overpower Venom at the end? Will Anne die? Will there be room for the third sequel? Or Will vemon die? Well, we cannot say anything about this, but what is sure is that you will never regret watching this movie.
Now, it's your turn to tell us in the comment section what will happen in the film according to you?