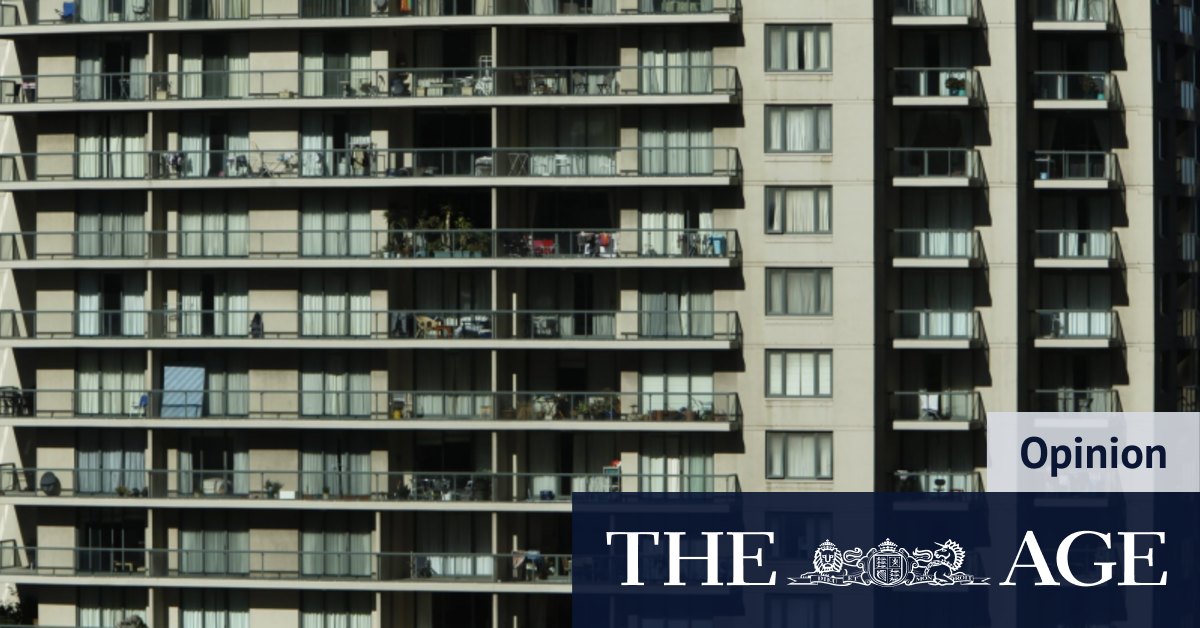 I've always thought seventies modernism rather harsh. Some of the houses were lovely – perched on cliffs, tumbling down hillsides, open to bush or sea. But in the city, all those dull samey towers and endless red-brick walk-ups that Bob Carr so famously loathed seemed austere to the point of meanness. And then there's the loss of what they replaced. The destruction of the fabulous Emil Sodersten-designed Hotel Australia in Martin Place for Seidler's MLC tower is one that still makes grown men weep, and quite rightly.
I love cities, especially Sydney, and especially their ancient inner cores. I support density and renewal. But not like this. Even by comparison with the seventies, this new wave of solid, cheek-to-cheek concrete egg-crates spreading across Sydney feels positively cruel.
Loading
There's a drawing doing the social-media rounds. At first, you think it's an infinite parched landscape, fractured by drought. Then you realise you're looking at the flat roofs of a zillion skyscrapers and the cracks are the narrow chasms in which, 20 or 30 storeys down, human life happens. Look at Wolli Creek, Redfern, Rhodes, Bondi Junction, Bankstown, Parramatta, Green Square, North Sydney, Waterloo, Lewisham. It's ignorant and it's cruel – at many levels: systemically, architecturally, in urban planning terms and in terms of what is destroyed.
Consider, first, the system. I thought I was renting from a common-or-garden agent. In truth, the building is managed by a development company that flogs off-the-plan units, promising a negatively gearable net loss of $10,500 per annum for a unit worth $650,000. There are thousands of these across Sydney, tens of thousands. They promise the investor transparency, certainty and choice. But what the tenants receive is none of those.
What this developer-led pretence of socially beneficial "urban living" and "housing provision" offers tenants is no choice. Your building manager, your property manager and your agent all work for the same faceless company and your utilities are from providers with whom you sign up, in effect, with the lease, at whatever rate they choose.
Then there's the architecture. My life over the last few months offers an accidental case study in urban dwelling types. For half of last year, my home was a 1970s, three-storey brick walk-up in an assemblage wrapped loosely around a stand of immense casuarinas in Glebe. Architecturally it was kinda ordinary. Yet it felt unaccountably sweet. With greenery and outlook, fresh air and cupboard space, it felt benevolent, like the building itself had our backs.
Loading
The current building could hardly be more different. Designed to impress at a glance, but not accommodate, it offers so little storage you can have a bin or a microwave but not both. There's a bath but nowhere for accessories, a screen that makes cleaning almost impossible, toilet-roll holders that involve a full spinal twist and nowhere for dishes to drain. (The dishwasher hasn't ever worked but the agent-cum-manager tells me there's a $450 callout fee payable by me if it's pilot error). Forget towel storage, laundry products or vacuum cleaner. No way.
I chose it for its north-facing balcony and cross-ventilation, which I regard as essential parts of the Anzac birthright (and no, this does not necessitate suburbia). There are two glossy bathrooms but frankly I'd prefer one with cupboards and windows. And although, unlike many, the bedrooms have windows, at least four other apartments look straight into them – and roughly 60 into the living room.
Which brings me to failures of planning. It's hard to say whether they're based on ignorance or cynicism from our governments. Perhaps both. But the whole theory of towers, even commercial towers but certainly residential, is that they consolidate allowable building mass across a site into a taller point, so surrounding themselves with air and sun. The idea that towers can form a solid mass as at Redfern, Wolli Creek or Bondi Junction is an abject betrayal of everything we should strive for in cities.
And although there's no reason for you to worry over my plight, multiply it by half a million and you'll see we are attacking the very essence of Sydney, its sensual delight. Replace delight with slums and people will vote with their feet. Perhaps, indeed, it's already begun.
Elizabeth Farrelly's latest book Killing Sydney will be published on January 26.
Start your day informed
Our Morning Edition newsletter is a curated guide to the most important and interesting stories, analysis and insights. Sign up to The Sydney Morning Herald's newsletter here.
Elizabeth Farrelly is a Sydney-based columnist and author who holds a PhD in architecture and several international writing awards. She is a former editor and Sydney City Councilor. Her books include 'Glenn Murcutt: Three Houses', 'Blubberland; the dangers of happiness' and 'Caro Was Here', crime fiction for children (2014).