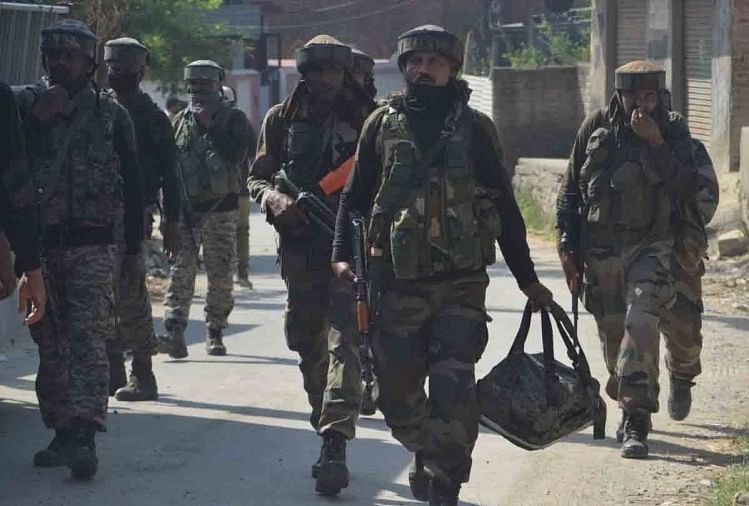 News Desk, Amar Ujala, Jammu
Updated Sat, 26 Dec 2020 11:36 AM IST
So far, two militants have been killed in an encounter with militants that started in the evening in the Shopian district of southern Kashmir. Two army personnel have been injured in the operation. Mobile Internet service in the district has been stopped as a precautionary measure.
Security forces cordoned off the area in Kanigam village of Imam Sahib on Friday on the presence of militants. During this, the terrorists hiding under the apple plantation started firing on the security forces. This triggered an encounter.
Firing from the other side stopped after some late firing. The security forces then sealed all entry and exit doors. Also installed flood lights so that the terrorists do not run away. Late in the night, the terrorists tried to escape by breaking the security cordon, after which the encounter started again. It succeeded in killing a terrorist. After this, the encounter started again on Saturday morning. During this time, another terrorist was killed. The slain terrorists have been identified as Asif Ahmed Lone resident Shopian and Owais Farooq resident Avantipora Pulwama.
DGP Dilbag Singh said that an operation was started in Shopian on specific input yesterday (Friday) night. Two army personnel were injured last night. This operation has succeeded in killing two terrorists. The slain militants belonged to al-Badr, the operation is still ongoing.
Also read: PM likes Mamata-Mehbooba and Congress, and understand the essence of Shah's words
.