Thunderbolt docks are useful devices that make it easy to transform a laptop computer into a desktop while also charging the battery. For years now, manufacturers have been releasing these docks, and while there have been many good ones, none are perfect. And yes, perfection is possible.
Gaming company Razer has announced its all-new "Thunderbolt 4 Dock Chroma," and it probably comes closer to perfection than any other dock I have seen. Unfortunately, it falls short due to a design flaw.
You see, the host port is on the front rather than the rear, meaning you will always have an ugly wire hanging off the front. Very unfortunate. It also lacks a front USB port for connecting flash drives. Ultimately, if the host port was swapped with one of the rear USB-A ports, this thing would be tops.
In addition to the host port, the front has a fast UHS-II SD card reader and a 3.5mm audio jack. On the rear, it has three Thunderbolt ports, three USB-A ports, and Gigabit Ethernet. While there is no HDMI or DisplayPort, that is OK, as the Thunderbolt ports can output video.
Since Razer is primarily a gaming company, it obviously wanted to make the design appeal to gamers, and it has done so with RGB lighting. Wait, a docking station with customizable lights? Yeah. A bit silly, I suppose, but you can always turn it off if you want.
Razer explains, "While other docks are better off left out of sight, the Razer Thunderbolt 4 Dock Chroma was designed as a desktop centerpiece — with its minimalistic design and matte black aluminum finish, users will want it kept up front and center. In a world of dull gray devices, the dock brings every desk space to life with a strip of Razer Chroma RGB lighting that runs along the bottom and can be customized to match any of the 16.8 million colors available in Razer Synapse 3."

Razer shares specifications below.
Connection Type:
Input & Output:
4 x Thunderbolt 4 (USB-C)
3 x USB-A 3.2 Gen 2
1 x Gigabit Ethernet
SD Card Reader, UHS-II
Audio:
3.5mm headphone/microphone combo port
Display Output:
Compatibility:
Windows 10 PCs w/Thunderbolt4 Port or Thunderbolt 3 Port
Mac Systems w/M1 Processors
Mac Systems w/Thunderbolt 3 Port running MacOS 11.1 Big Sur or Later
*For M1 MacBooks only one video output is supported
Laptop Power Delivery:
Thunderbolt 4 Cable Length:
Adaptor:
Finish:
Razer Chroma Support:
Dimensions:
7.48″ x 2.93″ x 1.06″
190 mm x 74.5 mm x 27 mm
Weight: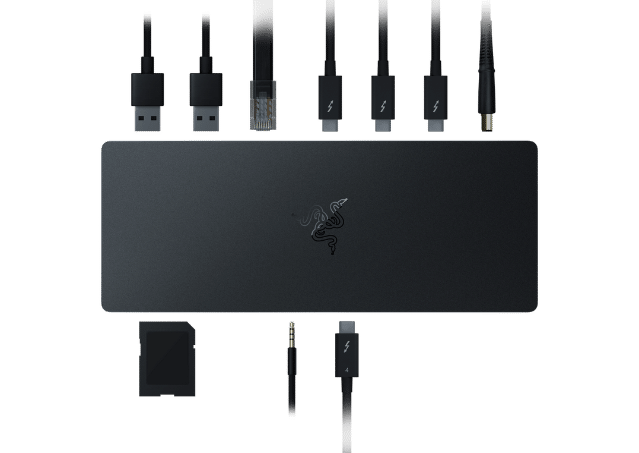 The Razer Thunderbolt 4 Dock Chroma can be pre-ordered immediately here, and it will begin shipping on February 14, 2021 — Valentine's Day. Unfortunately, besides the poorly placed host port and lack of a front USB, there is another downside to this product — the price. Razer is asking $329, which is much higher than some other docks on the market.