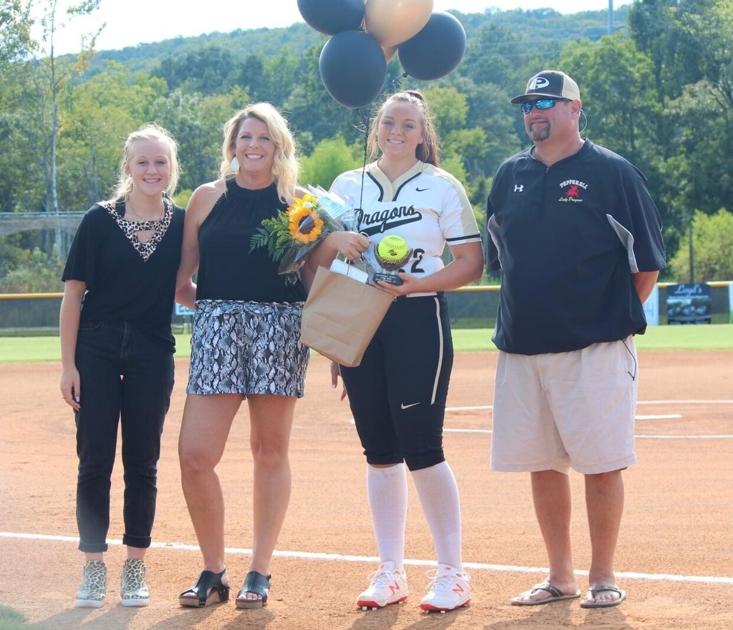 The Pepperell Lady Dragons honored their lone senior, Jacey Blanton, by picking up a 1-0 Region 7-AA victory over the Coosa Lady Eagles on senior night Wednesday. It was Pepperell's first game since Aug. 18 and Coosa's since Aug. 31. 
"The kids never (gave) up," Lady Dragons head coach Jeff Rickman said. "They knew it was a seven-inning game and we had to continue playing great defense against a great Coosa team and we were able to do that. (We) had two great pitchers that threw for us tonight and we were able to back them up."
Morgan Willingham's RBI single in the bottom of the first inning would be all the Lady Dragons needed to secure the win in their opening region contest.
Pitching-wise, both teams were stellar as Pepperell junior Chloe Jones and freshman Caroline Morgan combined for the shutout.
Morgan received the ball to begin the top of the sixth frame. Four of the six outs she required came via punchouts.
"The kid grew up today," Rickman said. "She's a freshman, but she doesn't play like a freshman. She feeds off Chloe as our junior and they both do a great job for us. They complement each other and they've got each other's back and that's what happened today."
Coosa's Abby Jacobs took the loss for the Lady Eagles, giving up just two hits and the aforementioned run.
"She works hard all the time," Lady Eagles head coach Chris Jacobs said. "Super proud of her. She did everything anybody could ever ask of her. I've seen it since she's been 10 years old."
Coosa's bats were quiet for much of the afternoon, striking out 13 times. 
"(Pepperell's) a very good team over there, but we've got to pick up our pitching," Jacobs said. "We had our chances to come in and really score some runs, but we left too many on base and that's part of softball. Fundamentally, we did some things not good."
Prior to the start of the contest, Pepperell High School honored its lone softball senior Jacey Blanton. Rickman described Blanton as a "competitor."
"She competes night in and night out," Rickman said. "Great kid (and) great family. I've enjoyed coaching her over the last four, five years. She's a great team leader this year and she's making our team better."
The Lady Dragons have a home-and-home against Fannin County with the Lindale matchup scheduled for Monday.
After a quick road trip to Adairsville, the Lady Eagles return home for senior day versus Armuchee on Saturday.