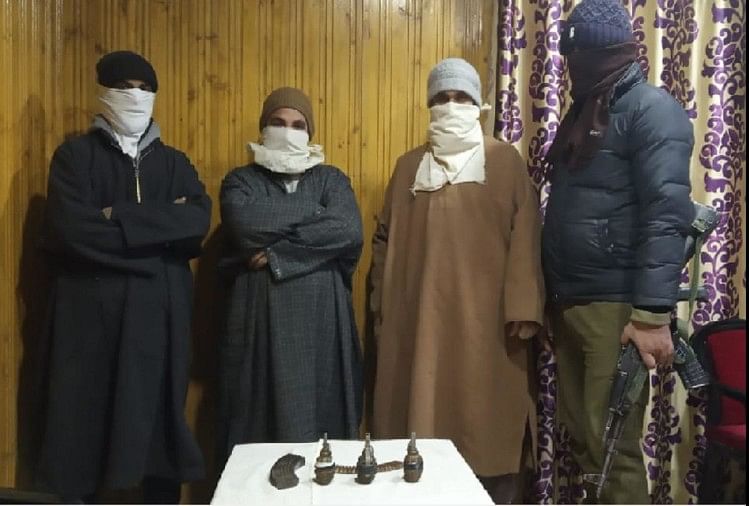 Helpful Arrest …
– Photo: Amar Ujala
In Bandipora district of North Kashmir, a joint team of security forces, while acting on strong information in Rakhi Hajin, arrested three militants of Lashkar group. Three hand grenades, an AK-47 magazine and 21 cartridges have been recovered from them. The police have registered a case and started investigation.
According to a police official, the joint team of the 13 Rashtriya Rifles and the 45th Battalion of the CRPF conducted a Rakhi Hajin joint security operation after strong input. In this, three terrorists were arrested with weapons. He has been identified as Bashir Ahmed Mir, Irrfan Ahmed Bhat and Hilal Ahmed Pare. All of them hail from Hajin.
Initial inquiries have revealed that the three militant groups were linked to Lashkar and helped transport the weapons from one place to another, besides transporting the terrorists in Sumbal and Hajin areas.
Jash helpers arrested from Delhi airport, Jammu and Kashmir police took action

The Jammu and Kashmir Police has arrested Jaish-e-Mohammed's helpers (OGW) from New Delhi's Indira Gandhi International Airport. Munil Ahmed Sophie, a resident of Kanelvan Bijbihara, was caught while he was returning from Qatar.
On Friday, police said that a case was registered against Muneeb and others for involvement in other illegal activities, including collecting money for the terrorist organization Jaish. In this case, another assistant of the terrorists was arrested. He revealed that he along with some youths used to collect money for terrorist organization Jaish-e-Mohammed in different districts of the valley. After this, it was handed over to the munib.

The police officer said that Munib was in contact with terrorist Waleed Bhai of Pakistani origin while staying in Qatar. He used to help purchase arms and ammunition from Pakistan. Please tell that Waleed was killed in an encounter in Kulgam last year. After this, the Jammu and Kashmir police issued a look out notice against Muneeb. Munib was arrested by the police while arriving at the Delhi airport from Qatar. Further action and investigation will be done thereafter.

.