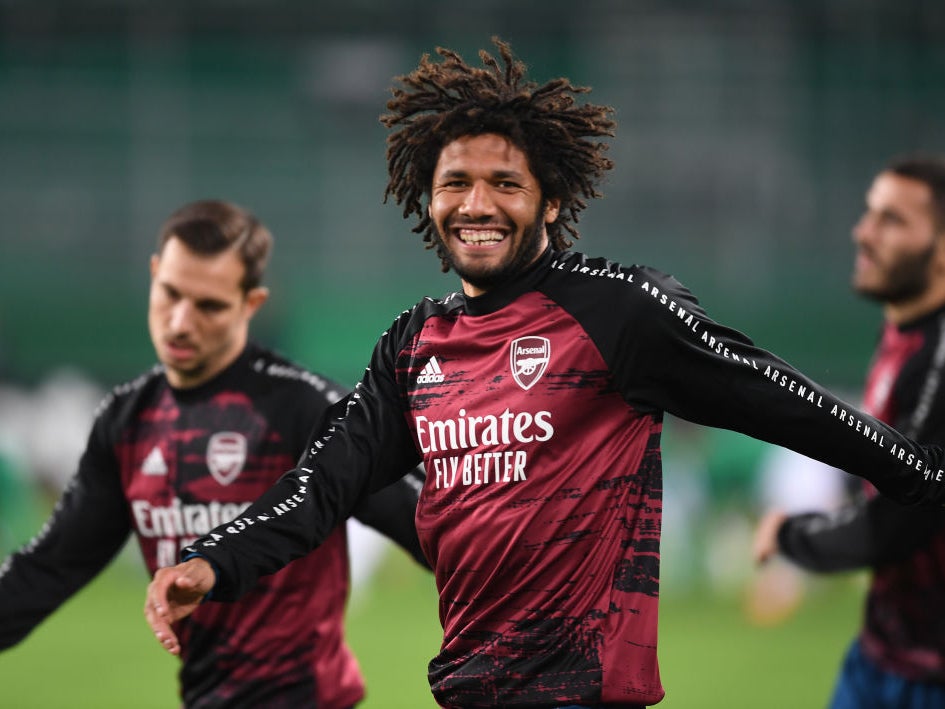 Those final heaving breaths in Arsenal's victory belonged to one man. As the minutes whittled down at Old Trafford, the dread that a magnificent performance might unravel in its dying moments still lingering, Mohamed Elneny embarked on a last terrierish sprint. For 18 seconds, he harassed four Manchester United players, a frizzing, panting blur, until Victor Lindelof panicked and passed the ball out of play. It was gruelling, doggedly determined, and then the final whistle blew. For a player whose career only recently seemed lost on the Turkish coast, every untiring step at a sodden Old Trafford felt as though Elneny was walking on water.
Nobody symbolises Arteta's juddering overhaul quite so fittingly. A defensive midfielder without airs or graces, Elneny's career in north London had long felt like a middling memory, a side note lost amid Arsenal's turbulence. After arriving from Basel in 2016, he never truly established himself in the first team, lacking the technical grace or defensive proficiency to always standout. Instead, his sheer desire often seemed to outweigh his natural talent. It made him popular but ultimately peripheral. And as Arsenal hopelessly attempted to claw back their glory years, Elneny was shipped out on loan to Besiktas. It wasn't official, but it always felt like goodbye.
Except when he returned this summer, the lust for nostalgia at Arsenal had been well and truly eradicated. First by way of despair as Unai Emery's chaotic reign unravelled, and then as new horizons were accepted and sought after under Mikel Arteta. Marked for sale, Elneny found a squad suddenly imbued with a collective mentality, where attitudes had been flattened, whether willingly or by force, responsibilities were shared, and every piece had to fit into one balanced jigsaw, not be built around its most exorbitant or awkward parts. "We feel like we are more aggressive, like everyone just wants to give 100 per cent," Elneny said shortly after returning to the club. "At Arsenal, we always loved to play football but we didn't care [enough] about giving 100 per cent."
And so, whereas Elneny's restraints were once considered a weakness, they are now precisely what are distinguishing himself; a relentless perseverance and spirited determination above all else, a willingness to squeeze himself of every last drop and abide unquestionably by the manager's principles.
When Elneny started in the Community Shield against Liverpool in late August, it was considered something of a shock. He was met with a similar reaction at Old Trafford last Sunday, keeping his place despite the arrival of Thomas Partey, starting ahead of both Granit Xhaka and Dani Ceballos. Really, by now, though, it should no longer come as a surprise. Elneny has started eight of Arsenal's 12 games this season. His aura may be understated, but his presence is certainly being felt.
"What Mo transmits to the team is special," Arteta said last weekend. "He has this energy as a person. He goes in the room and he creates that atmosphere. I like players who have zero ego, who play for the team, who want to contribute regardless of what it is, whether that's one minute or 96 minutes or just by being there."
It's hardly to suggest Elneny will begin masquerading as Fabinho or Fernandinho. His limitations are clear, and he will always be an understated second fiddle, the Robin to Arsenal's £45m deadline day signing Thomas Partey.
But certainly, under Arteta, Elneny has improved. The monotonous sideways passes of old have slowly been replaced by a willingness to take risks, to carry the ball forwards and pick gaps between the lines. He has always been well-drilled and defensively orientated, a workhorse rather than an expressionist, but he is slowly blossoming into something more rounded.
Perhaps, it was always there and it only took Arteta to harness it. The result of a player and manager whose visions harmoniously align. In Elneny, Arteta has a player who will fight breathlessly to uphold his ideals, and is in turn capable of inspiring players around him, often of far greater quality. The Egyptian has transformed from a relic into a mainstay, and while he will not be the linchpin of Arsenal's season, he is the unexpected personification of it.