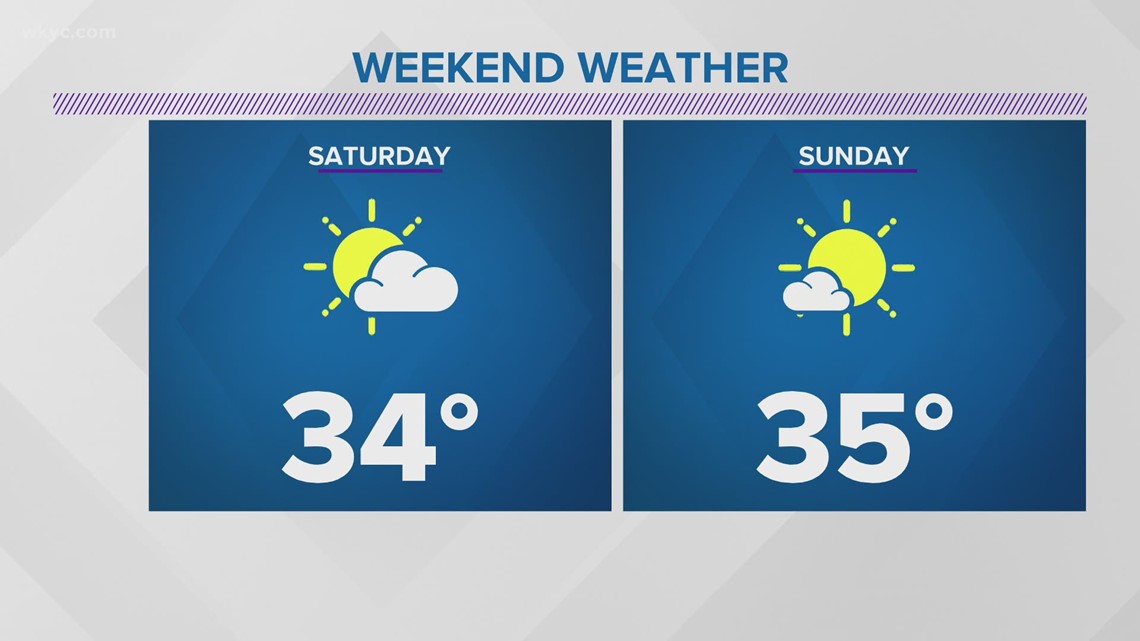 Northeast Ohio will stay cool through the weekend but more sunshine return the next couple days. A big warmup arrives next week!
CLEVELAND — The sunshine is back! Now we just need some warmth… We'll stick with chilly sunshine through the weekend. By Monday, a surge of warm air will push into Ohio, bringing back the 50s and 60s.
THIS WEEKEND
-Mostly sunny (a few more clouds east towards the OH-PA state line)
-Stray flurry early Sunday morning (20%)
-Highs in the 30s (wind chills in the 20s)
We'll shoot back into the 50s and 60s next week before rain arrives by this coming Wednesday.
TODAY: Mostly sunny. Low 30s.
SUNDAY: Partly cloudy. Mid 30s.
MONDAY: Warmer. Some sunshine. Mid 50s.
TUESDAY: Partly cloudy. Mild. Around 60.
WEDNESDAY: Clouds increase, rain moves in late. Around 60.
THURSDAY: Rain. Upper 50s.
FRIDAY: Rain showers. Mid 50s.
SUBSCRIBE: Get the day's top headlines sent to your inbox each weekday morning with the free 3News to GO! newsletter
—————————————————————————————————
Get more weather from the 3News Weather team of Betsy Kling (@betsykling), Hollie Strano (@holliesmiles), Matt Wintz (@WintzWeather) Jason Frazer (@JasonFrazerTV), and Matt Standridge (@StandridgeWX).
►MORE WEATHER | Get the latest weather headlines, video, photos & more
►FACEBOOK & TWITTER | Follow the weather on Facebook and Twitter
►ENVIRONMENT NEWS | Find out more about the world around us
►EARTH & SPACE NEWS | Learn more about our planet and outer space
►WEATHER FEATURES | Read our weather guides, storm reports & more
MORE WEATHER-RELATED HEADLINES: