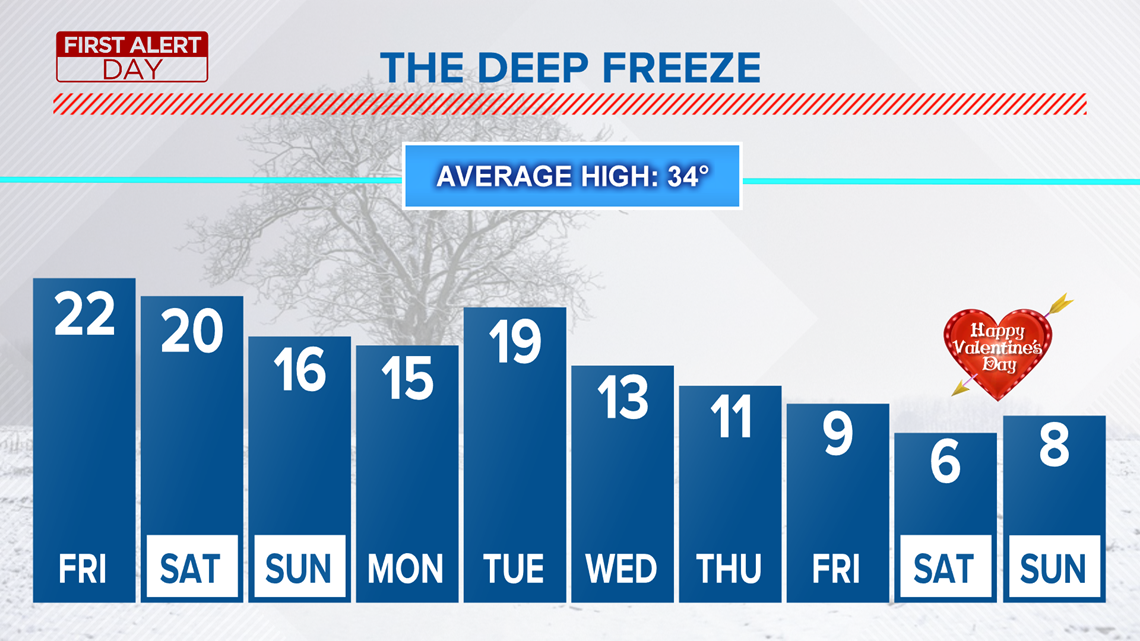 Tonight's temperatures will be cold with a chance of snow Saturday. Then, we see a stretch of FIRST ALERT Days for frigid cold next week.
Chance of Snow This Weekend
Blowing Snow Possible Sunday
FIRST ALERT DAYS Sunday through next week: Arctic outbreak
FIRST ALERT FORECAST
This is only the start of a cold snap that will settle in for much of February.
Tonight will be cold and breezy with flurries. Low temperatures near 10 degrees.
Highs will be in the middle 20s on Saturday with partly sunny weather to start the day. A chance of snow is possible after 8 p.m.
FIRST ALERT Days return Sunday through all of next week as bitterly cold weather grips the area. Snow accumulations will be possible Monday.
Snow chances for both Saturday and Monday would be powdery, fine snow as the temperatures will be much colder.
Low temperatures in the single digits to near zero can be expected much of next week. Subzero temperatures will be possible Valentine's Day weekend.
At this point, it is tough to tell when temperatures will return to normal. The bitter cold is set to run right through the weekend of Valentine's Day. There's not a single temperature above 25 degrees now through at least Valentine's Day. We will remain frozen solid. 
This winter has been pretty mild so far, and our coldest temperature hasn't even dipped into the single-digits. That will change next week as we drop below zero, with the coldest temps likely arriving next weekend.
FIRST ALERT DAYS
FIRST ALERT Days return this weekend for the arrival of arctic air. Snow chances may also accompany this arctic front. Bitter cold and FIRST ALERT Days continue early next week for sub-zero temperatures and frigid wind chills. 
Snow chances are also possible this weekend for Saturday and Saturday night. 
Sunday starts a stretch of several days with highs in the teens and possible low temperatures below zero. This frigid, shattering cold extends into early next week with FIRST ALERT Days set to continue. 
The worst of the winter cold will arrive late on Sunday.  It's likely we may see wind chills of -15 to -25 as the temperatures plummet below zero by Monday morning.  
It is very possible we could have SUB-ZERO wind chills for 72 hours straight hours or longer early next week. The duration of the cold will be intense and dangerous. A couple of rounds of snow and blowing snow will be possible with higher winds. 
Be prepared now for delays, cancelations, travel hazards and extreme and dangerous cold through early next week. 
Weather at a glance:
Tonight:  cold and breezy, flurries.  Lows near 10.
Saturday: partly sunny, chance of snow after 8 pm. Highs middle 20s.
FIRST ALERT DAY Sunday: blowing snow. Highs in the teens.
FIRST ALERT DAY Monday: chance of snow. Highs upper teens.
FIRST ALERT DAY Tuesday: partly sunny. Highs upper teens.
FIRST ALERT DAY Wednesday: partly sunny. Highs in the teens.
FIRST ALERT DAY Thursday: chance of snow. Highs upper teens.
FIRST ALERT DAY Friday: chance of snow. Highs in the teens.
FIRST ALERT DAY Saturday: chance of snow. Highs in the single digits.
FIRST ALERT DAY Sunday: partly sunny. Highs near 10.
Download the WTOL 11 First Alert Weather App for the latest as we keep you ahead of the storm.
WINTER WEATHER OUTLOOK
A forecast for an entire winter season can be complex and challenging. It's similar to baking a cake; if you forget the butter or sugar, the cake will be a bust. 
Similar to weather, you may have many of the ingredients that give clues to how this season may turn out. But if they don't all come together just right, the outcome may be quite different.  
Click here to learn how Chris Vickers analyzed all these "ingredients" along with the La Niña pattern and how they can influence the season this year.
MORE ON WTOL
Winter is coming; here's the winter weather forecast for around the country
Winter weather outlook: An active season ahead
The next storm system will arrive Thursday with a chance of rain. Highs will be near 40 degrees and into the 40s.