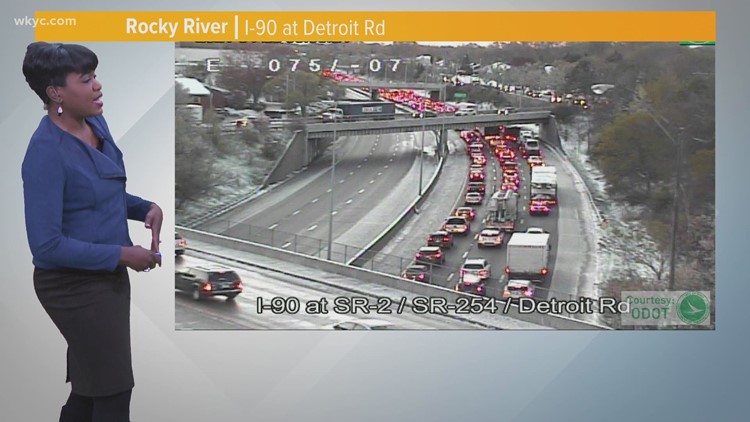 CLEVELAND — It has been a tough morning on Northeast Ohio's roadways as black ice caused tricky travel conditions throughout the region. 
3News' Danielle Wiggins reported early Thursday morning that authorities temporarily closed I-71 at I-480 due to the icy conditions. That roadway has since reopened. Crews also closed I-90 between McKinley Avenue and Detroit Road because of black ice and multiple crashes.
You'll definitely need to give your self some extra time before leaving the house today. Temperatures are expected to climb above freezing between 8-9 a.m. with highs topping out in the mid 40s later today.
Here's a map from ODOT that shows the number of traffic issues throughout the region as of 6:53 a.m.
Follow Wiggins on Twitter @DaniWKYC for the latest traffic updates. Here are the latest time-stamped traffic updates from Danielle's Twitter account:
I-90 remains a problem spot on the west side at 7:29. US 6 is also seeing slowdowns as you're trying to move towards Lakewood. Many drivers may have used this road as a detour option when portions of I-90 were closed earlier this morning. @wkyc pic.twitter.com/KqyKZ6FvO0

— Danielle Wiggins (@DaniWKYC) April 22, 2021
We won't be dealing with any black ice after this anytime soon because a major warm up is heading to Northeast Ohio with temperatures expected to reach 80 degrees by next week.
Editor's note: Video in the player above was originally published on April 19, 2021.