They say it right, brunch is indeed an essential part of the meal, and it has to be done right. The feed can even be better if you're in London and have the perfect brunch with an ideal view. Precisely, a feast for the stomach, as well as for the eyes! Who wouldn't want that? Right? If you too dream of having such a luxurious brunch, then here are the Best Brunch Places with a view in London.
There was a time when people were satisfied with the three meals a day, but there has been a change in food habits with the changing lifestyle. After all, we live in the era of Social media where appearance matters the most. Yes! Flavors are essential, but you cannot deny that the issues of location also matters.
Thankfully, some Best Brunch Places With A View In London like Duck And Waffle are good in both, be it flavor or the location! Whether you're trying to impress a boss, a visiting friend, or you go on a date, this place is going to top your expectations.
But, what is so special about this place? What about their timings? Is the service good? Is it too costly? What about the other areas? Wait! You will get to know all about them below in the post. Let's dive deep to know about all of the Best Brunch Places With A View In London.
Best Brunch Places With A View In London
Brunch is always a treat, but this treatment can become memorable when you get to have that with a perfect view. Just imagine having your food high in the sky with a beautiful view over the capital.
Wow!!! So, Luxurious!
The Best Brunch Places with a view in London that can make you feel this luxury are:
1. Duck And Waffle
With an exhilarating view covering almost all of London, Duck and Waffles are now one of the few best brunch places with a view in London. The restaurant is at your service for a good 24 hours and highly looked for the reservations by the whole city of London cause. It is prevalent among the English folks. 
It is located on the 40th floor of Heron Tower as if right in the heart of the city! Duck and Waffle have to offer you probably the best breakfast with the best view in London- something to look forward to!
Also, read Food That Looks Gross But Tastes Good Like Being In Heaven
2. Seabird At The Hoxton, Southwark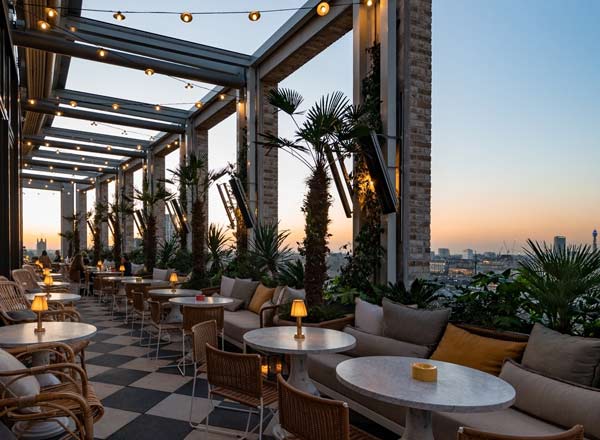 Although named seabird, the restaurant is situated on the 14th floor of the Hoxton hotel in Southwark and is the most suited restaurant for you for brunch if you are not a morning person. The services start around 11:30 in the morning.
The restaurant makes you feel at home with the extra comfort that it has to offer. The softness of velvet cushions with brunch and the exhilarating view of London?
Just what an elite would need in times of stress!
The flowing river Thames, the Houses of Parliament, St Paul's, and The Shard are all in scope. The view is fantastic, and so is the food!
The breakfast and lunch and the brunch that this restaurant with a view in London has to offer are mouth-watering! Seafood charcuterie boards, adding to the list, there are small Mediterranean plates accented by Portuguese and Spanish flavors.
If you ever do visit this best brunch restaurant with a view in London, you'll have a considerable amount of five Bloody Mary cocktail options along with the marmalade-infused Bucks Fizz.
3. Darwin Brasserie, Sky Garden, The City
Oh! The pleasure of choosing from the rare! We got that here for you! One of the only three restaurants where you can enjoy your brunch and some drinks.
Darwin Brasserie is one of the few places to eat located in the sky garden. The restaurant has a breath-taking view that can fill your heart with joy!
What would make you fall for this restaurant is not only the outside but boy, oh boy, the inside! You will fall for it as soon as you take a look! It is simple yet so elegant.
Airy, home of its own!
And the view outside? You might think…
The restaurant offers you the view of the Shard and the Southbank, which are pretty amazing to look at while having your brunch!
4. Laki Kane
Ahan! You've been working hard lately, and that is visible!
Do you know what this time is for now? A brunch with yourself this weekend at Laki Kane! The view of this brunch place will make all your stress go away! With an exhilarating 3-course feast at Laki Kane, your weekend is going to soak all your unnecessary work tension.
This is just what the purpose of this restaurant with fantastic views in North London for! Choose between four sips, from the classic Tommy's mai tai to the fruity granadilla collins.
5. Foxcroft And Ginger
We can't help but say, "do visit there and have a beautiful brunch!" when we hear Foxcroft & Ginger! Especially when there is a working bakery right there!
And now that you are in the beautiful trap of the best brunch restaurant with a view in London don't forget to give yourself a treat for good! It would be best if you had it.
And the dishes? They just hit the right taste bud at the right time! Who wouldn't want that?
6. No 1 Duke Street
A little complicated for the eye to catch but visit again once found! This is the kind of brunch place. No 1 Duke street is.
Clean and open space to look out for, the pretty dishes to eat from, a total #foodporn vibe. Do pay a visit while in London on this masterpiece with a view. And oh! Take a loved one too!
7. Darcie And May Green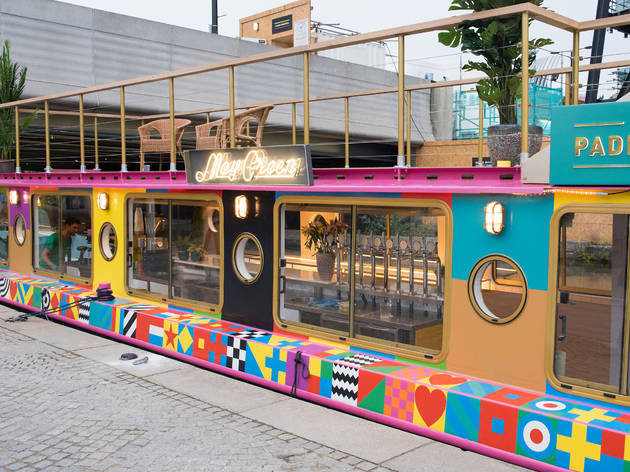 Talk about inspirations? We have a whole Australian Inspired brunch place for you! Darcie And May Green is the place for you to visit if you are a new food blogger.
An exceptional ground floor and a rooftop terrace?
Hell yes!
Guess what? Darcie and May Green got that for you! So level up your Instagram feed and your brunching game with this aesthetically pleasing restaurant with great food!
8. Bottomless Brunch At Hello Darling
Still, worried about a place to go to with your person for brunch? Tell you what, head to Waterloo!
It has it for you- the solution to all your problems! Hello, Darling brings you the perfect bottomless brunch, not just this, welcome cocktails, unlimited pancakes, and entertainment!
The idea of a perfect date!
Also, read Top British Food YouTube Channels You Need To know
9. The Little Yellow Door
Remember how friends sat and had coffee at the Central perk?
Well, the flatmates are now asking you to join them and spend your brunch time with them at The Little Yellow Door, a super comfy flat-themed restaurant that feels like home!
Relax and sit back and grab a cup of coffee with the brunch menu you want to have.
It is as impressive as it sounds.
Doubts? None!
10. The Chapel Bar
When counting the best brunch places with a view in London, The Chapel Bar has to be there in the list. The very essence of the restaurant says so.
The Chapel Bar is the place to escape from reality for noon and relax for a while before returning to the hustle-bustle.
Visit this place for the view, of course, but also for its famous Italian eats! Visit The Chapel Bar this weekend for some extra offers and specials!
Wrap-up:
So, that is all for the 10 Best Brunch Places With A View In London That Feels Like Heaven. All these places are reviewed as the best for formal meetings, a get-together, or dates.
Hey! what's the wait now? Go to these places and experience the best ever brunch meal in these Best Brunch Places With A View In London. But, don't forget to tell us in the Comment section which one steals your heart.
Enjoy!!