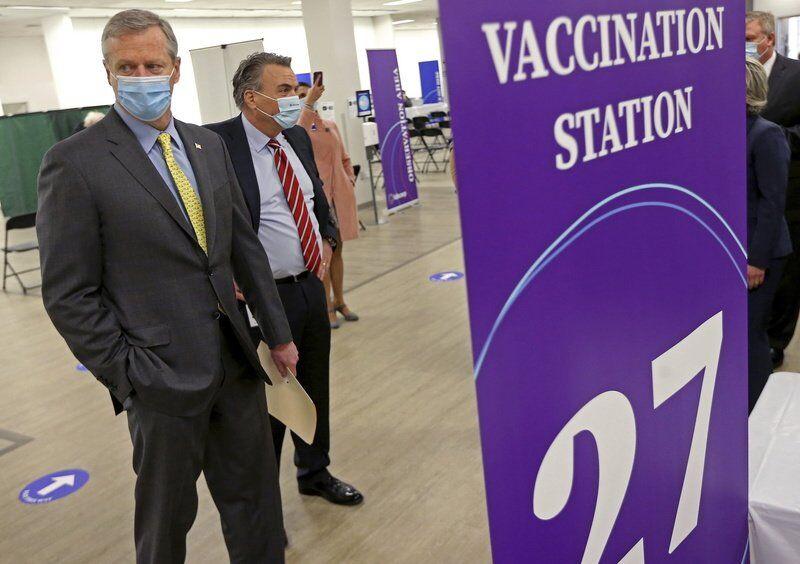 BOSTON — Gov. Charlie Baker acknowledged problems with the state's rollout of COVID-19 vaccines at a legislative oversight hearing on Thursday, but he argued the system has vastly improved and vowed to get more shots into people's arms.
Testifying before the Legislature's new Joint Committee on COVID-19 Emergency Preparedness and Management, Baker defended his administration's handling of the rollout and said the process continues to be hindered by a lack of supply.
"I'm as frustrated and disappointed as anyone," Baker said during the live-streamed hearing. "The biggest challenge we face is a lack of supply from the feds."
Baker has come under growing scrutiny from Democratic lawmakers in recent weeks over the painfully slow rollout of the COVID-19 vaccine and problems with the state's online "vaxfinder" system to book appointments for shots, which crashed last week under a crush of booking requests.
The panel, which will be holding more hearings in coming weeks, was created by House and Senate leaders at the beginning of the two-year legislative session in January.
Sen. Cindy Friedman, D-Arlington, a committee member, described the vaccine rollout as "utter chaos" and said many local health care officials are "upset and demoralized" over the booking and distribution process.
"The fact that I still can't tell my constituents, honestly and with confidence, where and how many of them will get a vaccine speaks to an utter breakdown of planning and communication," she said. "So many people feel anxious, jerked around and unsure of how to navigate the system. And that's just not OK."
In a short but tense exchange, Sen. Eric Lesser, D-Longmeadow, ripped into Baker over his description of the vaccine rollout as "lumpy and bumpy."
"It has not been lumpy and bumpy, it has been failure," Lesser said. "My constituents are justifiably outraged, and asking why the governor of Massachusetts, in the health care and technology capital of the country, cannot figure out how to operate a website."
Baker said the root of the problem lies in a lack of supply. The state gets about 450,000 requests for first vaccine shots a week but only receives an average of 130,000 doses from the federal government, he said.
"The biggest challenge with the website, from the beginning, has been supply," he said. "People get frustrated, and I understand why, when they can't access an appointment."
Throughout the hearing, Baker ticked off details of the state's improving COVID-19 health metrics and increasing numbers of vaccinated people, which include some of the state's most vulnerable populations.
But lawmakers said that progress is overshadowed by problems with the vaccine rollout.
"Unfortunately, these hopeful figures do not tell the whole story," Rep. Bill Driscoll, D-Milton, the panel's co-chair, told Baker. "These numbers hide the confusion caused by frequent pivots and course corrections, and the daily frustrations residents face trying to access the vaccine."
Christian M. Wade covers the Massachusetts Statehouse for North of Boston Media Group's newspapers and websites. Email him at [email protected]