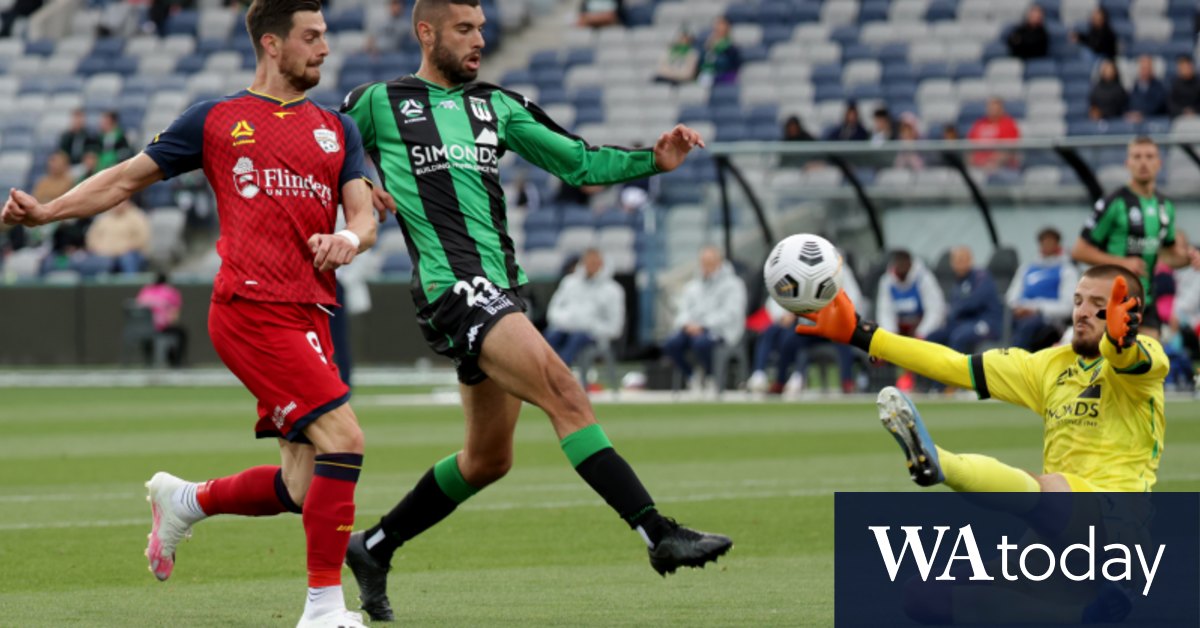 Western have kept the bulk of the squad that got them to within one game of the grand final last season, with only two new players – Victor Sanchez Mata and Lachlan Wales – in the starting line-up for this season-opener.
It was the youngest on the Adelaide team sheet, Dukuly – who returned to his home town after spending two seasons in the Melbourne City youth development system – who made a mark early.
The 17-year-old looked comfortable on the ball and ran at opponents when given the chance, drawing an early save from Western goalkeeper Filip Kurto as Carl Veart's side made the early running.
Western barely got out of their own half in the first ten minutes before their key man, captain Alessandro Diamanti, began to exert his influence, spraying trademark left-foot passes around the Geelong ground.
He linked up well with Dylan Pierias, who has come in at right-back to replace the injured Socceroo Josh Risdon, constantly looking to exploit Pierias' pace as the full-back sprinted down the flank.
But Adelaide continued to press forward, midfielder Joe Caletti finding Strain, who fired over.
The Reds' new goalkeeper James Delianov was at Western United last season and knows the tricks and moves of his former teammates well.
He got down to foil Pierias while at the other end Adelaide's new striker, former Socceroo Tomi Juric, set up Dukuly but the youngster's shot was blocked.
Juric had the best chance to break the deadlock in the first half when he was played through by Elsey's long ball, his lob beating Kurto only for Western defender Tomoki Imai to get back in time to clear the ball before it could bounce into the net.
Delianov against stood up when needed six minutes before the interval to block Diamanti's drive, ensuring both sides went to the interval with clean sheets.
Juric, beginning his second spell at Adelaide after five years in Europe, was giving his team a target and finding space well; he nearly broke the deadlock in the 52nd minute when he got clear of a marker and flashed a drive wide from outside the area.
This was not a defensive game: both sides were pushing forward and looking to find an edge. But it was definitely a game that was in need of a goal as the clock ticked to the hour mark.
And it nearly got one five minutes later when Juric again acted as the Reds' point man, shielding the ball and then playing a pass through to Ben Halloran to shoot. His effort beat Kurto but Aaron Calver got back to clear off the line.
Delianov again rescued his side as the ball flashed down the other end of the pitch, blocking Connor Pain's well-hit drive from inside the area while Kurto had to stretch as he watched D'Arrigo's free kick float just past his post.
Michael Lynch is The Age's chief soccer reporter and also reports on motor sport and horseracing