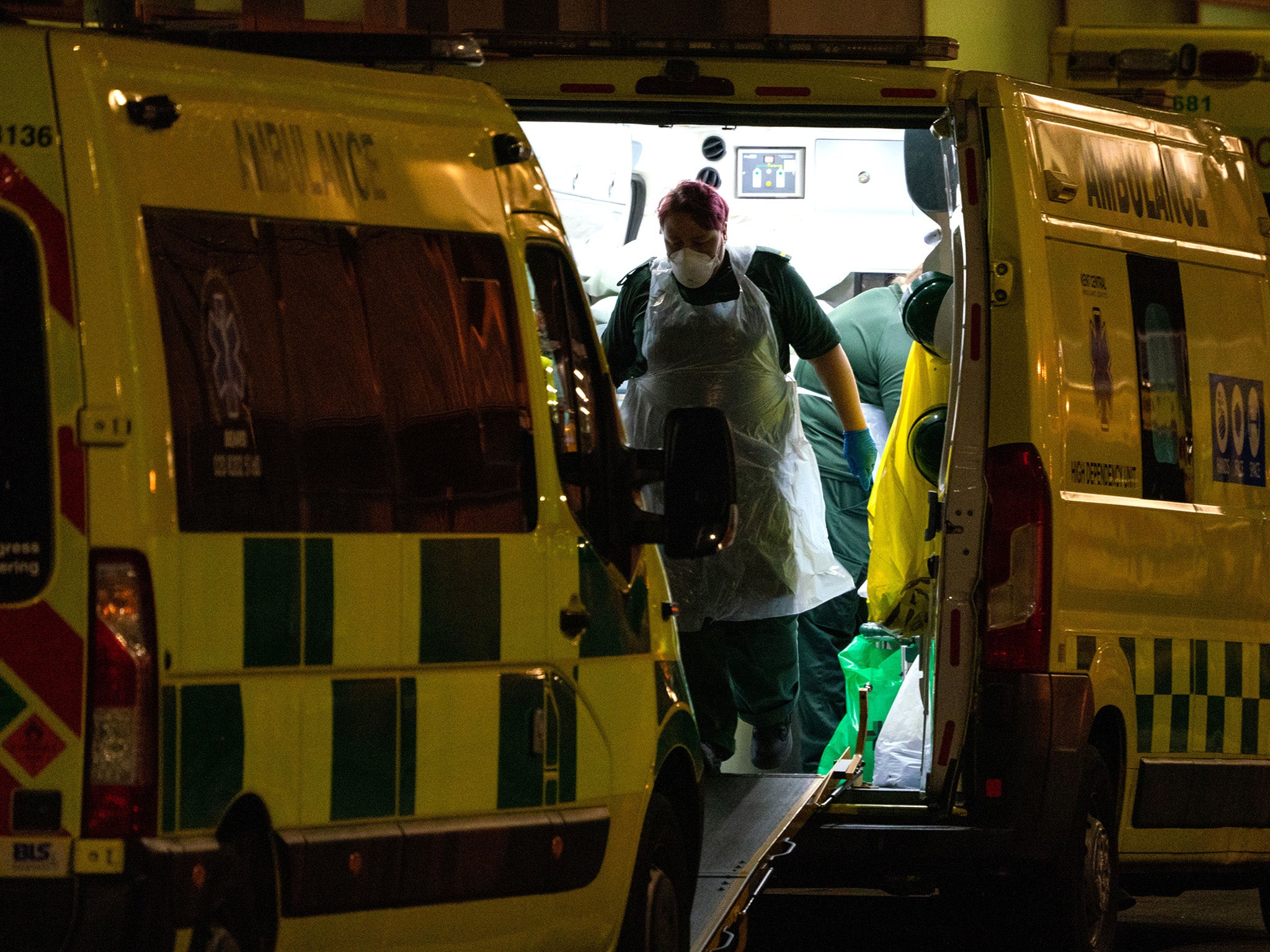 Boris Johnson refuses to say why he kept UK borders open when pandemic started
The government has released figures showing a record number of daily deaths  for the second day running, as 1,820 people died within 28 days of testing positive for coronavirus – the highest number since the pandemic began.
Prime minister Boris Johnson blamed the "appalling" death toll on a new variant of the disease as he warned "there will be more to come".
The leap in fatalities – up more than 10 per cent on the previous record –  came as the team behind the Oxford vaccine was understood to be planning new versions of its jab in response to the different coronavirus variants that have emerged in the UK and elsewhere.
Scientists at the university were found to be assessing the ability of their jab to tackle new variants as another team of researchers found the Pfizer-BioNTech vaccine was likely to provide protection against the one first detected in the UK.
The new study suggests the Pfizer jab can overcome a number of genetic changes in the virus after testing the vaccine against a synthetic virus with 10 mutations that are characteristic of the UK variant.
However, separate research has suggested that vaccines may be less effective against the new variant of coronavirus that emerged in South Africa.
1611177323
Portugal's Covid cases hit record as health service pushed to limit
Daily coronavirus cases in Portugal have risen by 40 per cent today, compared to a day earlier, to a record 14,647, with the national health system (SNS) on the verge of collapse and the government considering tougher lockdown measures to tackle the surge.
Health minister Marta Temido told reporters: "The situation is serious and the government will not fail to do everything to protect the Portuguese. We have the SNS at its extreme limit."
The country of 10 million people, where authorities implemented a 15-day lockdown last week to fight the spread of the virus, also hit a record of 219 new deaths today, up from 218 the day before, health authority DGS said.
Chiara Giordano20 January 2021 21:15
1611176303
Frustration grows over delay in Pfizer vaccine shipments
Frustration is mounting from Europe to North America over reduced shipments of Pfizer's Covid vaccine while the US pharmaceutical company increases production capacity at its Belgian plant. Governments say it is costing critical time during the early stages of the rollout to care homes and hospital personnel.
Italy has threatened legal action. The leader of Canada's most populous province said Pfizer's chief executive should be chased "with a firecracker." A top European Union official icily invoked the principle of "pacta sunt servanda," a Latin phrase meaning "agreements must be kept."
The EU and many nations are under pressure for what is seen as the slow start to their vaccination campaigns compared to countries like Israel and the UK. Pfizer compounded the problem last Friday when it announced a temporary reduction in deliveries so it could upscale its Puurs, Belgium plant, which supplies all shots delivered outside the United States.
Chiara Giordano20 January 2021 20:58
1611175103
Vaccinators could lose licence for giving second dose too early
Hospitals say they have been told they could lose their licence to deliver the coronavirus vaccine if they give second doses to anyone before they reach 12 weeks since their first jab.
In a message to vaccinators at the University Hospital Southampton Trust, seen by The Independent, staff were told the hospital's chief executive had been given a "crystal clear" instruction that no second doses should be given to anyone before the reach 12 weeks since their first dose.
Our health correspondent Shaun Lintern has this report:
Chiara Giordano20 January 2021 20:38
1611173937
Biden administration signals US will join Covax alliance
The Biden administration made clear this week that it intends to join the Covax alliance, an initiative that is led by the World Health Organisation and two other groups and aims to secure fair access to Covid-19 vaccines for poor countries.
Joe Biden's nominee for secretary of state, Antony Blinken, told his US Senate confirmation hearing that the United States would join the alliance of some 190 countries in working to make sure that the vaccine is equitably distributed.
These actions by the new US president will mark a sharp divergence from the Trump administration's pandemic response, which critics say was ineffectual, uncoordinated and at least partly responsible for the death of more than 400,000 Americans.
Chiara Giordano20 January 2021 20:18
1611172470
How quickly could vaccines allow us to reopen the economy?
Ministers are said to be reasonably confident of meeting their official target of vaccinating 14 million of the most vulnerable people in the UK with initial doses by the middle of February.
Boris Johnson has suggested this could allow restrictions in England to be eased from March.
But how feasible is it? Ben Chu takes a closer look in this piece:
Chiara Giordano20 January 2021 19:54
1611169921
Johnson defends border measures after Patel 'overruled on march closure'
Boris Johnson has defended coronavirus measures at the border after it emerged home secretary Priti Patel lobbied for tougher restrictions during the early stages of the pandemic.
Ms Patel's comments, made to the Conservative Friends of India group, are contrary to her public defence of the government's decision not to enact a full arrivals shutdown.
In remarks first reported by political website Guido Fawkes, Ms Patel said: "On 'should we have closed our borders earlier', the answer is yes. I was an advocate of closing them last March."
Mr Johnson was quizzed at Prime Minister's Questions by Labour leader Sir Keir Starmer about why he chose to "overrule" the home secretary.
But the Tory leader evaded the question, instead opting to criticise Labour's policy on border controls.
Chiara Giordano20 January 2021 19:12
1611168623
Families of clinically vulnerable children face anxious wait for vaccine
The parents of a clinically vulnerable two-year-old shielding since the start of the coronavirus crisis have hailed the vaccine as the "light at the end of the tunnel" as they anxiously wait to be invited for the jab.
Obie Bee has a condition called VACTERL association, which refers to a collection of birth defects that can occur together, affecting his spine, digestive system, kidneys and heart.
The toddler's complex medical needs mean he is vulnerable to Covid-19 and the family-of-three, from Lincolnshire, began shielding in February last year.
Samantha Bee, 27, and her partner Daniel Bee, 36, fear contracting the virus and passing it on to their vulnerable son, as well as the potential of them both becoming ill and struggling to care for him.
The two jabs currently being rolled out in the UK are not licensed for use in children. Ms Bee told PA news agency that although it was "scary" not knowing if the two-year-old would be vaccinated, it would be "anxiety-relieving" if she and her partner received the jab.
Chiara Giordano20 January 2021 18:50
1611167723
Calls for police to be vaccinated as officer hospitalised with Covid
An officer who has been hospitalised with Covid-19 after attending a protest highlights the need for police to receive priority vaccines, his force has said.
A Dorset Police officer present at an anti-lockdown rally in Bournemouth is being treated for a suspected blood clot on his lung after becoming unwell on Tuesday night.
Dorset Police Federation said they are supporting his family and the group's chair Anna Harvey said his hospitalisation is "a stark reminder of the extra risks our officers are facing", adding the Government are to blame for failing to prioritise police in the vaccine rollout.
"It saddens me to say that there is every chance this officer would not be in this position if police officers had been prioritised for the Covid-19 vaccine," she said.
Chiara Giordano20 January 2021 18:35
1611166632
'It would be absolutely crazy' to allow new variants into UK, says PM
Prime minister Boris Johnson said it "would be absolutely crazy" to allow the new variants of the coronavirus to enter the UK while the vaccine is being rolled out because of lax border controls.
From Downing Street he told the media: "The rules now are designed to stop people coming back into this country and bringing infection back into the country while we're getting the vaccination rolled out.
"I think it would be absolutely crazy to be vaccinating our country as successfully as we are, and don't forget we're still doing more than any other country in Europe.
"It would be crazy to be doing that huge national effort while simultaneously allowing the virus or new variants of the virus to be reimported back into our country."
Chiara Giordano20 January 2021 18:17
1611165984
Covid death toll is 'appalling' and 'more to come', warns PM
The record daily death toll from Covid-19 is "appalling", Boris Johnson has admitted – while warning there is "more to come".
The prime minister blamed the 1,820 deaths on the "new variant that we saw just before Christmas", despite criticism of him for allowing families to meet over the festive period.
Follow our breaking story:
Chiara Giordano20 January 2021 18:06