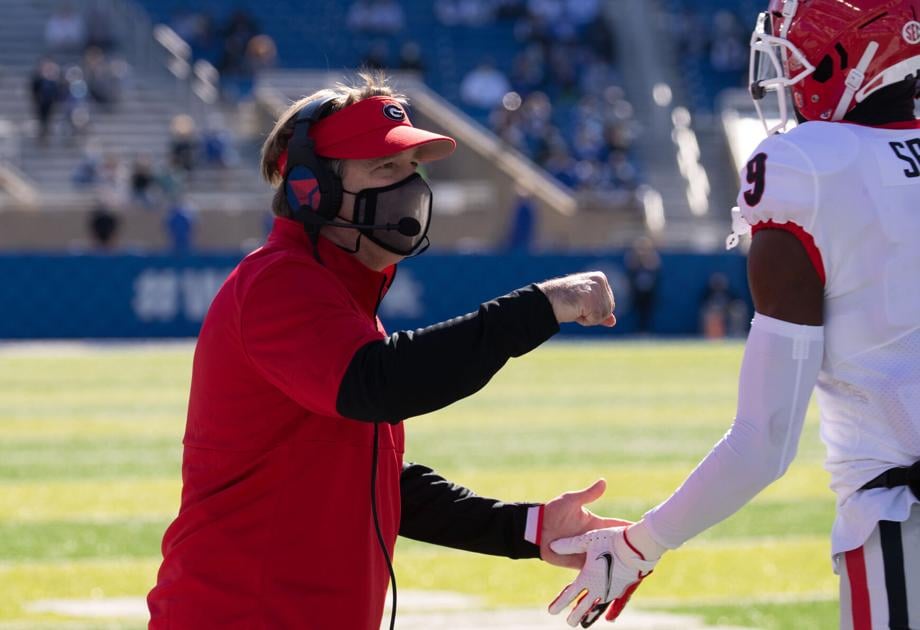 Georgia head coach Kirby Smart met with the media for a virtual press conference on Tuesday with two weeks remaining until the start of spring practice.
Smart discussed the current plans for spring practice, the development of quarterback JT Daniels and Georgia's roster turnover at secondary.
If all goes according to plan, Smart said Georgia's first spring practice would be on March 16, giving the Bulldogs 32 days before G-Day, their annual intrasquad scrimmage, on April 17.
Smart said the date to begin spring practice could change due to weather issues or injuries. And asking everything to go as planned means ignoring nearly all that's transpired within the past 12 months as a result of COVID-19.
Georgia not getting a spring practice last offseason shouldn't change the objective of this year's spring practice, Smart said. But it will be a new experience for many.
"The other day, we had a team run, and I asked everybody to stand up who had not been through a spring practice at Georgia, and I'm going to venture to say it was 65-70% of the team that stood up," Smart said. "That's a scary thing."
Zoom meetings have made up much – if not all — of many athletes' college experience. Smart said he and the coaching staff has focused more on how each athlete is doing "between the ears."
"The mental side of things is the emphasis we have for this offseason," Smart said. "Because it's so much more important. So much more important."
Across Georgia's final four games of last season, Daniels threw for 1,231 passing yards, 10 touchdowns and just two interceptions.
The Bulldogs went undefeated over that stretch to finish the season at 8-2, and Daniels solidified his position as Georgia's starter. Now, grasping Georgia's starting position and any expectations that come with it, Daniels' next step is to continue developing.
"Everybody needs spring practice," Smart said. "But for the quarterback position, the continuity of the offense, that's critical. You want to be able to get some relationships built there, [and] continuity toward the end of the year began to improve."
Daniels didn't have a typical offseason of development in 2020, still rehabbing from an ACL injury suffered in August 2019. He also didn't have much continuity with Georgia's receivers or with offensive coordinator Todd Monken's system. He has all of that now.
Nearly all of Georgia's starters involved in the passing game are returning, with the only significant departure being tight end Tre' McKitty. However, merely having multiple returners doesn't lead to future success, Smart said.
"We've had offseasons here where we had a returning quarterback, returning [running] backs, returning these guys, two great tackles," Smart said. "And did that equates to instant success? Not necessarily. So what you do and what you earn is what you get in the offseason."
Filling the secondary void
Georgia's biggest uncertainty entering spring practice is at defensive back, and it doesn't take long to understand why.
The Bulldogs lost six key defensive backs from last season either to the NFL or via transfer. Richard LeCounte, Eric Stokes, Tyson Campbell, DJ Daniel, Tyrique Stevenson and Mark Webb combined for 139 tackles and all nine of Georgia's interceptions in the 2020-21 season.
With last season's group, Georgia ranked sixth in the SEC in pass defense, allowing 248.7 yards per game. Combine the loss of each with the trajectory of pass-heavy offenses in the SEC and it's cause for concern moving forward. As of now, Smart said the cornerback position is "completely open."
"Every guy on our team is a potential cornerback right now because we're in search of finding guys that can play that position at a high level in a really tough [conference]," he said. "You look across the SEC, the ability to throw the ball has gotten better and better and [cornerbacks] get exposed."
Getting more experience in the secondary via the transfer portal is an option for Georgia. It wouldn't be the first time Smart gave a starting role to a transfer, either, as Maurice Smith did so after transferring from Alabama in 2016.
Although Smart said Georgia wouldn't decline the ability to look at an option in the transfer portal, it isn't the primary source for filling holes on the depth chart.
"I don't think the guys that come out of the portal have issues or problems, that's just not our normal protocols," Smart said. "That's not what we want to build our program based around. It's a need-based deal and we have needs. Defensive back is a spot that we're thin at. We think we have very capable, good young players at the position, [but] we don't have a lot of experience."
Printed with permission from The Red & Black independent student media organization based in Athens.