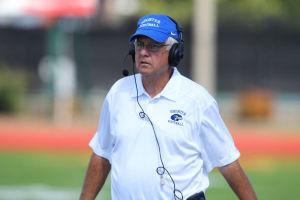 Former Shorter Hawks head coach Phil Jones has died.
Jones passed away Saturday, surrounded by family, his daughter, Connie, said in a Facebook post.
Jones is widely known as Shorter University's first head football coach, serving in the roll from the program's inception in 2004 until his retirement in 2015. Jones left an indelible mark on Hawks football, racking up a 54-65 record.
"I fell in love with Shorter and with these kids," Jones said in 2015. "I have so much love for these kids who have worked so very hard in all circumstances."
Jones' best year with the Hawks would come in 2008, when his squad posted a nine-win campaign, tied for first place atop the Mid-South Conference Western Division and qualified for the National Association of Intercollegiate Athletics (NAIA) playoffs.
That same year, Jones was named the American Football Coaches Association's NAIA Division I Coach of the Year.
Jones' teams at SU would win at least six games in six seasons. Jones assisted in transitioning the Hawks from the NAIA to the NCAA's Division II Gulf South Conference in 2012.
Jones coached at five Georgia high schools prior to making the jump to the collegiate level. Jones served as an assistant coach at the University of Georgia, Southern Methodist University and Gardner-Webb, before arriving in Rome.
Jones coached football for 47 years. He is survived by his wife, Janie, his two children and several grandchildren.
A native of Thomaston, Jones graduated from Mercer University in 1968.