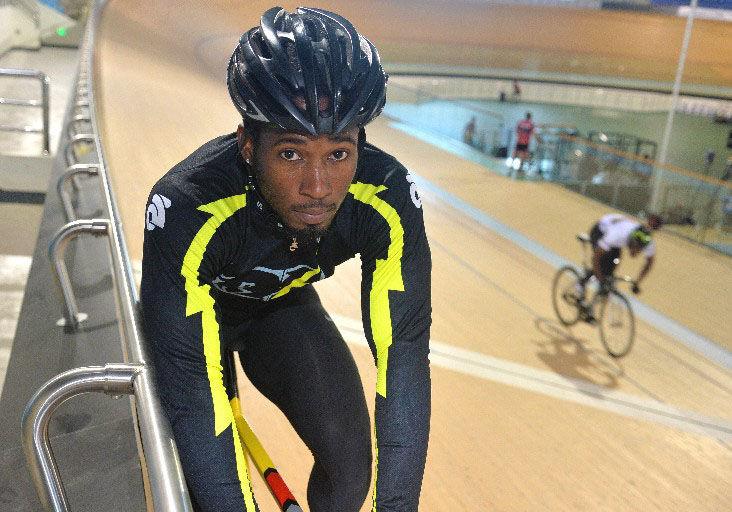 TEAM TTO cyclist Kwesi Browne is a man who is never grounded by adversity. Not permanently.
In the last year and a half, on two occasions at crucial stages in his attempt to qualify for Tokyo2020, the 27-year-old speedster crashed during his pet event, the men's keirin, a highly tactical six-lap (350m course) cat-and-mouse event filled with drama and exciting swooping moves and sometimes devastating spills.
First, in the repêchage at the Elite Pan Am Track Cycling Championships in Bolivia in September 2019, the Arima Wheelers rider was hospitalised after a nasty fall. Then in contention for a medal at the Australia stop of the UCI 2019-200 World Cup series, Browne failed to avoid a crash in front of him, ending up disappointingly on the track himself.
The Elite Pan Am sprinter's fall would have been doubly painful since then national coach Erin Hartwell had rested him from the eventual gold medal-winning TTO team sprint trio for the keirin.
At the 2019 Pan American Games in Lima, Peru, a medal chance also went abegging when some manoeuvring in his foreground on the crucial final lap sent him wide and caused him to be relegated to sixth after he crossed the line fourth.But Browne's biggest stumble was probably his personal encounter with the Covid-19 virus which he contracted after achieving Tokyo2020 qualification status last year.
After placing second to his fellow Olympic debutant Nicholas Paul in the sprint event on the opening night of the Trinidad and Tobago Cycling Federation (TTCF) National Cycling Championships, Browne fell sick, tested positive for the novel coronavirus and was hospitalised the very next day at Caura Hospital.
After a 38-day sojourn that included a final one-day stay at the step-down facility at the Home of Football, Browne was allowed a seven-day at-home self-quarantine.
That is all now in the rear-view mirror for the 2018 Central American and Caribbean (CAC) Games men's keirin bronze medallist.
"Actually I would say it wasn't a difficult period. While I was in the hospital I was still active, still exercising daily and after I came out the hospital — knowing that the Olympics was already postponed — it gave me extra time to repair. So I wasn't rushed to prepare for the Olympics like if it was still being held in 2020," Browne explained,
At-home resistance training
That period allowed the compact athlete to take a step back and work on some weak areas, like doing some road cycling to regain lost endurance and doing some at-home resistance training with weights loaned to him by a gracious friend.
"So I actually progressed nicely …I took my time and did the necessary things I needed to do before I got back into serious training."
Fast forward to the World Cycling Centre (WCC) in Aigle, Switzerland where Browne has been with his countryman Paul since October last year. The 2016 Elite Pan American Track Cycling Championships keirin bronze medallist's training has been progressing very well.
"Actually we finishing up a very big strength block of training on the track tomorrow (today)," he told the Express. "We have been using a lot of the bigger gears to improve on the strength and I have been seeing some bigger improvements, which is a plus. I am actually happy with how things have been progressing," said an optimistic Browne.
He continued: "At the end of the day, the goal is getting faster, so training would be geared to me getting faster. Additionally, we would be doing speed endurance, strength endurance work just to shore up all the other areas that might be weak."
Browne estimated the Covid-19 pandemic is likely to cause the postponement of the April 3-6 2021 Elite Pan Am Track Cycling Championships scheduled for Lima, Peru; so the sprinter is leaning towards pedalling into racing action at the first two UCI Track Cycling Nations Cup events in New Port, England (April 22-25) and Hong Kong (May 13-16).
But it won't matter to Browne when and where he competes.
With a competitive training atmosphere at the WCC and a positive attitude, he'll bounce back to top form by the time the competition bell rings.
"The training is always good when persons have the same goal as you. That's what we have here….," Browne explained. "We push each other every day. We are friends off the bike but enemies on the bike which is good, because we push each other every day in training to better ourselves. And that is good."