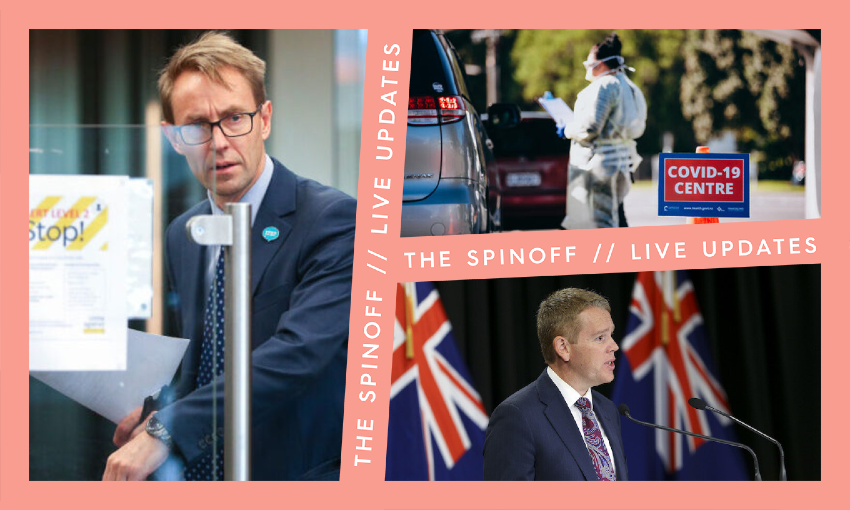 Welcome to The Spinoff's live updates for January 25, keeping you up to date with the latest local and international news. Reach me on [email protected]
12.30pm: Air NZ extends mask mandate to all international routes
Our national airline has announced that all international travellers will be required to wear face masks from tomorrow.
Currently, the rule is imposed on just some international routes along with all domestic trips.
"As Covid-19 cases around the world continue to rise, particularly with new variant strains, we've put this requirement in place to further ensure the safety of our customers, aircrew and broader New Zealand,"Air New Zealand chief operational integrity and safety officer David Morgan told the Herald.
"Our customers are already required by law to wear masks inflight to a number of our destinations, so extending this mandate to the remainder of our network provides a further safeguard against any potential spread of the virus. To date our customers have been overwhelmingly supportive of the requirement to wear masks and we thank them for their ongoing cooperation."
12.20pm: Covid-19, one year ago
Twitter account @YearCovid is taking a daily look at the world 12 months ago, to see how the planet was handling the burgeoning pandemic.
On January 24 2020, an LA Times headline concluded that we should not "panic" about the "coronavirus from China". At this stage, just 31 people had died from the virus.
24 Jan 2020

LA Times: "Should you panic about the coronavirus from China? Experts say no"

"If this were a Hollywood movie, now would be time to panic. In real life, however, all that most Americans need to do is wash their hands"

Total deaths: 31https://t.co/cH8dRuNQ7X pic.twitter.com/ktiqO8NYA0

— Covid One Year On (@YearCovid) January 24, 2021
11.25am: Extra testing centres opened, queues reported
Community testing facilities have been established in the upper North Island following the discovery of a new Covid-19 case in Northland.
In addition to GP testing, anyone with Covid symptoms can get a free test at a community centre in Helensville or Mangawhai in Auckland and at a range of locations across Northland.
11.00am: 1pm Covid-19 press conference confirmed
Covid-19 response minister Chris Hipkins will be joining Ashley Bloomfield for a 1pm press conference, in order to provide an update on the positive Northland case.
The absence of the prime minister indicates there may not be any drastic adjustments to our Covid-19 response, although Hipkins has previously said it could be 48 hours before any lockdown decision is made.
We'll have the livestream and all the news right here from 1pm.
9.55am: 'Hundreds' of Northland workers expected to skip work
The Northland Chamber of Commerce is expecting "hundreds" of workers in Northland will be skipping work today following news of a Covid-19 case in the region.
The 56-year-old woman at the heart of the new virus scare visited about 30 locations around the region before testing positive over the weekend. She had left managed isolation in Auckland on January 13.
One Northland store owner – South Head General Store's Aaron Watson – told RNZ the news that the Covid-19 case visited his store was devastating.
"We don't know what to do, we're shattered, absolutely shattered… We'll just have to try and get through this."
He said he has not been contacted by health officials, and only found out after a friend saw the store's name on the Ministry of Health website.
9.00am: New Covid-19 case – what happens next?
Genomic sequencing is currently underway to determine whether the new Northland Covid-19 case was contracted in managed isolation, from the border, or – most worryingly – in the community.
It could be up to 48 hours before it's known whether a lockdown is needed in Northland or if any changes to our alert levels will be implemented.
Covid-19 response minister Chris Hipkins said testing of close and casual contacts is ongoing and anyone who visited a location of interest is asked to self-isolate and get a test.
At this stage, it's unlikely we'll get more information before the standard 1pm update.
7.40am: Two close contacts of new Covid case test negative
The husband of the new Northland case of Covid-19 has tested negative for the virus, along with the woman's hairdresser.
The 56-year-old woman tested positive almost 10 days after being released from managed isolation in Auckland on January 13, suggesting she may have caught the virus during her stay at the Pullman Hotel.
Along with the woman's husband and hairdresser, four other close contacts were tested yesterday but the results are not yet known.
"Everyone wants answers, everybody reaches their own conclusions and starts hypothecating about what might have happened but we do have to wait for another 24 to 48 hours to draw some conclusions," Covid-19 response minister Chris Hipkins told Newstalk ZB when questioned on whether a lockdown was possible.
"The testing results from the close contacts and those who are coming forward because they were in the same place at the same time, the test results from that group will very much inform what happens next."
The woman visited an extensive list of locations around the lower Northland region before testing positive, including shops in Whangārei and Mangawhai.
It's not yet known whether the new case is one of the UK or South African strains of Covid-19, although Hipkins said the Ministry of Health is treating it as though it is. Those strains spread easier than the original variant of the virus.
A note from me
Welcome back to a new year of live updates, I hope you've missed me. As if perfectly (and unfortunately) timed, Covid-19 has returned to the local news cycle just in time for the official return of The Bulletin and live updates. As always, we'll have all the latest right across The Spinoff.
So, what can you expect from live updates in 2021? Last year may have been the busiest year for news on record, but 2021 still promises to have its fair share of big stories: Covid-19, a new US president and a majority Labour government, to name a few. I'll also be trialling a few regular features this year, including taking a closer look at the stories making headlines outside of the major centres.
As always, if you have any ideas, news tips or just want to say hi please send me an email – I'd love to hear from you.
Top stories from The Bulletin
Ministers and health officials were keeping their options open yesterday afternoon after a new case in the community was announced. The phrasing there – case in the community – is because the person who tested positive also went through managed isolation, and returned negative tests there. Covid minister Chris Hipkins said it was still too soon to speculate on whether there will now be another change in alert levels, for what would be the first time since they last moved in October 2020. More of yesterday's press conference can be found in our emergency convened live updates.
The big concern is that the positive case – a 56 year old woman – has been travelling across Northland with her husband. She scanned everywhere she went (and had bluetooth on, which makes things easier) so now the process of contacting those who were also there at the time is underway. Details are being added to the locations of interest page, with that list being updated in real time – there was a bit of a delay yesterday afternoon so affected businesses could be contacted. The pair really made the most of their trip around the North, and about 30 places were visited.
Genome testing is underway to identify the strain, which could give some indication as to how serious the situation is. For a reminder of what genome sequencing is (if you're struggling to remember all the terminology from last time) read this. The current working assumption is that it is one of the more highly transmissible strains – the thinking being that it's better to overreact than otherwise. As professor Michael Baker said on RNZ this morning, that meant the response would need to be stepped up in urgency, with everything happening faster than previous efforts. She travelled through both London and Singapore.
Mass testing is being called for by experts. And it'll be happening across Northland – Radio NZ's news bulletin this morning reported that locations would be opening across the region, as well as in Auckland. For those who might need one, the Northland DHB has details of where and when they'll be open, and Auckland locations can be found here.
Regardless of what the alert level does, scanning in everywhere will help a lot from here. If there are further cases of community transmission announced, then it will give contact tracers much more data to work with. And everything else – testing and self-isolating if you're sick, masks on, washing hands – is all stuff that everyone has done before. For those who have been in Northland over the last ten days, take extra care. If you've got a bit slack on it all, now would be a good time to start again. Welcome back to the news for 2021, picking up right from where it left off.
Read more and subscribe to The Bulletin here
---
The Bulletin is The Spinoff's acclaimed daily digest of New Zealand's most important stories, delivered directly to your inbox each morning.