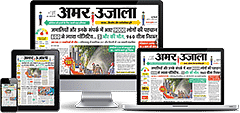 Traders have also come out against the decision to impose property tax. Jammu Chamber of Commerce and Industry has strongly objected to this decision and appealed to the government to withdraw it soon. Also warned of movement. In a press conference in Jammu on Friday, the president of the chamber, Arun Gupta, said that the people of Jammu and Kashmir, especially the traders, have been going through the economic turmoil for the last one and a half years.
Due to the situation created after August 5, 2019, there was a shutdown in Jammu and Kashmir. Since the withdrawal of Article 370, there has been no major economic activity. The number of unemployed youth is increasing day by day. Because of this people are not ready for a fee. He said that during the Corona period, the business suffered heavy losses due to lockdown and routine activities. People's jobs were gone.
Many states of the country have cut the duty to give relief to their people, but instead of reducing the duty, the Jammu and Kashmir government has started imposing taxes on people one by one. Because of this, people are becoming weaker financially. He said that Jammu and Kashmir are economically, geographically and politically sensitive regions. People are expecting no tax relief from the government.
Also Read- Petrol Diesel Price: Petrol-Diesel Price Reaches Record Level In Jammu & Kashmir, Rs 84 Diesel Then Rs 94 Petrol
During this, Arun Gupta said that the people of Jammu and the traders would be forced to agitate if the government did not withdraw the property fee. Senior Vice President Anil Gupta, General Secretary Gaurav Gupta, Secretary Rajesh Gupta, Treasurer Rajesh Gupta were also present on the occasion.

Tourists are not coming to Lakhanpur because of the ban

Arun Gupta said that every part of the country has been opened. There is no restriction in the movement, but the red zone at Lakhanpur, the gateway to Jammu and Kashmir, is still maintained. Because of this, tourists are not coming to Jammu and Kashmir. Inter-state bus service is also not allowed to come ahead of Lakhanpur. The reason behind this is incomprehensible. Due to this, the people of the state are facing a lot of problems regarding the traders.
.