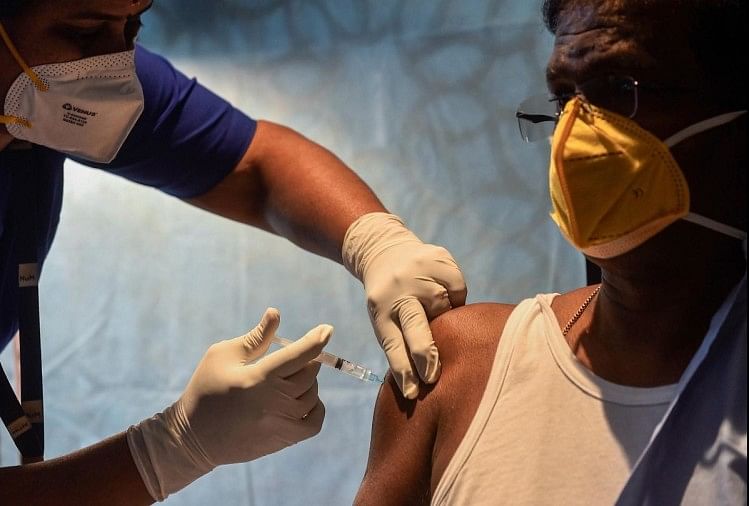 Vaccination was also started in Jammu and Kashmir under the nationwide second phase on Monday after medical staff, frontline workers. The first dose of more than 1100 beneficiaries in the state was given on the first day of the Kovid vaccine campaign for the beneficiaries of senior citizens (above 60 years of age) and 45-59 age group (sick people). The campaign aims to cover 1.5 million elderly people. It will operate 2034 vaccine centers including 34 private institutes.
On the first day in Jammu division, 604 citizens were vaccinated in government medical institutions, including 596 senior citizens and 8 people in the category of diseases. Vaccination has also been started in many private medical institutions, but proper arrangements are being made in most of them. The rate of Rs 250 per dose has been fixed in private institutions. Kovid vaccine was given to 451 senior citizens and people suffering from diseases in district Jammu.
Atal Dullu, Finance Commissioner, Department of Health and Medical Education, said that more than 1100 senior citizens have been given the Kovid vaccine on the first day. In this, the scope of vaccine centers will be increased to 2000 in a phased manner. No reaction is reported from anywhere on the first day.
Vaccination of 3.81 lakh beneficiaries

Kovid vaccination of 3 lakh 81 thousand 200 people has been done so far in Jammu and Kashmir. In this, 70 percent of the medical personnel and 57 percent of the front line workers have been covered. Chief Secretary BV Subramaniam held a meeting with departmental officers on Monday to review the progress of vaccination campaign in the state. He has emphasized to increase testing and surveillance to prevent the spread of Kovid infection to all the District Deputy Commissioners. With this, the vaccination campaign should be expedited.
Also read- Congress workers in Jammu expressed anger by burning effigy of senior Congress leader Ghulam Nabi Azad

Recognized Private Institutes of Jammu Division

Under the Ayushman Yojana, Kovid vaccine will be given to senior citizens and other people in recognized medical institutions. These include Kamal Nayan Vision Center, Jammu City Uncology Clinic, Sachdeva Nethralaya, Triveni Nursing Home, KD Eye Clinic, Acharya Shri Chandra College of Hospital, National Hospital and Sudan Heart Care Center in District Jammu.
According to Chief Medical Officer Jammu Dr. JP Singh, work is being done to develop cold chain point in scheduled private medical institutions. Dose will start getting in private institutions in the coming days. Apart from this, Gupta Hospital and Research Center in Kathua division, Sri Mata Vaishno Devi Narayana in Reasi, St. Joseph Community Hospital in Samba, Sri Om Multi Specialty Hospital, KLSM Rotary I & ENT Hospital in Udhampur.
.