A Place No One Sees, But Everyone Uses
Although the bathroom is considered the most used room in the home, the laundry room might, in fact, be a very close second. The average family is said to do at least 10 loads of laundry each week, but when you account for the fact that many families are not what is considered average and include more than just 3 or 4 people in the home, that number can drastically increase.
There once was a time in history when all laundry was done by hand, but thankfully, with the invention of the washer and dryer, the hard work is done for us.
Today, homes generally have a laundry room somewhere in the home and whether your space is just a small tucked away area or a full-scale room devoted to your laundry needs, it is a place no one seems to see, but everyone uses. Here are some tips on making your laundry room better and more efficient than ever before.
Add A Sink To Wash Excess Mud And Dirt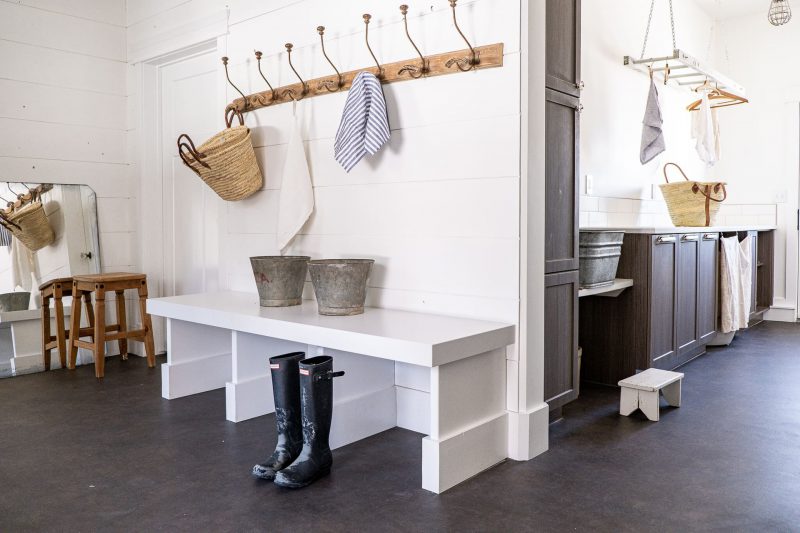 Possibly one of the best inventions in modern homes is the mudroom. This is generally a room located in the back of a house with an exterior door, washer, dryer, and sink.
The notion of putting a sink in a laundry room can be relatively new to homeowners, but it makes perfect sense. When dirty children or adults come through the back door, they can place dirty clothes in the sink to wash excess mud and dirt off before it is placed in the washer. Having a sink available to you in your laundry room will help keep your washer cleaner longer.
For those who have not purchased a home with a mudroom or a sink in their laundry room, a sink is easily added to this area. Where you might think the task would be costly, keep in mind that both hot and cold water plumbing is already in that room, so adding in a sink is relatively simple with very little plumbing needed to make it work.
These sinks also do not always require the same depth and size as a kitchen sink, so they can be inexpensive to purchase. Adding a sink helps make your laundry space more versatile than you could ever imagine.
Stack Your Washer And Dryer
Stacked washers and dryers are not just a nice trend. They can actually help alleviate space in a small laundry room. Utilizing vertical space inside your laundry room gives you the space you need to get your small laundry room organized.
You can easily add in a folding table or additional drawers to help alleviate clutter and get your space organized once and for all.
Even if your washer and dryer did not come as a stacked pair, many manufacturers offer conversion kits to help with the issue. Most modern units can be stacked easily and the best part about this configuration is that it is easier on your back muscles, less bending and stretching than with a standard side by side unit.
Open Shelving Is A Must To Maximize Storage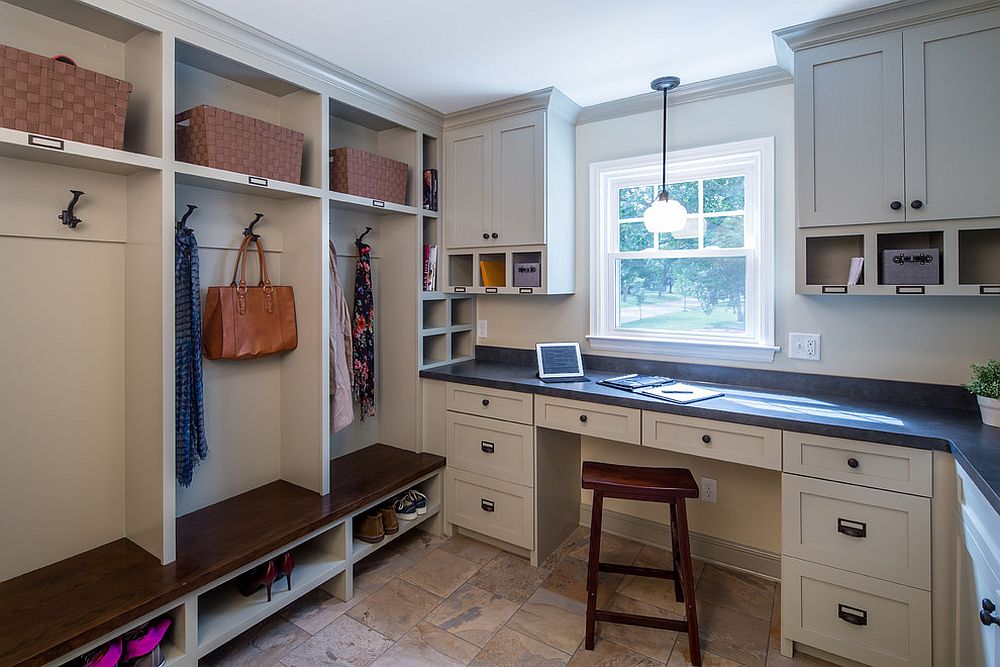 Shelving in your laundry room can be a significant help to organizing the space.
Generally, closed shelves are used in these areas to hide laundry items, but more and more people are turning to open shelves to make their laundry room look more inviting and showcase where necessary laundry items are.
Open shelving is often easier to install than standard cabinetry and many times, you can recycle old materials to make unique-looking shelves. When installing open shelves into space, ensure you account for the space between each shelf. Items you want to be placed there should have enough height to easily be removed and placed on the shelf.
Another area in which open shelving can be a great tool is between the washer and dryer. One of the least utilized spaces in any laundry room is this space. Slim, rolling carts can be excellent additions to your laundry room.
Take the time to measure the space between your washer and dryer and choose a rolling cart that fits snuggly, but still moves in and out easily. This will give you optimal versatility in your laundry room and utilize unused areas more efficiently.
Invest In An All-In-Oneunit To Save Space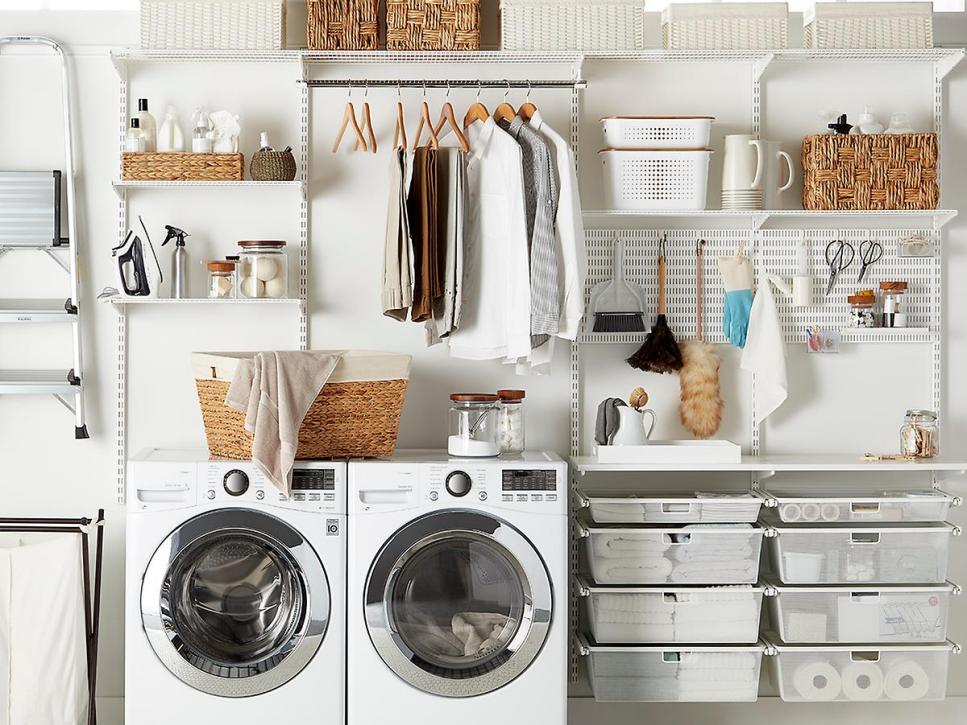 Generally, all in one laundry units have been reserved for RVs, small apartments, and other spaces in which single people or a couple with no children might live. These units were small and efficient but were not made for the average-sized family.
However, in the past 5 years, companies such as LG have invested efforts in making all-in-one units designed for larger capacities. The units are the same size as a standard washer or dryer, but you do not have to contend with two separate units. They save so much space and can be perfect for a growing family.
The only real drawback to an all-in-one unit is the time it takes to wash and dry a full load. These units run off of a standard 110 household plug instead of a 220, so it takes longer to dry the load. However, they do save on electricity.
All-in-one units are perfect for the busy family that is rarely at home during the day. You can start the machine before leaving for work, and have fresh, clean laundry when you get home without the need to rotate loads. Yes, these units can be stacked, so investing in 2 would help a larger household maintain its regular laundry routine.
Conclusion
Homes can be cluttered, and the laundry room is a small room that can quickly become an eyesore if not managed appropriately. Try out these space-saving and beautification tips on your laundry room and see it begin to transform the space. Once you have completed this task, you can take on more challenging ones throughout the home.
While renovating your home, using a storage unit to store little-used items can help alleviate tensions and keep things organized. You can make your home anything you want it to be and more!