Do you feel lucky to have a girlfriend like her? Does she take care of you and love you a lot? Are you someone who doesn't want to lose her? If yes, then you must show her importance in your life. This is not a hard job. But how to do so? Eager to know? If that's a yes, then here is a post specifically for you. This post is all about how to make your girlfriend feel special. 
Every relationship has got some flaws, but your bond can bloom in spite of those flaws. Ahh! You might get a lot of suggestions from your best friend or her girlfriends on how to treat her well. They might work sometimes, but that will not work every time. That is why you need expert help. 
Remember that it is not a one-day show and will take time. If you want to know how to make your girlfriend feel special, you must commit to your decision. There is one thing that you should pay attention to, and that is you cannot copy others, be you, and let her be herself. Treat her well and never demand anything in return for all of your efforts.  
So, What are the tips that can help you out in making your girlfriend feel special? How will she adore you for being her life partner? Let's see about it below. Read along to know about the tips that can make your relationship better with her and let her feel awesome.
How To Make Your Girlfriend Feel Special
Firstly, relax! 
It is easy to make your girlfriend feel special. 
You need not buy fancy gifts or throw a grand party to make her feel like a Queen. Instead, your general love is what she demands. 
Wait! 
It doesn't mean that you have to do nothing. Probably she knows how much you love her, but she still wants to be treated as someone special. You must have heard that action speaks louder than words, and that is why she wants you to love her by putting in some visible efforts.
Here are some of the tips that can make her feel special:
1. Your Compliments Should Not Stop 
Yes! Complementing! If you want to make your girlfriend feel special, you should compliment her
Don't forget to tell her that she is looking phenomenal or that she smells good. 
Girls love compliments, but most of the boys think that they need a special occasion to compliment them. If you think like this, then you are wrong. So, never repeat this and compliment her. She will remember your compliments forever. 
No! No! No! You need not be a poet who has to write a lot of fancy lines in her praise. Instead, be you. 
Also, this doesn't mean that you give her fake compliments. If you do this, it will break her heart. Remember to be honest, as honesty is what makes a relationship better. So, If the compliment doesn't come from the heart, then it's not even one. There is no need to say something in that case. 
Also, Check 150+ Comments For Girls On Social Media | Funny And Romantic
2. Show Her Importance
A woman demands importance, especially when you are in public. She wants you to hold her hands and adore her when you are surrounded by the public.
Give her an unexpected embrace, hug her and take care of her things while you are together. 
Yes, don't show your love only when you are in public. It should be there in your relationship, even when no one is watching you. 
3. Be Her Biggest Support
Not only this, you need to talk about her life goals. Ask her what she wants to become? How does she see her future? We are setting up some good relationship goals. Discuss where she wants to travel with you and what her expectations are towards you, and if you are fulfilling her Expectations or not. 
So, grab a cup of coffee for both and start knowing her better. If you find something that she wants to do in her life, help her with the best possible support. 
Also, read 12 Ways On How To Get Over An Ex | Wipe Your Tears And Try These Tips
4. Surprises Are A Must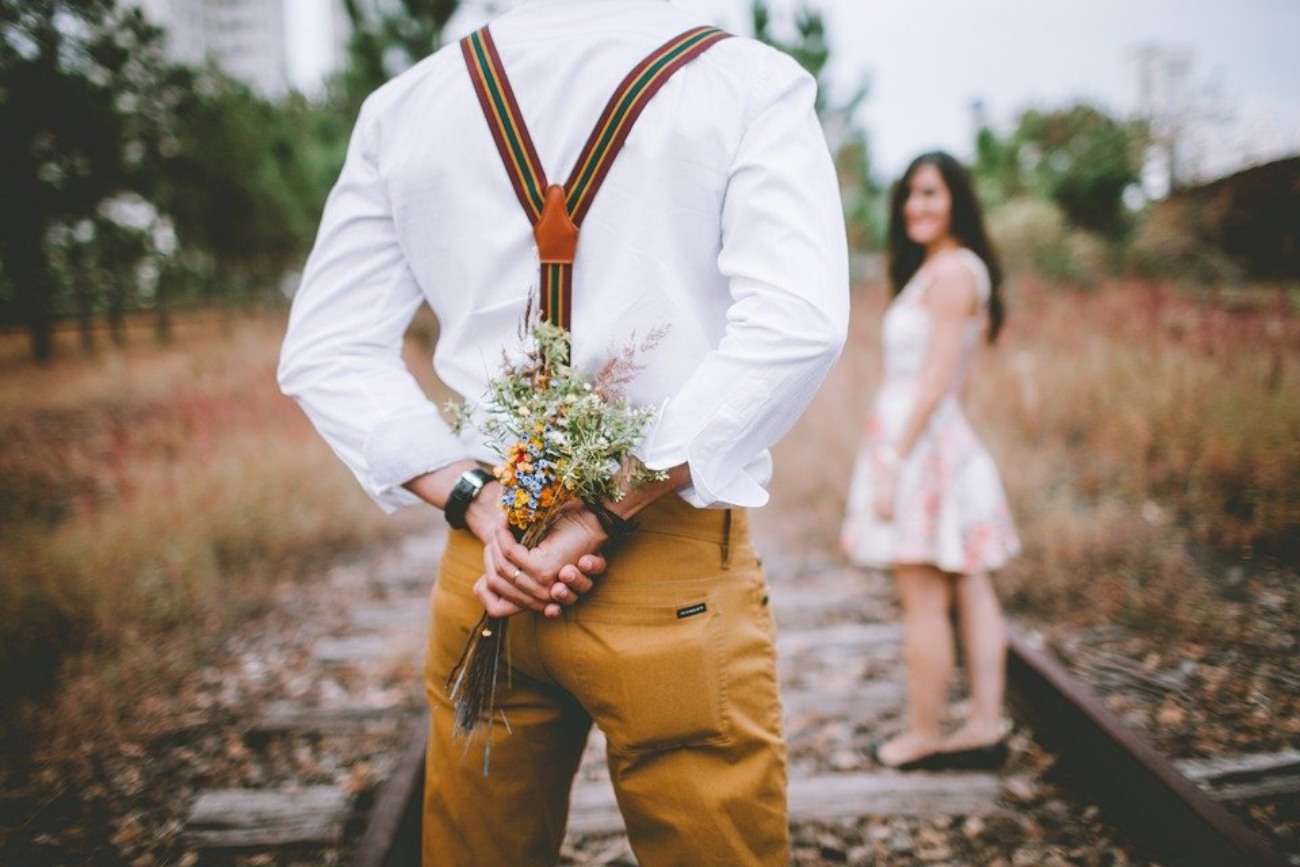 Girls love surprises, No matter big or small. 
If you are in a long-distance relationship, She will feel special if you take out some time for her and visit her. This will be the biggest surprise, and she will definitely feel special. 
You can surprise her by offering her a long drive in the monsoon, a night out. Well, a simple flower bouquet or chocolates can do wonders for you.
5. Never Cheat Her! Not Even In Dreams!
Do you know which is the ultimate thing that makes a relationship last forever? 
No, neither the compliments nor the surprises. It's loyalty that makes a relationship last forever. 
You should never cheat her and never think of cheating her. There can not be a better way to make your girlfriend feel special than this.
Also, Check 150+ Funny Rapid Fire Questions | Get To Know Someone Instantly
6. Listen To Her When She Wants
You should treat her the way you want to be treated. She should trust you blindly so that she can share her problems without any hesitation.
Who is going to take care of her when she is in trouble? Obviously you. Right?
So, you need to become her 3 a.m. partner who can listen to her without judging. Make sure that you comfort her whenever she feels a burden. Be gentle and never laugh or shout at her especially, when she is sad. 
Always be ready to listen to her even when she is unable to speak up about her troubles with you. 
7. Make Sweet Sacrifices
There might be times when she will be sick or unhealthy. 
Not only physically but mentally too. 
At this point, she wants to sit next to you and feel your warmth. So, no matter if you have to go to the office or want to attend to a client, nothing is more important than her at that point in time. This is what you need to do if you want to make your girlfriend feel special. 
8. Remember Her Choices
If you want to make your girlfriend feel special, then what can be better than taking care of her choices. 
What does she like to eat?
Where does she want to dine?
Which is her favorite color? 
If you can remember this, then she knows that you are the best choice for her and will keep her happy forever. 
9. Never Try To Compare Her
What if she compares you with any of her ex-boyfriends?
Wouldn't you feel jealous?
Wouldn't it be heart-breaking?
If you will feel like this, then why wouldn't she?
The worst thing that can happen in your relationship is that you compare her with any of your exes. 
Also, Check 200 Questions to Ask The Girl You Like
10. Admitting A Mistake Can Make Her Day
No one is perfect, and so you are. 
You might commit some mistakes. Well, this can happen accidentally or intentionally and might result in a fight. Bad things will become worse if you do not admit your mistake and keep on blaming her for being rude. You need to know that admitting a mistake is nothing to deal with your ego. Instead, if you admit your mistake and apologize to her for your fault, it will be great and will enhance your bond.
Don't you want this to happen? 
If yes, then you should say sorry whenever you are wrong. 
11. Do Little Things For Her
Be a child once again and get back into those days when you were in your school. Take a pause and remember everything that you used to do for your girlfriend. 
Yes, that surprise note, a sweet love letter, and a lot more. Why don't you do such things now?
Try to leave some random love notes for her with some chocolates.
Are you saying that your girl is mature and will not love this idea?
So, you must know that how mature your girl becomes; she will always love such little things that you do for her to make her feel special. And, why only love letters? You can call or text her without any reason, just to tell her how much you love her or missing her when she is not with you.
Do you know which is that one tip that will make you different from others? 
Ah! It's simple! 
Remember the special dates, especially her birthday and your anniversary.
You can thank me later for this! I am sure this will make your girlfriend feel special.
12. Create New Experiences Together 
It is important for a healthy relationship that you too must stay together. However, it is not said that you should stay together only at your home.
You can take her out to a favorite place or on a long drive sometimes. How about going on an adventurous trip? This idea will be great if your girl is a travel enthusiast or loves to go on trips to the hills. If that's the case, you should go for a vacation with her at least twice a year. But remember the place should be of her choice and not yours!
You are lucky that you are not in a long-distance relationship. Otherwise, things would have been different. 
13. Respect Her Family And Friends
Never restrict her! 
Think! Why would she love you if you cage her? 
No matter how much you love her, she will hate the restrictions. 
Just like you, she also wants to spend some quality time with her family and friends, and you need to understand this. Respect her time and let her enjoy some special moments with her loved ones without your presence. 
Hey, don't think to keep an eye on her. Let her live her life with freedom. 
Yes! You have to give her a separate time, but this doesn't mean that you will never be involved in her happiness with them. Make a good connection with her family and treat her parents as yours
Also, Check 10 Perfect Gifts for Outdoorsy Women: Your Ultimate Gift Guide
14. A Forehead Kiss Is The Healing Agent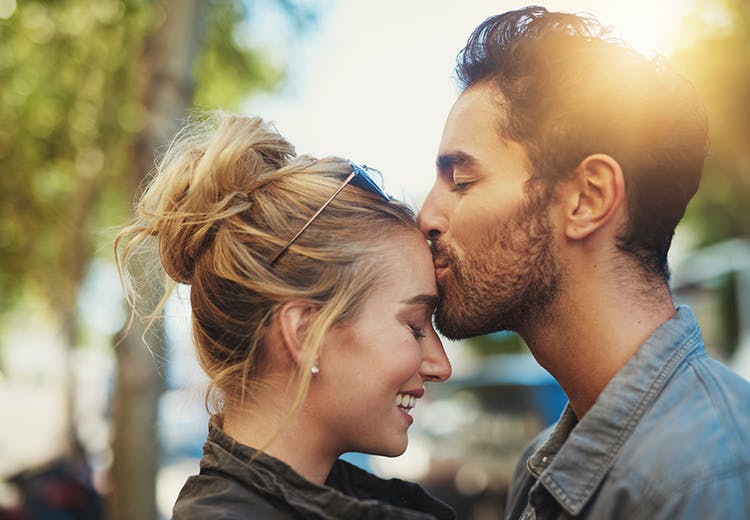 No matter if you know her for a short time or it's been long, she will feel special if you love her and take care of her all the time. 
Do you know how to do this?
Yes! A forehead kiss is the symbol of love and care. So, no need to do a lot of things; just kiss her forehead and see how her smile gets wider every time. It's that easy.
A forehead kiss will make your girlfriend feel special every time.
15. Go Creative
Girls are very emotional. She thinks from the heart, especially when it is about you or your relationship, and expects the same kind of feeling in you.
If you are planning to gift her something, give her a handmade or customized gift. There are a lot of options from where you can choose your gift. You can make a jar with 51 reasons to love her, make a personalized photo collage, or a scrapbook.  
This might be a headache if you try to do all this on your own. So, you can take help from the experts. If you don't find this idea very creative, you can give her something even more special, like a photo pendant. Also, she will love it if you take care of her choices. You can give her a bath bomb or some scented customized soaps. She will definitely love the idea and feel special.
16. Candle Dinner At Home
Sometimes all she needs is a candlelight dinner. 
Yes, you can go out and plan a fancy dinner, but you can make it even more special if you plan it at your home. Also, to have that extra Spice into the dinner, you can prepare the meal of your own.
Who says you need to be a master chef to prepare the meal? 
You just need a few cooking skills. If that's also a huge task for you, you can prepare simple dishes like pasta, noodles. No need to worry if you don't know the recipes. You can take help from your buddy, the internet. The Internet will never disappoint you. 
So, get ready to surprise her with fantastic skills and make your girlfriend feel special.
17. Be A Flirty Head, But Restrict This To Her
What if you are now into a relationship? 
Who told you that this means that you are hitched forever, and you cannot flirt?
Hey! That's not the truth. You still have a green card to flirt, but with her only. This little element can add to the tanginess in your relationship, and definitely, your girlfriend will feel extremely special. 
Also, Check 50+ Good Tinder Pick Up Lines With an 83% Success Rate!
18. Help Her Out
Why is she the only one who does the household chores? From doing dishes to the laundry, she does everything without any help. 
This is so tiring. Isn't it? 
So, it should be your responsibility to make her relax for a while. You can help her in doing basic things like buying groceries, cleaning the floor, and doing the laundry. It is completely understandable that you cannot do all of this regularly. 
If that's the case, you can help her out alternatively or on some specific days to make her feel special than the others.
Obviously, she deserves it. 
19. Use The Three Magical Words Quite Often
Yes, no fancy gifts, no luxury items, sometimes a simple I Love You is enough to make his day. 
Well, you might assume that he knows this, but after being together for so long, your man can feel the unimportance. So, it's your responsibility to say these three magical words to your love quite often.
Yes, this is essential to make your girlfriend feel special. 
Wrapping Up: 
These are some of the important tips on how to make your girlfriend special. It is good that you want to make her feel special, but you need to understand one thing, and that is to love her along with her flaws. She might not be the perfect one, but if she loves you unconditionally, it is your responsibility to make her feel special. 
She will never demand a lot of things from you. Instead, she will always hope that you will spend time with her as your time is and love both matters for her more than any other thing. Honesty and loyalty from her partner. Make sure that you treat her without any fakeness. 
So what's the wait now?
Try these tips and make your girlfriend feel special. But don't forget to tell us in the comments section which of these tips seem to be useful for you. And, share this post with your friends and loved ones if you find it relatable.