Do you love watching YouTube videos? Are you attracted by those fancy thumbnails? Do those thumbnails grab your attention all the time? Do you wonder if you can download YouTube thumbnail or not? If yes, then need not worry! Here is a post for you that will guide you on how to use the various YouTube Thumbnail downloader tools to download the thumbnail of your choice in a few steps. 
It is true to say that an eye-catchy thumbnail can create a lot of difference, especially when it is about YouTube videos. Why not? After all, it is the most specific medium to make people look into the video. Even though the thumbnails are so crucial, YouTube doesn't allow you to download the thumbnail for the app directly. But, not now!
Downloading a thumbnail from YouTube has now become an easy process. You can do it online or use the YouTube thumbnail Downloader tools. The tools like iStaunch, BoingBoing, ThumbnailGrabber.com, and more are great platforms that can help you out in getting your favorite thumbnail. 
How? How can you download the thumbnail? Is it going to cost you money or are they free to use? What if you want to generate your own YouTube Thumbnail, similar to your favorite one for your channel? Hang on! You will get to know all about this in detail below in this post. But before, let's see how you can Download your YouTube Thumbnail from YouTube Studio. 
How To Download YouTube Thumbnail From Own Videos
If you want to download the thumbnail from a video on your YouTube channel, then relax as it's not a hard job! Just a few steps and your thumbnail will be saved in your gallery. 
For this, all you need to do is:
Log in to your YouTube and look for your channel's logo. It will be at the top corner at the right side.
Click on this logo and this will lead you to your YouTube Studio. 
Click on the video section.This will direct you to the page with all of your videos arranged in the order of uploading dates.  
Click on the required video. This will jump up to the edit page. 
Check under the basics. Here, you will get to see a lot of potential thumbnails from the video along with the one which is your current thumbnail.
On dragging the mouse to the said thumbnail, three dots will appear. 
Click on the dots. After clicking, you will find the replace it option with a new thumbnail suggestion. Along with this, there will be an option to or download the existing one.
Click on the 'download', which will open the image in the new tab.
Now, all you need to do is right-click and save the image into your device.
And, that's it!
Also, read Most Commented Video on YouTube In 2021 | BTS Rocks The List
How To Download YouTube Thumbnail From Other's Videos
Downloading your YouTube thumbnail is quite easy but what about downloading a thumbnail from someone else's YouTube video. 
Yes, It is possible too! 
All you need to see is that the required video should be public. If it follows these criteria, then you download the thumbnail by using the video Id. 
Wait! How to get this video id? 
No need to fuzz! 
You can get this video id from the URL of the watch page. But, how to find it? 
Not rocket science, It is the set of random letters & numbers that will appear in the URL after the equals symbol. Now follow, the guide on how to download YouTube Thumbnail from other's videos
Go to the video, look for the video Id in the url of the video and copy it. 
Open a new browser tab and paste the url, but this time, replace 'YouTube-video-id' with the actual video ID, i.e,  *https://img.youtube.com/vi/youtube-video-id/maxresdefault.jpg*
Click on the Enter or go. 
Now, you will be able to see the thumbnail from that particular video. 
Click on the download and you are done! 
This video might help you,
Best YouTube Thumbnail Downloaders In 2021
If the above method seems to be a little confusing to use, then no need to be sad! As, apart from this, you can use certain apps/web portals that can download YouTube thumbnails for you easily without much effort. These are: 
iStaunch
BoingBoing
ThumbnailGrabber.com
YouTube Thumbnail Downloader
Iridium for YouTube
1. iStaunch
How to use this YouTube Thumbnail Downloader?
iStaunch is one of the free YouTube Thumbnail Downloader tools that allows you to download YouTube Thumbnail after viewing it in a single go. No matter if you are using smartphones, tablets, and PCs, iStauch is your one-stop destination.  
So, if it is free, the quality must be low, Right?
If you think like this, then you are completely wrong! 
With iStaunch, you can download the image in four different formats. You can download it in HQ, SD, HD, and 4K as well.
To download the thumbnail, all you need to do is,
Go to the iStaunch Thumbnail downloader
The interface is simple and here, you will find the search bar.
Enter the video link in the search bar.
Now, click on the submit button.
Wuhu! You are done! the picture will be saved on your device automatically. 
Also, read How to download YouTube Videos on iPhone, Android, Mac, and PC | Best Guide in 2021
2. BoingBoing
How to use this YouTube Thumbnail Downloader?
Just like iStaunch, it can do your work in minutes. It works exclusively for YouTube, which means you cannot download thumbnails from other platforms. It works only to download YouTube Thumbnails. So, drop the idea of using BoingBoing if you are thinking of another app other than YouTube. 
But how to download? 
To download the thumbnail, 
Go to YouTube and copy the link for the particular video.
Open the BoingBoing portal and insert the copied url in the search bar and click on enter. 
The thumbnail will appear on the screen, all in different sizes.
Select the size as per your requirement and save the image by right clicking it. 
3. ThumbnailGrabber.com
ThumbnailGrabber.com allows its users to download YouTube Thumbnail along with downloading thumbnail from other platforms as well. So, either it is DailyMotion or Break videos, you can use this site to download the thumbnails of the videos in high definition quality in the ratio of 1280 x 720. 
Its working is also similar. You need to paste the video link to the search bar and click on the download. This will open the image of the said size in another tab as a preview. If you are fine with the image, right-click on the image and save it directly to your device. 
4. YouTube Thumbnail Downloader
Still, searching for the best YouTube Thumbnail downloader? 
Don't worry! YouTube Thumbnail Downloader will end your search to download YouTube Thumbnail. 
This is a full-fledge downloader that can download the thumbnail in qualities of HD,  
HD (720), FULL HD (1080) as well. The procedure is similar to those of the previous portals. 
To download YouTube thumbnail, 
Select the video from which you need the thumbnail. 
Copy its Url.
Paste the link in the search bar of the YouTube Thumbnail Downloader. 
Select the thumbnail's quality.
Click Download. And it's done!
5. Iridium For YouTube
There are many Chrome extensions and tools that will help you with the workings of YouTube. Such tools will let you convert YouTube to mp3 and some can even help you download YouTube thumbnail. This is one of the best Chrome extensions that works as the YouTube thumbnail downloader that works automatically. 
Just install this extension once and that's all. It will download YouTube thumbnails of its own on your devices. 
That's it? 
No, you will be amazed to know that it has a lot of amazing features to offer to you. 
With Iridium for YouTube, you can take a screenshot of the video, blacklist the unwanted channel or play a video in a pop-up window.
That's Crazy, right?
Best Online YouTube Thumbnail Makers To Boost Click-Through Rate: 
What if you want to generate a thumbnail with ease, even if you are not a graphic designer? 
Simple! Just use the following apps":
Canva
Fotor
Snappa
Adobe Spark
Visme
Fotojet
Picmaker
Crello
Bannersnack
Pixteller
Also, read 10 Must-Have Helper Tools For Instagram To Gain Extreme Popularity
Let's see about some of these apps in detail and how they can help you: 
1. Picmaker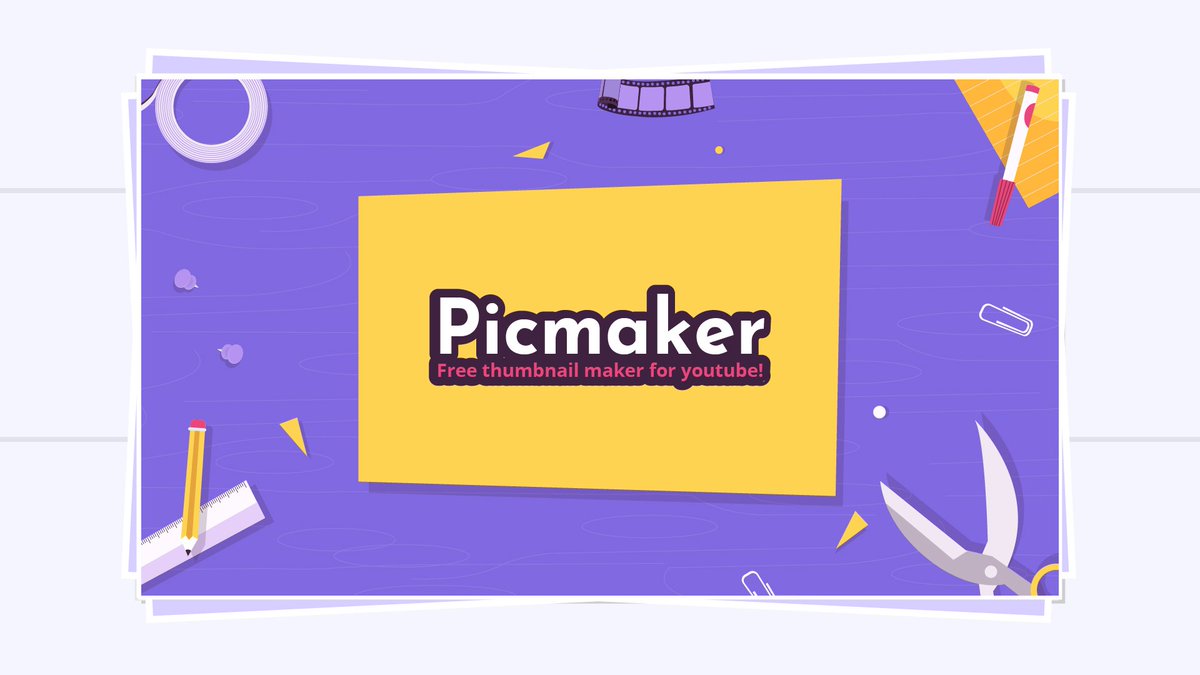 Why is Picmaker one of the best Online YouTube Thumbnail Makers?
Is Graphic Designing not your cup of tea?
Are you worried if your graphic is good enough to compel people to enter into your video because of a lack of graphical knowledge?
Now think! 
How would it be if creating mind-blowing graphics becomes a 2 or 3 step work?
Yes! You read it right, all of this is possible with Picmaker. It is a one-stop solution for each and every graphic-related work. 
Why? 
Simple! It has got several delightful easy to create professional-level YouTube thumbnails that can make your skills match the professionals. Besides this, you will love to know that picmaker is an exceptionally useful platform that makes sure that its user comes up with the best possible creative stuff. 
Well, not only the YouTube thumbnails, but you can also create images for other platforms in different sizes. So, either you want a YouTube thumbnail or an Instagram post, you can be a pro with Picmaker.
Do you know that this app is being used by the leading names like Amazon, Bosch, Nokia, and more? 
Pros:
Free Background remover. 
Goves automatic suggestions like fonts, colours, background elements & more that helps you in designing.
Over 1 million Simple free images for editing
Options of picture frames, shapes, photos, charts, text, background, and uploads are present100's of fonts.
Drag and drop image feature.
can be used as a web page, IOS, Android app
Pricing: 
Canva is a free tool for personal use. However, if you are going for professional Work it charges up to $7.99 per user on a monthly basis for the starter pack and $19.95 for a pro pack. The good news is that you can customize your pricing.
2. Fotor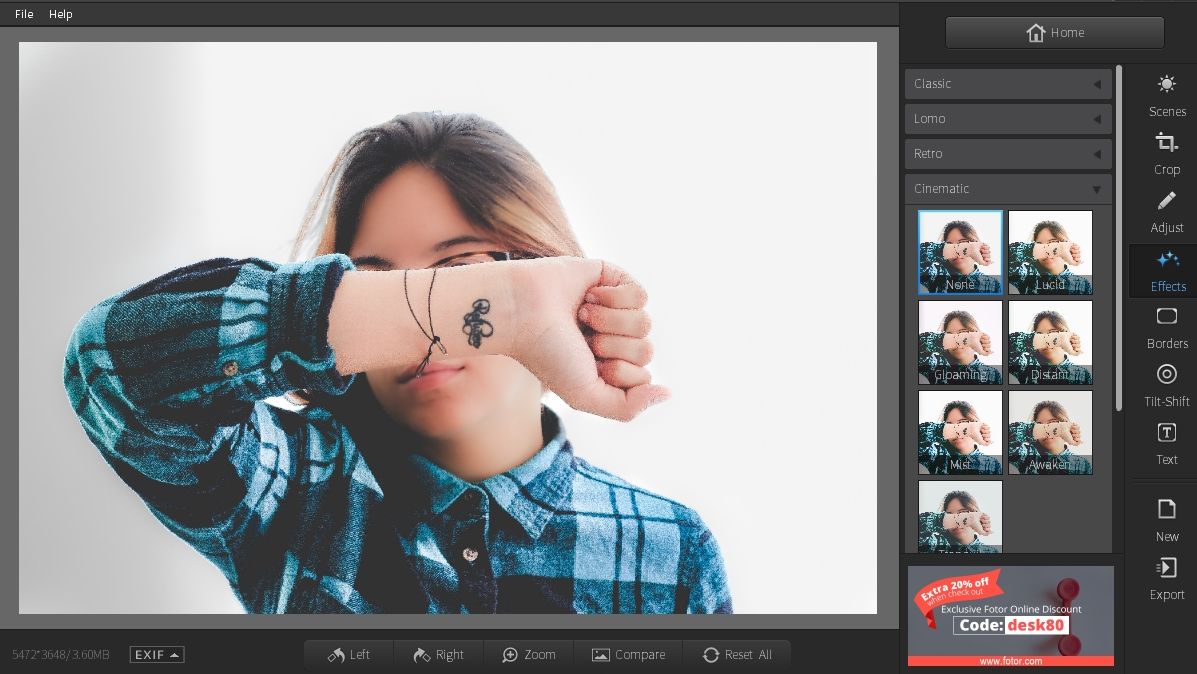 Why is Fotor one of the best Online YouTube Thumbnail Makers?
Another YouTube Thumbnail maker that can steal your heart in one go is Fotor. 
What's Special? 
Just like canva, it allows you to edit a photo, create a design or make a collage effortlessly in a short time span. 
You can enhance your photos, remove the background, create collages, crop and resize images as per your choice, and a lot more in a few clicks. Apart from this, it makes sure that everyone edits photos easily and that is why it offers 100,000+ ready-to-use design templates. 
Also, Fotor has Over 1,000,000 royalty-free stock and high-resolution photos that make your template look unique and awesome. 
Pros:
Allows Crop and resize photos
It can remove Background
Drag and drop feature
Powerful blemish and wrinkle remover
100,000+ design templates and 1,000,000+ HD Stock Photos
Lots of Tutorials and guides including the YouTube Thumbnail design ideas.
Pricing: 
Fotor is a free tool but its premium version, Fotor Pro+ costs US $19.99/Month. It has an annual subscription of US$89.99 Billed Annually as well.
3. Adobe Spark
Why is Adobe Spark one of the best Online YouTube Thumbnail Makers?
You must be familiar with the other apps from Adobe, be it related to pdf or drawing, it has made people's life easier. So, how does its maker not help you in generating the best possible YouTube Thumbnail for your video? 
That is why it has developed Adobe Spark for you. 
Without a surprise, Adobe Spark is one of the best Online YouTube Thumbnail Makers. Not only the thumbnails, but it also allows you to choose from its predefined templates in varying sizes. This means it can be your motivation for the thumbnail ideas if you are lacking them. 
Along with this, you can create your library, or to begin, you can start with its library as well.
Pros:
Can create the thumbnail as well edit videos.
Over 45,000 of predefined templates.
You can customize colors, texts, backgrounds and more. 
Categorised
Varying sizes
Has tutorial for editing the images and adding texts. 
Pricing: 
This is also a free tool but has a lot to offer to you in its premium version. You can get access to its premium version at $100/year.
Also, read How to Download TikTok Videos | Best TikTok Downloader Apps and Tools in 2021
Wrap up: 
That's how you can Download the thumbnail from YouTube. But, You need to be clear as to why you need the thumbnail. 
If you are downloading the thumbnail from your own video, that's fine but if you want to get the thumbnail from another's channel, then you need to think twice! As they might have copyrighted the image. 
This means that if you are downloading the thumbnail for the purpose of analyzing someone's strategy or get familiar with the type of content in that, then no worries! You can go for it! However, if you are thinking of using the same image as theirs for your channel then it's time to get rid of that idea as it can harm your channel's reputation.