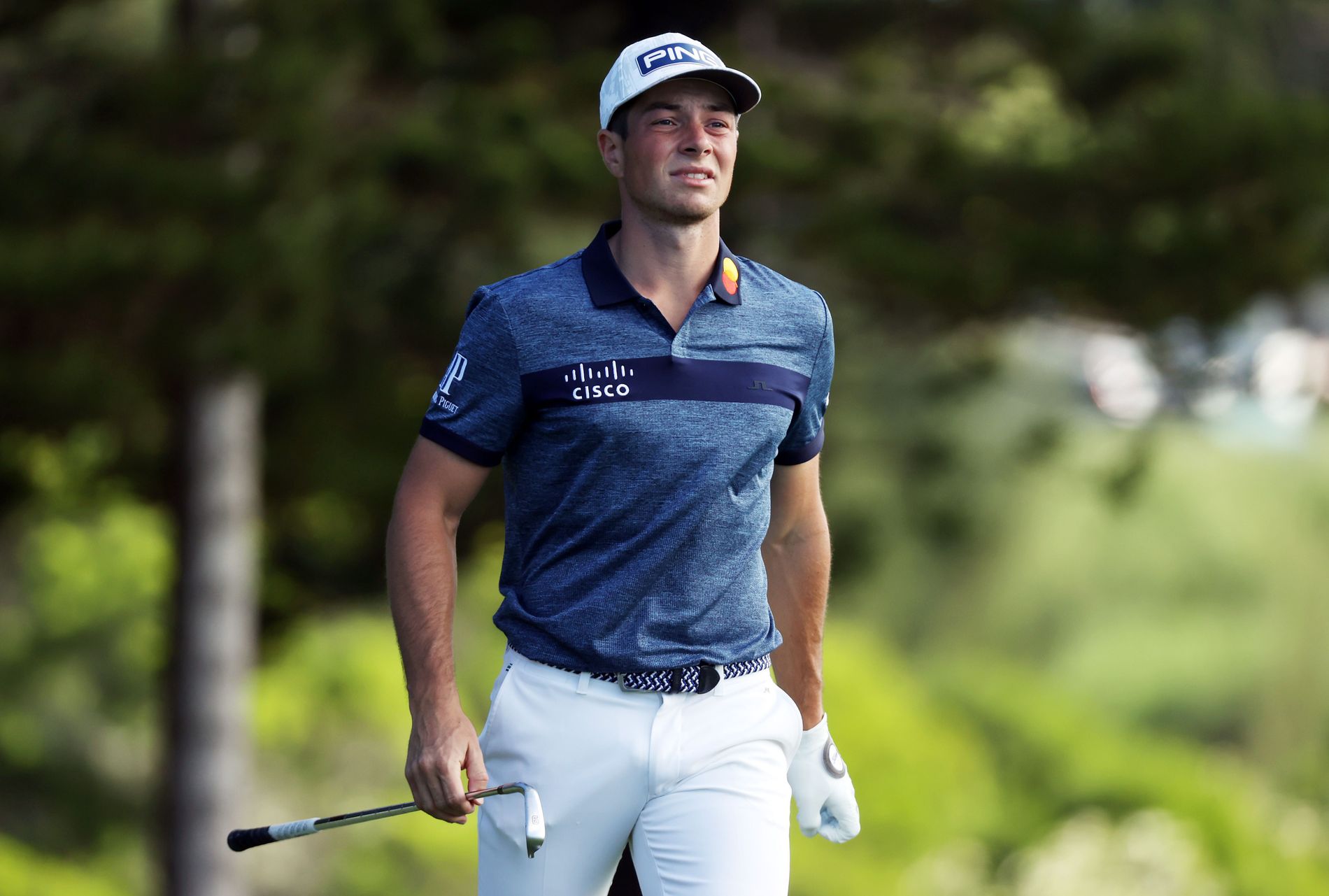 Viktor Hovland (23) leverte nok en solid runde og er oppe på syvendeplass etter tre av fire runder.
Lørdagens runde inneholdt fire birdier, én bogey og resten par for Hovland, som dermed gikk runden på 67 slag, tre slag under par.
Hovland var uheldig med forholdene de to første dagene, men hang likevel med i tetkampen etter to av fire runder, seks slag under par.
Han hadde da fire slag opp til lederne Ryan Fox og Stephen Gallacher og hadde sjansen til å spille seg oppover under mer like forhold lørdag. Med runden på 67 slag rykket han opp fra en delt 14. plass til en delt syvendeplass før søndagens avslutningsrunde.
I tet er det verdensener Dustin Johnson som har fått en luke. Riktignok så ut til å åpne det helt opp etter å ha slått i vannet på hull 13, men med birdie på de to siste hullene, ble det en runde fire slag under par for amerikaneren.
Johnson har med det to slag ned til Victor Perez på annenplass, mens Hovland altså er på en delt syvendeplass, fire slag bak Johnson.
Hovland går ut på den siste runden 8.20 søndag, norsk tid. Turneringen sendes på Vsport Golf.
Les også
Hovland smigret av Ryder Cup-kaptein: – Sykt å se fremgangen min
For å være kvalifisert til en plass på det europeiske Ryder Cup-laget, må man spille minst fire turneringer på europatouren den sesongen Ryder Cup blir avholdt. Det betyr at Hovland må spille ytterligere tre turneringer på Europatouren denne sesongen for å kunne delta. Ryder Cup kan i seg selv telle som én av de fire turneringene.
Flere av verdens beste golfere deltar i den saudiarabiske turneringen. Blant dem er Patrick Reed, som vant foran Hovland på PGA-touren på Torrey Pines forrige helg.
Takk for at du leser BTIkke gå glipp av alle nyheter fra Vestlandets største avis.
Bli abonnent