If you are fed up with your 9 to 5 job routine or do not want to get controlled by a boss, then, what else can be a better choice other than freelancing? Either you are a video editor, manufacturer, or web designer, the freelancing sites ha e much to offer you. Here in this post, we have got the Most beneficial freelancing sites for beginners in 2021.
Freelancing makes you feel like your own boss. Whenever you want to work, get a project! Complete the task! And that's it…. Get your said money. Interesting right? For this, the internet being a savior has got a lot of freelancing sites that can help you to fetch projects all over the globe. But, not all of them are trustworthy. Then???
When work is the concern, it is important for you to go for trusted sites especially for freelancing for the world. Among millions of available websites, the 7 trusted freelancing sites for beginners are:
Upwork
Fiverr
LinkedIn
Guru
Freelancer
Truelancer
PeoplePerHour
But, why will you trust these websites? What is so special about these Are these sites genuine or has got loots? Do you need to share some section of your income with them?
Wait!!!
You will get to know about all this below. Read along the post to know the reason why these sites deserve to be on our list of the Most beneficial freelancing sites for beginners
Freelancing Sites for Beginners
Is freelancing is a difficult job?
Yes, but it seems difficult only for those who do not know how to crack those big freelancing deals. And, for beginners, it can be a little tricky. But not for those who know how to get deals easily all over the globe with few clicks on the freelancing sites.
No matter, if you are looking for a job in writing or as virtual assistance, these sites can fetch the best results for you.
1. Upwork
Why Upwork is one of the Most beneficial freelancing sites for beginners in 2021?
UpWork is one of the best freelancing sites for budding freelancers and those who want to work for themselves especially for people living in America.
Being one of the freelancing giants, it connects employers and employees from all across the world for the conduction of business.
Upwork gives a freelancer access to 100's of clients both nationally and internationally- even helping the freelancer who is at zero levels!
Also, read Professional's Alert: 25 High Demand Future Jobs Options
So, you can choose this platform without a doubt!
What is good about Upwork that it shows you relevant jobs according to your skills and also, you can decide how much you want to be paid. However, Upwork charges 20% itself for every 500 USD you earn as a freelancer.
2. Fiverr
Why Fiverr is one of the Most beneficial freelancing sites for beginners in 2021?
Again, Fiverr is also one of the kings of the freelancing marketplaces.
Connecting Employers to the people willing to freelance their skills and add value to their businesses!
Fiverr offers freelancing for you in more than 300 categories and gets you the project most suitable for you. Also, to expand the reach for and of the talent Fiverr has the whole world in its reach!
If you are a creative head, a graphic designer, a content writer, or whatever possibly, Fiverr will have it for you with the most appropriate bid!
3. LinkedIn
Why LinkedIn is one of the Most beneficial freelancing sites for beginners in 2021?
When the talk is about the professional world, LinkedIn is no joke.
This is actually one of the names on the tip of the tongue of so many professionals.
LinkedIn is your spot to stay up to date with what is happening in the industry and all the inside things for it.
Also, read 200+ Top LinkedIn Hashtags for Job Seekers to Grab the Best Possible Opportunities
LinkedIn has more than 756 million members in the whole world and counting with executives from more than 500 companies. LinkedIn is the world's largest professional network.
So, it can really be your place to properly market your skills and own the game.
LinkedIn is also soon launching its own freelancing space which will be competing with the other freelancing spaces- very strongly!
4. Guru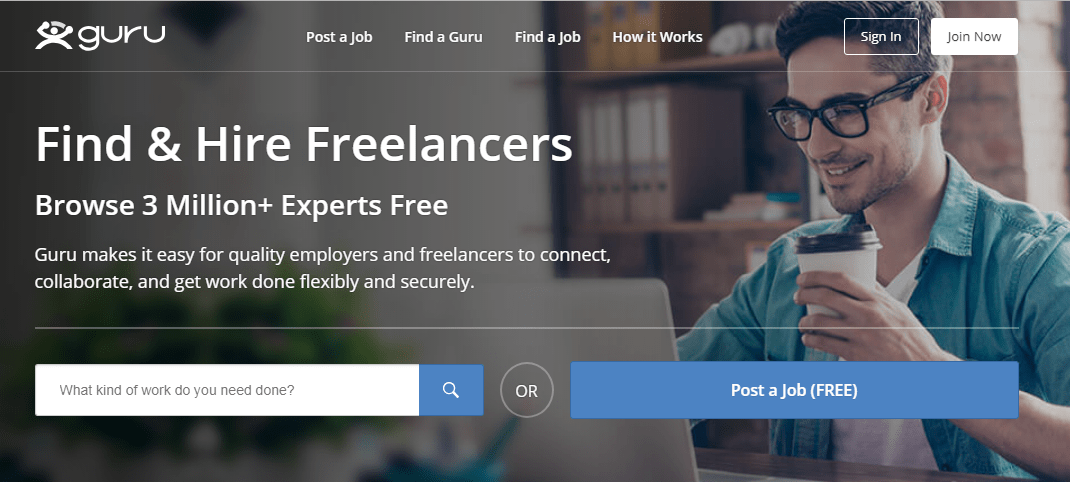 Why Guru is one of the Most beneficial freelancing sites for beginners in 2021?
Guru yet is another freelancing American web platform headquartered in Pittsburg.
Guru is on our list for the best freelancing websites because of the customer satisfaction rate which is high as 99%.
What if you have few doubts?
In case of any queries regarding anything, the dedicated support team of guru will be there for your help- Always a phone call away!
Guru has got specific to all the users of the platform, so as to reduce the risk of spam to its bare minimum and hence protecting the authenticity of this website for beginners.
5. Freelancer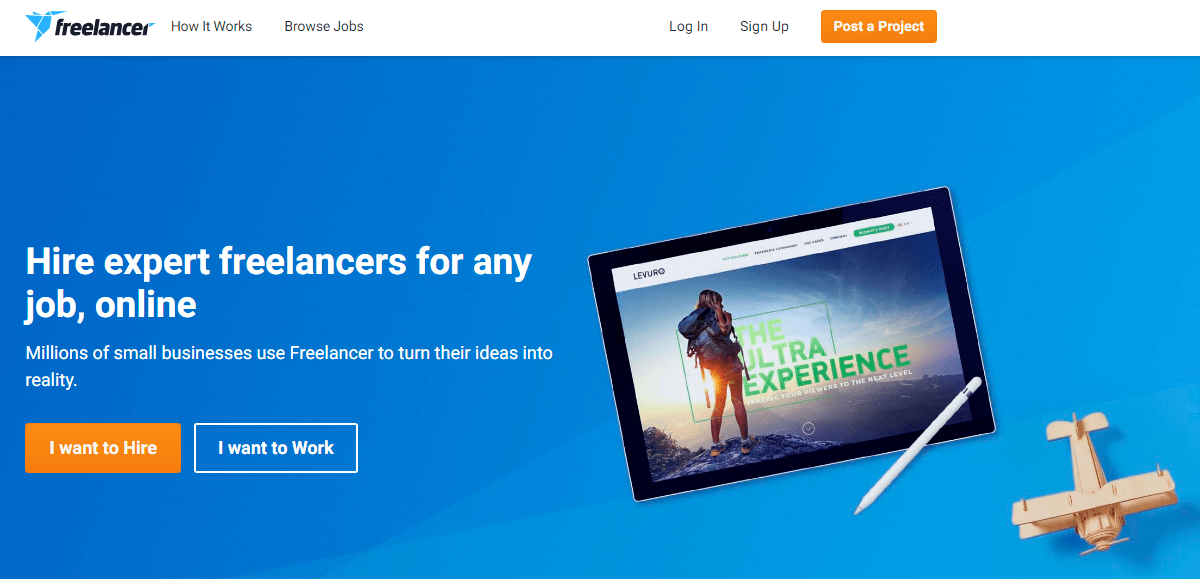 Why Freelancer is one of the Most beneficial freelancing sites for beginners in 2021?
Freelancer is also one of the leading freelancing platforms for beginners. This site is founded in 2009 and has been connecting employers with employees for more than 11 years now.
Creating a portfolio is important for you as a freelancer but what the site does here is making the freelancer post bids for a particular project and hence the most suitable bid gets the job.
You can market your skills properly and get with an easy bit because in the end quality of the work matters a lot.
Also, read 7 Expert Writing Strategies to Improve Communication
Freelancer.com has 27 million registered users worldwide which have posted over 13 million projects and contests to date in over 900 skills to have. The skills vary from each other a lot- website development, logo design, marketing, copywriting, astrophysics, aerospace engineering, and manufacturing.
What is your skill to freelance?
6. Truelancer
Why Truelancer is one of the Most beneficial freelancing sites for beginners in 2021?
Truelancer.com is also one fine spot to freelance your skills. the projects have a huge variety, varying from  IT & Programming, Graphic Design, Content Writing, Data Entry, Finance, and Sales & Marketing.
The platform lets you connect with a client worldwide so that you can get more options to choose from the employers who are looking for skills.
Truelancer is a really good platform to work as a freelancer. Their support is excellent and fast.
7. PeoplePerHour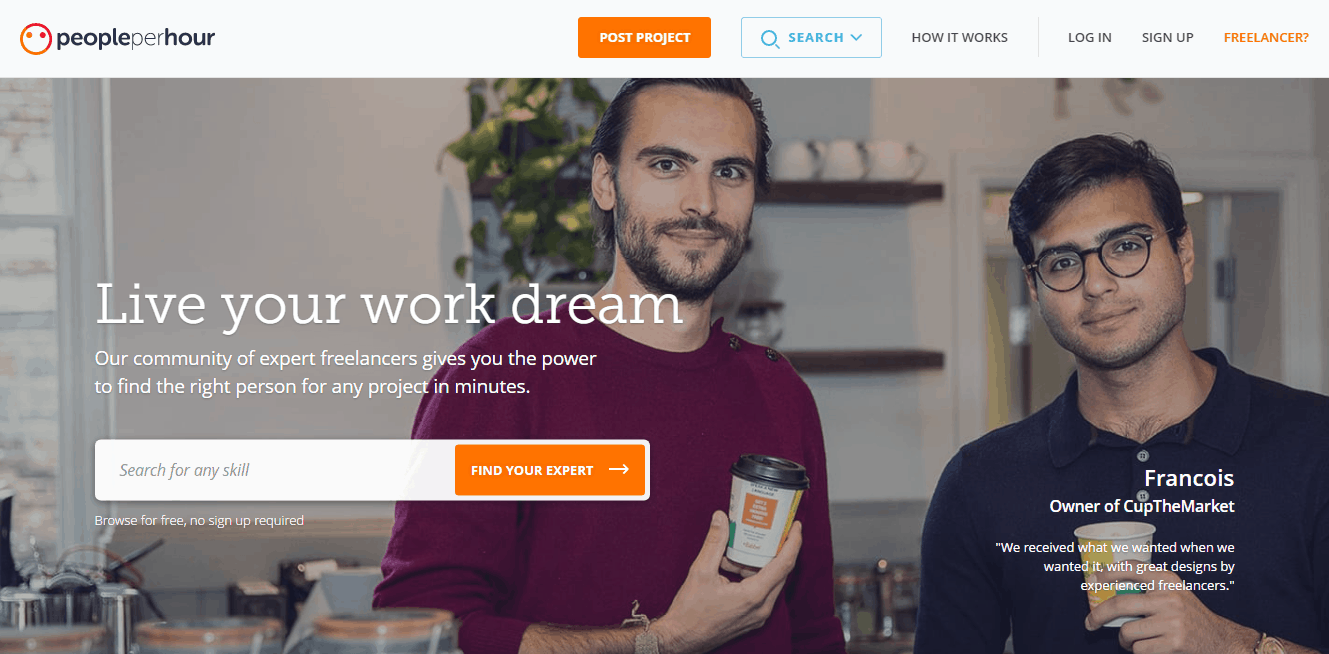 Why PeoplePerHour is one of the Most beneficial freelancing sites for beginners in 2021?
PeoplePerHour is an excellent freelancing spot for freelancers.
PeoplePerHour is a United Kingdom-based freelancing marketplace connecting freelancers with those who are looking for work.
There are two ways by which you complete a task-
You work for an hour
By a project.
There are 15 various categories in which a freelancer can market its skill and get the project.
PeoplePerHour motivates and encourages people worldwide to live their work dream building their business from the ground up and becoming financially and professionally independent.
Sum up:
So, these are the best freelancing sites for beginners. All these freelancing platforms can really be one of the best ways to get rid of the conventional 9 to 5 work routine.
Now time is yours, grab your devices and check for these sites. Who knows, you can get your dream project now? Also, don't forget to tell us in the comments section, which site prooved to be best for you to fetch job.
All the best!