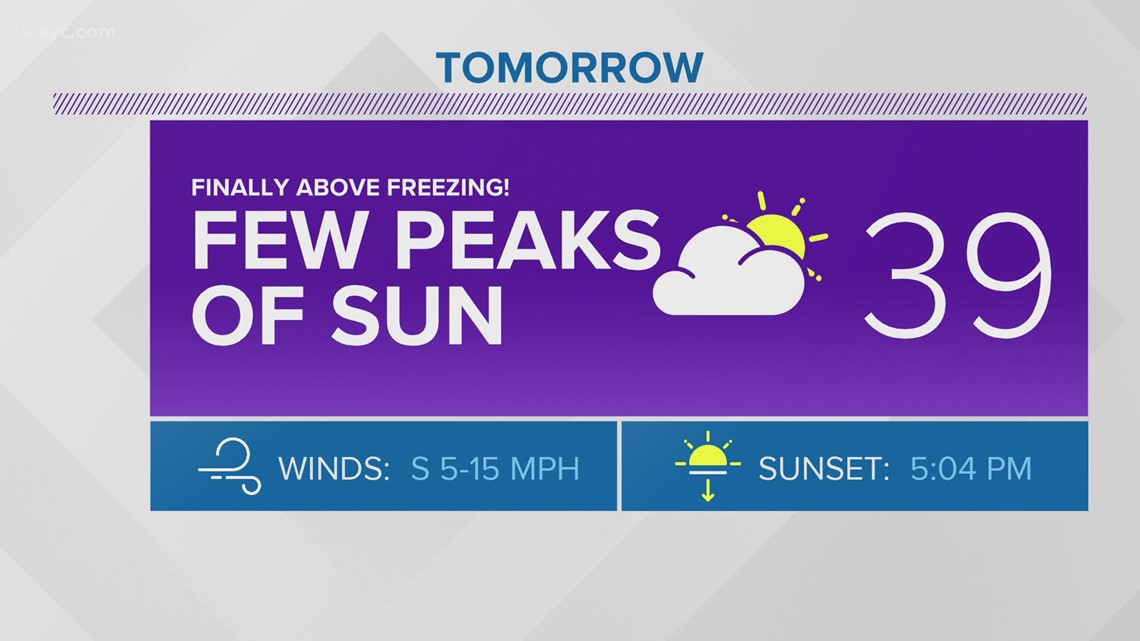 CLEVELAND — The chill is on! More teens are possible tonight. Temperatures are not expected to breach the freezing mark until Sunday as highs will eventually near the 40-degree mark.
Sunday looks quiet with mostly cloudy skies and a few peaks for sun.
Some rain to snow showers are possible Monday as temperatures drop from the upper 30s to low 30s. Minor accumulations may be possible later in the day.
TONIGHT: Stray lake shower east, otherwise mostly cloudy. Teens.
SUNDAY: Mostly cloudy and quiet.  Mid/upper 30s.
MONDAY: Few rain to snow showers. Upper 30s
TUESDAY: Partly cloudy. Near 30. 
WEDNESDAY: Increasing clouds with late day rain. Mild. Mid 40s
THURSDAY:  Rain likely. Breezy and mild. Upper 40s.
FRIDAY:  Few rain to snow showers.  Low 30s
SUBSCRIBE: Get the day's top headlines sent to your inbox each weekday morning with the free 3News to GO! newsletter
—————————————————————————————————
Get more weather from the 3News Weather team of Betsy Kling (@betsykling), Hollie Strano (@holliesmiles), Matt Wintz (@WintzWeather) Jason Frazer (@JasonFrazerTV), and Matt Standridge (@StandridgeWX).
►MORE WEATHER | Get the latest weather headlines, video, photos & more
►FACEBOOK & TWITTER | Follow the weather on Facebook and Twitter
►ENVIRONMENT NEWS | Find out more about the world around us
►EARTH & SPACE NEWS | Learn more about our planet and outer space
►WEATHER FEATURES | Read our weather guides, storm reports & more