It is now around a year and the virus continues bothering our normal lives. All of us are experiencing our own struggles of adapting to lifestyle changes in one way or another. Staying indoors 24/7 and maintaining our sanity, is not an easy task. However, spending quality time with our family is one of the best options for us to compensate for the disruptions, this pandemic has caused in our lives.
So, cheer up a little! Settle down with some popcorn and binge watch these shows. Based on personal watch experience, a little research, and tons of reviews and ratings, here is a list of 10 Netflix family shows for you to watch in 2020 and 2021. 
So, kick off Mr. Boredom :p and spend some nice quality time with the fam. 
Anne With an 'E' – Family Shows on Netflix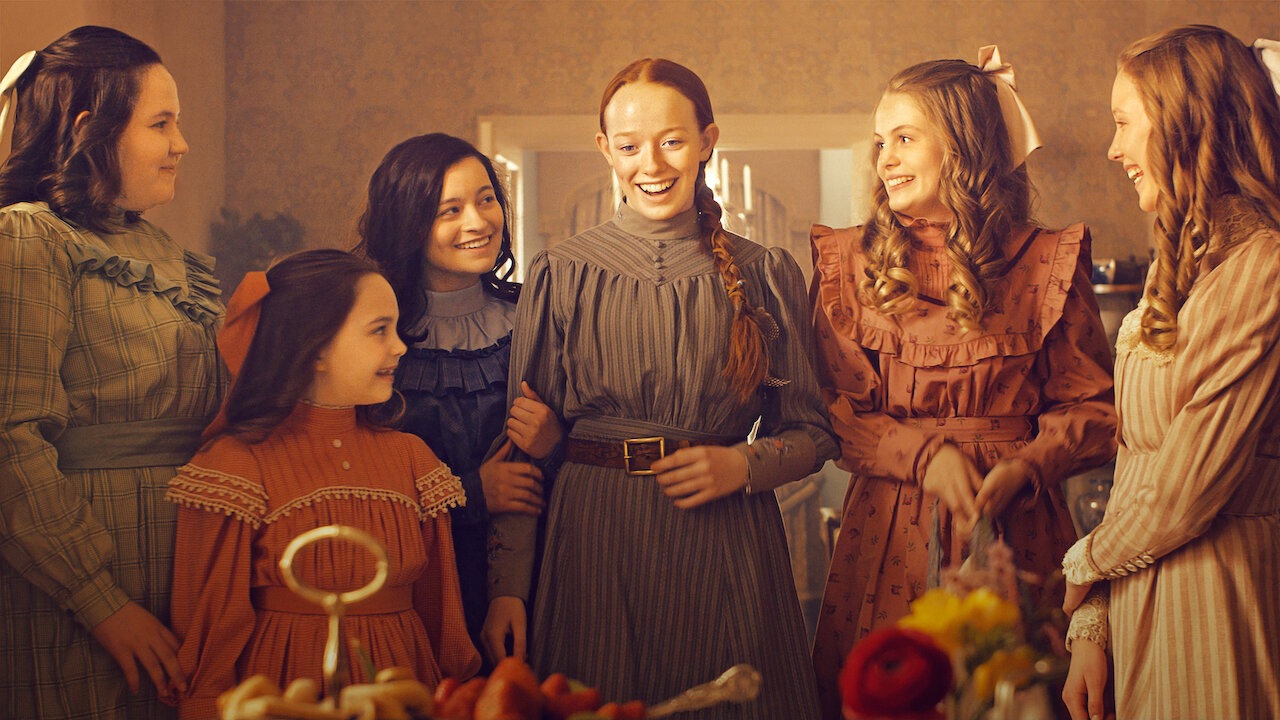 The series is an adaptation of the classic children's literature work, "Anne of Green Gables".
It is a perfect watch for kids as it deals with the ideas of social issues. A lot of things need to be taught to children, starting from the right age. Childhood is not only about fairytales and plush toys. Children need to be told and at least made aware of certain evils happening around us (or happening anywhere in the world). The adventures in the show are amalgamated with timeless issues of inequality, racism, freedom of speech, women empowerment, bullying and much more.
The story revolves around the life of Anne Shirley, a young orphaned girl, set in Prince Edward Island in the 1890s. Anne fights for acceptance and her place in the world, facing all odds and challenges. Her abusive childhood doesn't stop her from growing into a unique spirited and brilliantly imaginative girl. 
Also, the show would definitely appeal to adults, who grew up reading the book series by Canadian author, Lucy Maud Montgnomery. We live in a world where movies and shows have overpowered all sources of entertainment and reading books remain a thing of the past. Thankfully, adaptations offer new generations a medium to keep in touch with classic literatures. 
Brookyln Nine-Nine
The comedy series is set in New York and based on the lives of cops who work together at the fictional 99th Precinct of the NYC Police Department in Brooklyn. Super hilarious with all the jokes and quirky characters the show is a fun watch for an entire family. It stars Andy Samberg, Stephanie Beatriz, Terry Crews, Melissa Fumero, Joe Lo Truglio, Chelsea Peretti, Andre Braugher, Dirk Blocker, Joel McKinnon Miller. 
Also, read Don't Miss Out on These Most Entertaining Movies in the World 2021
Unlike most of the sitcoms, the show doesn't shy away from dealing with sensitive topics along with comedy. With a number of awards and critical appreciation, it remains one of the most loved shows on television. With Netflix, it is available to stream in over 30 countries around the world. 
The Great British Baking Show – Family Shows on Netflix
Reality competition among amateur bakers, working on their best bakes in the hopes to become the UK's best. For people who love watching food shows, this one is a great option. 
After watching the mouth watering episodes, you might attempt to bake your own dishes inspired by their recipes. 
Never Have I Ever
It is a comedy drama series centering on the life of Devi (played by Maitreyi Ramakrishnan), an Indian American high school student. It explores Devi's relationships and friendships after she has lost her father.
She is messy, she is strong, she is witty and she is super cool. 
A certain love triangle starts developing between Devi, Paxton and Ben after the first few episodes. Plus, Devi's relationship with her mother, Nalini, cousin Kamala who lives with them, and her best friends, Fabiola and Elanor with all silly fights and love makes the show a light hearted and fun watch. The show is also first of its kind, based on the life of an Indian family living in America.
One Day at a Time – Family Shows on Netflix
The American sitcom starring Justina Machado, Todd Grinnell, Isabella Gomez "One Day at a Time" follows the life of three generations of the Cuban American family living together. The show is about families and friends who become family.
Check out Best Marvel Movies of all Times Till 2021 That You Must Watch
One amazing aspect of the show is the three generations of strong women around whom the show is centered. Relatable characters and heart touching scenes are enough to make us smile throughout. 
Frozen Planet 
"Frozen Planet" is a spectacular documentary series focusing on our planet's natural wonders, the Arctic and Antarctic regions. You can add this to your list of must watch shows, and explore the beauty and wonders of the mysterious world we live in.
Gilmore Girls
The show follows three generations and thus involves a lot of themes you can relate to. Family members of all ages can find interest in different areas like parenting, school pressures, family relations and adulthood.  The quick-witted comic dialogues and characters with amazing personalities will make you laugh throughout and inspire in one way or another. 
Also, read 10 Movies with Best Plot Twist Endings That you Must Watch
The Big Family Cooking Showdown
A candid and unscripted show where families passionate about food and cooking serve their best dishes and compete for the chance to become Britain's best home cooks. 
Brain Child
The show claims to blow your mind with interactive games, experiments, illusions and magic. They use science for explaining facts and situations from our daily life and ideas beyond. 
Masha and the Bear
Created by Oleg Kuzovkov, "Masha and the Bear" is a Russian British animated series. The show is super delightful, based on the adventures of naughty little Masha and her best friend, who is a Bear. Hyperactive Masha is always troubling other animals and herself with all her crazy activities, but the lovely bear always protects her like a fatherly figure. 
Also, read Check Out The Best Action-Comedy Movies On Netflix in 2021
Last Kids on Earth
Another children's animation show based on a book series by Max Brallier.  The show centers around a foster child named Jack who finds himself abandoned in an animated apocalypse. He builds a team of classmates to fight zombies and monsters. Jack and his friends live in a tree hideout, play videogames and fight zombies! A hilarious adventure filled with monsters, mid school kids and quests. 
You vs. Wild
Super famous survival expert, Bear Grylls continues entertaining with his weirdest survival tricks in the harshest climates and landscapes around the world. 
This one is a perfect go to show, when you wish to take a break from sitcoms, children's shows and cooking competitions. 
The show might unleash the inner survivor and motivate us to get out of our bed and stop being a lazy ass (even if it's just a five minute visit to the fridge).