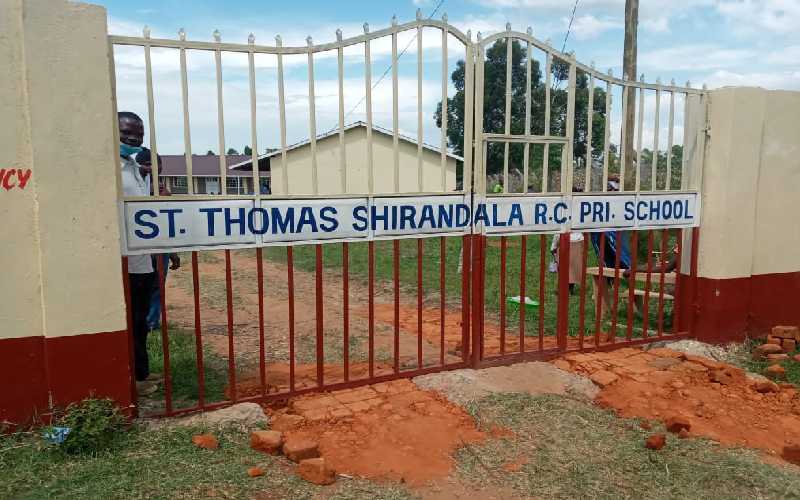 The government has opened Shirandala Primary School in Butula constituency, Busia County for community use.
Its opening comes as a sigh of relief to pupils who have been covering an average of five kilometres to access the nearest primary schools.
Speaking on Saturday during the commissioning of the Sh155m electricity in the area, area MP Joseph Oyula asked parents to take children to the new school immediately.
 "I heard the pleas of the parents and gave it an utmost priority, I am glad that finally, the school is ready for occupancy by our pupils," said Oyula.
He continued," Let there be no excuse from anybody that pupils are at home because all schools are far away from this region, admission of the new students has started."
The Teachers Service Commission (TSC) has already posted teachers in the school. Parents welcomed the opening of the school with joy.
Locals had petitioned the Butula Constituency Development Funds (CDF) three years ago to put up a school in the area to save their children from trekking many kilometres to for education.
The learners missed school during rainy seasons due to flooding of the rivers they crossed daily.
The children were forced to cross River Namaderema to reach Mauko and Makwara primary schools as others went to Buhuyi which are kilometres away from the area.
Dennis Juma, a parent, recalled how his third-born son nearly drowned in 2018 while crossing River Namaderema to reach Mauko primary.
The river was flooded as it had remained at night. The boy was rescued by a local who was farming near the river that morning.
"My son was in class four then, the river was flooded but because he wanted to attend to the lesson he decided to cross the river that was flooded," said Juma.
"He was carried by the water as he tried to cross the river, luckily he was saved by a man who was farming besides the river," he added.