We weten wat je denkt: bietenrisotto, is dat nou zo spannend? Dat hadden we zelf ook. Rode bieten zijn sowieso een ingrediënt waar niet iedereen warm voor loopt. Maar wij wilden eens experimenteren met het maken van een risotto met een lekker lichtroze kleurtje. We voegden er romige Burrata aan toe en de intense, zoete smaak van gepofte kerstomaten. Het werd een risotto waar we onze borden bij aflikten.
Eigenlijk is deze bietenrisotto best romantisch geworden: de lichtroze kleur, die decadente, sexy Burrata en de mooie gepofte kerstomaatjes aan de tak. Leuk om te serveren met Valentijnsdag of tijdens een intiem etentje. Sowieso win je gelijk iemands hart als je 'm risotto voor durft te zetten.
Wij gebruikten voor deze bietenrisotto mini Burratine: dat zijn kleine eenpersoonsbolletjes Burrata. Hoe geniaal dat die bestaan! Maar je kunt ook gewoon een grote bol Burrata in stukken scheuren en die verdelen. Da's natuurlijk net zo lekker.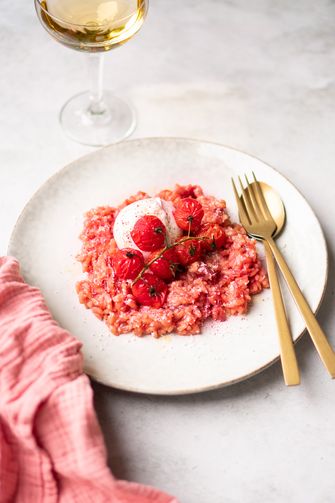 Bietenrisotto met Burrata
Verwarm de oven voor op 220 graden. Leg de tomaatjes in een ovenschaal met de takjes en al. Bestrooi met zout en peper en sprenkel er wat olijfolie overheen. Pof de tomaatjes in 15 tot 20 minuten in de warme oven.
Fruit ondertussen de ui en knoflook op laag vuur in een laagje olijfolie tot ze mooi zacht zijn; ongeveer 8 minuten.
Zet in een andere pan de bouillon op, en houd warm op heel laag vuur.
Doe de rijst bij de uien en laat de rijstkorrels bakken tot ze glazig zijn (als parels). Blus af met de wijn.
Zodra de wijn is verdampt, kun je de bouillon in etappes gaan toevoegen. Voeg steeds twee grote soeplepels bouillon toe aan de rijst en roer regelmatig. Het duurt ongeveer 20 tot 30 minuten om de risotto te garen. Voeg 5 minuten voor einde de geraspte rode bieten toe.
Merk je dat de rijst nog niet gaar is en is de bouillon al wel op? Maak nog een beetje extra bouillon of voeg gewoon gekookt water toe.
Zodra de risottorijst gaar is, zet je het vuur uit. Leg een grote klont boter op de risotto, leg een deksel op de pan en laat 10 minuten staan. Roer daarna goed door, proef en breng op smaak met zout en peper.
Serveer de roze bietenrisotto met een stuk van de Burrata erbovenop, wat van de gepofte kerstomaatjes en eventueel wat blaadjes basilicum. Druppel er nog wat olijfolie overheen en maak af met geraspte Parmezaanse kaas.
Goed: en zie hier nu maar eens níét je bord bij af te likken.