Deciding on a tattoo design is a tough job. You need to see if it will look good on you or not. What if you can see how it will look on your body? It will be amazing right? Yes, this is possible! But how? Eager to know about it? If that's a yes, then here is a post on the best tattoo design apps for iOS in 2021.
Removing a tattoo is much more painful than getting one. So, you need to be careful with your artist and your design as well. Thankfully there are a lot of tattoo designing apps available on the internet. These apps can help you in choosing the best design for yourself before you commit to a design. Also, you can judge its size.
Among a lot of apps, there are only a few apps that can be considered as the best tattoo design apps for iOS. These are:
Inksquad
Tattoo Fonts
TattooDo
Skin Motion
Inkhunter
Tattoo Stencil
Tattoo Spot
Adobe Illustrator Draw- AOB
What is so special about these apps? Why are only these apps the best? What are their features? Is it free or does it cost money? Hang on and dive deep to know about these apps in detail below.
Best Tattoo Design Apps For iOS
Tattoos can make you look cool, but this doesn't mean that you can have any tattoo on your body. It must suit you and your body shape. Also, the size of the tattoos can create a significant difference. So, avoid these problems, here are the best tattoo design apps for iOS that you can use:
1. Inksquad
Why is Inksquad one of the best Tattoo design apps for iOS?
Looking for the best tattoo design apps for iOS?
Inksquad is your savior.
Being new on the Apple Store, it has already created a cult for tattoo lovers. The app also gives you access to connect directly to a tattoo artist so that you can book your appointment with them and get INKED!
What's more?
You are free to find the tattoo artist of your needs, the style of tattoo that you want, as well as your body part, so you can have an idea of how the tattoo looks on you.
The app is super easy to use, has a simple and neat user interface with a huge amount of tattoo images!
The app is supported in only two languages nowadays. The languages being, English and Italian. This makes it more convenient to use. 
Also, read 6 Least Painful Places To Get A Tattoo On The Body | Guide For First-Timers
2. Tattoo Fonts
Why is Tattoo Fonts one of the best Tattoo design apps for iOS?
Are you in need of a written tattoo that is super close to your heart, and worried about how it might look on you?
Here is your aid: Tattoo Fonts.
Have you already figured out what quote you want as a tattoo? But what about the font, style, and design?
Tattoo Font is your app to know about all these in a few taps. All you have to do is to choose the font you are thinking about and write your word/quote. The app will definitely give you a clear idea of how your quote is going to look in a particular font.
The good and bad thing being, sometimes there are too many options to choose from and that's really confusing. Well, in case that happens to you, choose and sort out your favorite ones and segregate until you are left with your dream font!
Ah! A lot of ads alert!
3. TattooDo
Why is TattooDo one of the best Tattoo design apps for iOS?
This app has a lot to give.
A giant gallery with a lot of designs to choose from.
The app is already categorized and already divided into different styles.
When you are done choosing your design, the app will also give you the address to the nearest tattoo parlor so that you can get it done before you change your mind!
The app also has access to the world's most famous tattoo artists and makes you familiar with their jaw-dropping portfolios.
Do you know what makes this app even more interesting?
If you are a tattoo enthusiast, then, this app lets you follow and even subscribe to your favorite tattoo artist.
The Instagram of tattoo enthusiasts? Yes, exactly!
4. Skin Motion
Why is Skin Motion one of the best Tattoo design apps for iOS?
Skin Motion is the app for you if you are a music and a tattoo lover.
The tattoos are made in the form of sound waves.
Oooh, interesting!
If you like this kind of unique and different tattoo design idea, you can give it a try with an open heart and have a soundwave with you for the rest of your life.
Well, this is… unique.
If you want to see how it will come out to be and how it is going to look on you, then all you have to do is to just upload the part of your body there and let it draw on that part.
See how it turned out to be?
If you liked how it will look on you, then you probably should find the location of the nearest tattoo artist and get it done!
Also, read Is Tattoo Bad? Is Tattoo A Sin? Harmful Health Effects of Tattoos in 2021
5. Inkhunter
Why is Inkhunter one of the best Tattoo design apps for iOS?
If you are in search of popularity and positive reviews, then Ink Hunter is the place to be.
The app is so reliable that it is used by some tattoo artists. They use the app so that they can help their clients to have a clearer idea of what their tattoo is going to look like.
Why this app is used widely is because it can easily give you a real-time analysis of what the tattoo is accurately going to look like on the client.
All you have to do is just choose a tattoo or sketch or you can also upload your own, and try it on the part of your body where you want it.
See for yourself if the tattoo you thought wouldn't look so great, actually looks.
How to use it?
Bring the part of your body in front of the camera where you want the tattoo to be, apply the tattoo design, and you're done!
This is all you have to do! Now see it from different angles and watch how it looks.
6. Tattoo Stencil
Why is Tattoo Stencil one of the best Tattoo design apps for iOS?
Have you ever used a regular stencil?
You know… just so that you can curate the perfect alphabet?
This is somehow like that.
The app, developed by Pony Lawson, also has a paid version.
The app allows the artists to create stencils of the tattoo they are going to ink so right there on their phone.
The perfect application for the artists who travel a lot and have guest spots!
7. Tattoo Spot
Why is Tattoo Spot one of the best Tattoo design apps for iOS?
Tattoo Spot is one of the top tattoos design apps for iOS.
It is basically a tattoo design game that provides you an option so that you can manage all your tattoos on your own.
The app has also listed plenty of free designs so that you can color and create the tattoos of your choice.
What makes the app elite?
The app is available in six different languages including English, French, German, Spanish, Portuguese, and Italian.
8. Adobe Illustrator Draw- AOB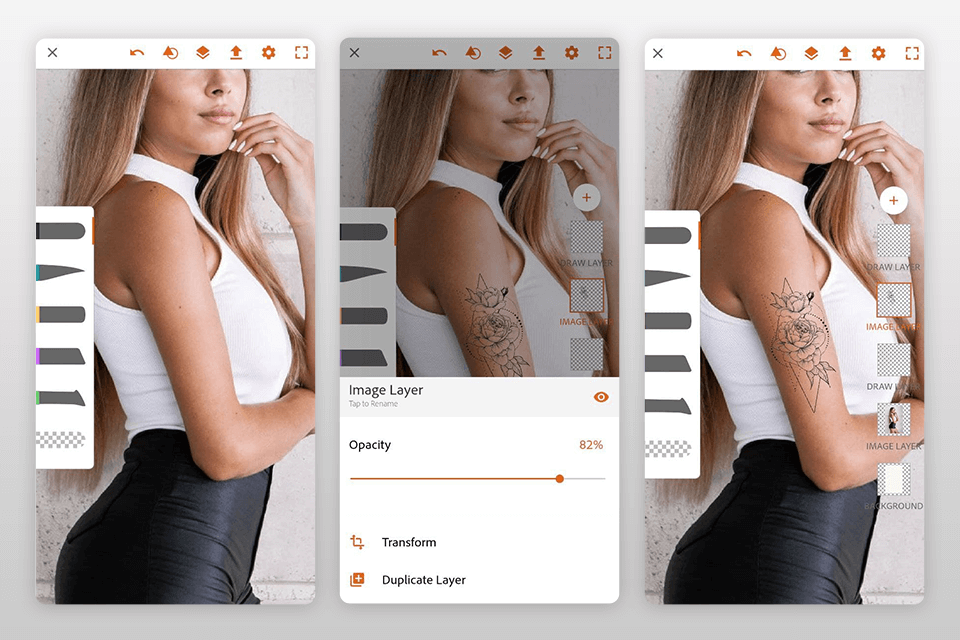 Why is Adobe Illustrator Draw- AOB one of the best Tattoo design apps for iOS?
Taking out the ace in the last. Adobe Illustrator Draw is the perfect app for your tattoo design. You can use this to draw pretty much all kinds of tattoos.
What does the app feature?
It has layers, up to 64 times zooming capacity, and a lot of majestic drawing tools.
In a world where people look for ideas already engraved on someone's body, bring out your artistic side using Adobe Illustrator Draw and get the tattoo inked that you designed for yourself.
Also, read Why Are Lip Tattoos Dangerous For You? 4 Reasons To Drop The Lip Tattooing Idea
A fact that is hidden to none, ace doesn't come for free. Similarly, Adobe Illustrator Draw is not a free application. The app has itself held with Adobe's Creative Cloud suite that ranges up to $52.99 per month. But, most of the apps are free. So, congratulations!
The bottom line:
So, these are the Best Tattoo Design Apps For iOS. All these apps are creative and easy to use. In my personal opinion, Inkhunter and the Inksquad are the best among these mentioned apps. These apps make a lot of things easier for the user.
Now it's your turn, try these apps and bring on your creative ideas before committing to a tattoo design.