Tattoos look trendy and it's cool to have one. But what if you are unsure about the design of the tattoo? Also, how would you know whether it will look good on you or not? Ah!! It's such a hassle! But not now! As there are many tattoo design apps that can help you out in planning the design. Want to know about them? If yes, then here is a post about the Best Tattoo Design Apps For Android.
Well, getting a tattoo is a process full of pain. It involves the insertion of indelible ink into the skin by inserting needles multiple times, which is quite painful! You might also know that it is not easy to remove the tattoo, so you need to be sure with your design. But how? 
Luckily, there are Tattoo design apps for Android that can do wonders by helping you plan your tattoo's design. From choosing the right tattoo design to previewing it on any part of the body, it has become a matter of ease with these Tattoo design apps. All you need to do is upload a picture of your body, add a tattoo design, and see how it looks.
But what are these apps? What about the features? Are they free? Hang on! Below you will find the answers to all these queries. So, read along to know about them in detail.
Tattoo Design Apps For Android
Tattoos have become an integral part of the millennial culture. They look super cool and make you look trendy! 
You might have searched the internet to find the trending tattoo designs, but sadly, these trending designs might lead to an irreplaceable disaster sometimes!
They might not look good on you, or the size can be too big for you!
So, You need to plan the design of your tattoo keeping in mind a lot of criteria.
Yes, you are thinking right! This is such hectic work. But, you need not worry as the best Tattoo Design apps for Android are developed to help you out.
These Best Tattoo Design Apps For Android are:
1. Tattoo Designs
Why is Tattoo Designs one of the best Tattoo Design Apps For Android?
If we are talking about apps for basic yet best tattoo designs on android, Tattoo Designs is the app to go. It is affordable and super easy to use.
Tattoo Designs has all the basic tattoo designs, including words you might like, skulls, cards, and other popular tattoo designs that most people sign up for.
There are categories you can surf through to find your favorite design, and you're all set to go.
Also, read Why Are Lip Tattoos Dangerous For You? 4 Reasons To Drop The Lip Tattooing Idea
2. Tattoo Maker
Why is Tattoo Maker one of the best Tattoo Design Apps For Android?
Tattoo Maker is a tattoo designing app that even lets you edit your design and add text.
The app is just a simple gallery of sketches. You can upload your designs and edit them here. Also, you can save them as drafts for further edits.
What's more?
Well, You can also use a pre-existing image and modify it in your way- make it yours!
This is your key to an exceptional tattoo design.
What is the cherry on the cake?
Excitingly, you don't even have to sign in or anything when you install this app. Just install, and you're all set to create the tattoo of your dreams!
Easy to use, light design, and graceful.
3. Jhaiho
Why is Jhaiho one of the best Tattoo Design Apps For Android?
Jhaiho is one of the most creative tattoo designs that provide you with so many different sorts of tattoo designs right there on your cell phone through the google play store.
The app is free to use but doesn't feel like it with its exciting features on the go. You get high-resolution images with awesome tattoos here.
There is a piece of good news as well!
Jhaiho is not a gender-biased app. What does this mean?
This means that it has designs for both- guys and girls. The app also allows you to save your creations in your gallery for easy access.
So, what are you waiting for? Choose from your favorite designs, color them and get them inked now!
4. Tattoo My Photo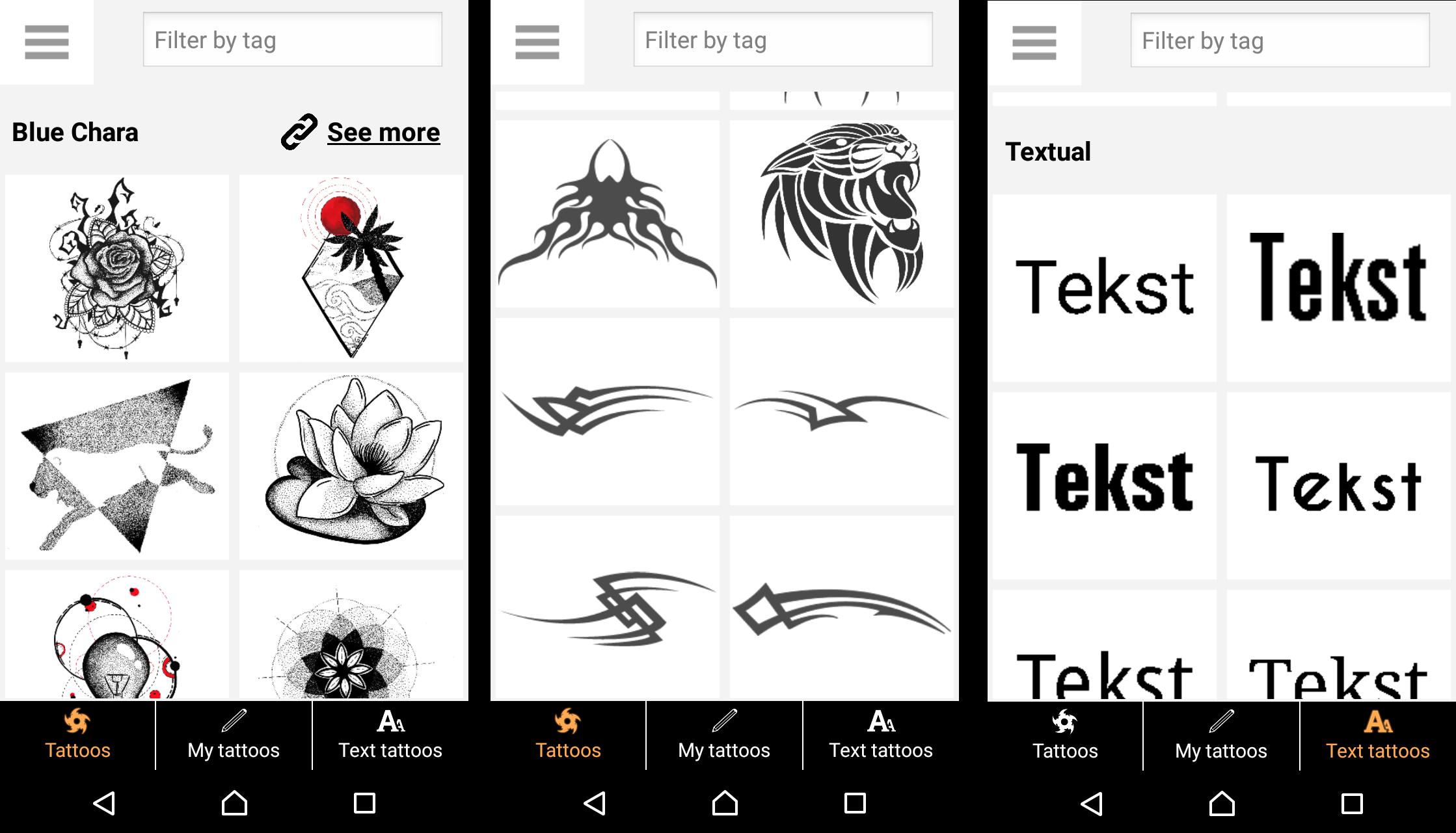 Why is Tattoo My Photo one of the best Tattoo Design Apps For Android?
With Tattoo My Photo, let your imagination dance freely in the rain with so many tattoo designs.
The app is easy to use with a very sleek interface that lets you create the tattoo of your dreams. Create, modify, edit, and so whatever you want from Tattoo My Photo.
What more can you do?
Once when you are done with the tattoo of your choice, upload your photo and get a preview of how it looks.
You can also pull a prank on your friends by sending them an image of yours with the tattoo on.
Let the game begin!
Also, read 6 Least Painful Places To Get A Tattoo On The Body | Guide For First-Timers
5. Tattoo Font Designer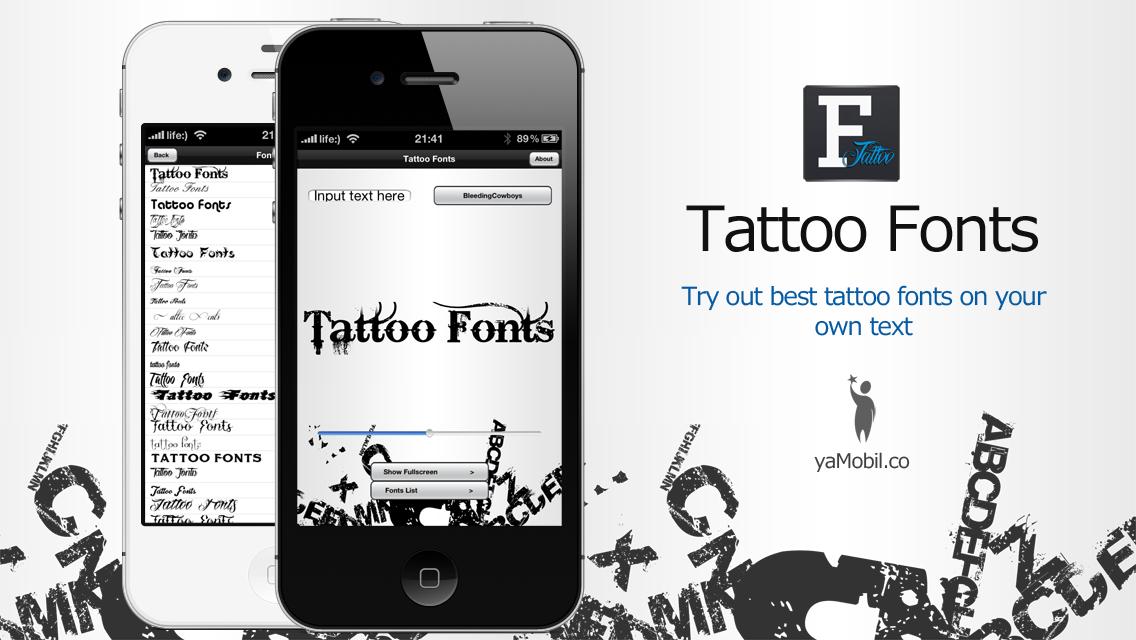 Why is Tattoo Font Designer one of the best Tattoo Design Apps For Android?
No clickbait alerts!
Tattoo Font Designer is just what the name says it is.
The app helps you design the tattoo font that you want for yourself. This already has a selection of different and so many fonts.
Going to the bottom of this app, it is a mere calligraphy application.
But isn't it so obvious that "tattoo" is just another name for calligraphy?
Calligraphy is just another name for it!
The app has both free and paid versions, and both are pretty functional, setting apart the few ads that pop up in the free version of the application.
6. Tattoo Master
Why is Tattoo Master one of the best Tattoo Design Apps For Android?
This app is quite a blend of a coloring application and a tattoo designing application.
The app has quite a lot of designs that are not reasonably expected in free apps.
All you have to do is to choose a design, color, or modify it however you want, and you're all set! Use it when you finally want it inked on you!
Isn't it quite remarkable?
To keep in mind, the app is not a professional application that you can use to draw a neat tattoo. However, you can use it to have a significant idea of the kind of tattoo you want.
7. +3500 Tattoo Designs
Why is +3500 Tattoo Designs one of the best Tattoo Design Apps For Android?
If you wonder how a particular tattoo will look on you or what kind of tattoo you should get, despite being a girl or a boy, +3500 Tattoo Designs is the app you're looking for before getting your tattoo engraved.
The images and ideas in the app are primarily real tattoos by other people. This helps you get a clear idea of how the tattoo is going to look on you.
Couples can have their pair of matching tattoos and be bonded for life!
8. Adobe Illustrator Draw
Why is Adobe Illustrator Draw one of the best Tattoo Designs Apps for Android?
Adobe Illustrator Draw is the perfect app for your tattoo design. You can use this to draw pretty much all kinds of tattoos.
What does the app feature?
It has layers, up to 64 times zooming capacity, and a lot of majestic drawing tools.
In a world where people look for ideas already engraved on someone's body, bring out your artistic side using Adobe Illustrator Draw and get the tattoo inked that you designed for yourself.
A fact that is hidden to none, ace doesn't come for free. Similarly, Adobe Illustrator Draw is not a free application. The app has itself held with Adobe's Creative Cloud suite that ranges up to $52.99 per month. But, most of the apps are free. So, congratulations!
Also, read Is Tattoo Bad? Is Tattoo A Sin? Harmful Health Effects of Tattoos in 2021
Wrap up:
So, if you are ready to bear the pain and want to have a tattoo, then all these Best Tattoo Design apps for Androids will help you out.
All these apps are tried and stood true to their features. You can customize the size and position of the tattoo image in minutes with these apps. In my personal opinion, the best among these mentioned apps are the Adobe Illustrator Draw and the Tattoo Designs.
But, we have to hear from you in the comment section as to which is your favorite among these apps and if this post was helpful or not?
Your suggestions matter to us.