Washington D.C, the capital of United States of America is very much a college town.  Having most of the prestigious colleges in the world, Washington D.C is keen on expanding the higher education scene in a city that already boasts a robust network of home-grown campuses.
Here is a list of few Medical Colleges in Washington D.c that the city holds with pride:
Howard College of Medicine
Howard College of Medicine was established in 1868 as an academic division of Howard University.
It takes pride in its long and illustrious history of training students to become compassionate and competent physician leaders, who provide health care to medically underserved communities.
This medical college strives hard to prepare its students in delivering patient care to the communities that have a shortage of physicians and public health professions, along with providing them excellent research training opportunities and educational facilities.
In order to get through this college, one needs to be highly compassionate and determined about nailing it with top scores, which means the preparation to seek an admission in Howard College should begin at school level only in any student's life.
Also, read Top Business Schools in Washington D.C
The college offers various courses in medicine such as the Doctor of Medicine (MD), Ph.D., and the MPH.
The college aims at improving health care through training programs, by discovering knowledge through research and supporting education and training of healthcare providers, postgraduate physicians and graduate students in biomedical sciences. 
The college requires minimum of 3.25 science GPA and an overall GPA of 3.5 and a strong score in MCAT. The college along with academic performance of a student also seeks to examine his/her overall personality. Due to the growing academic competition, the universities seeks to take students who have skills, knowledge and critical thinking capabilities, so as to draw valid conclusions from the observations made.
George Washington University School of Medicine and Health Sciences – Medical Schools in Washington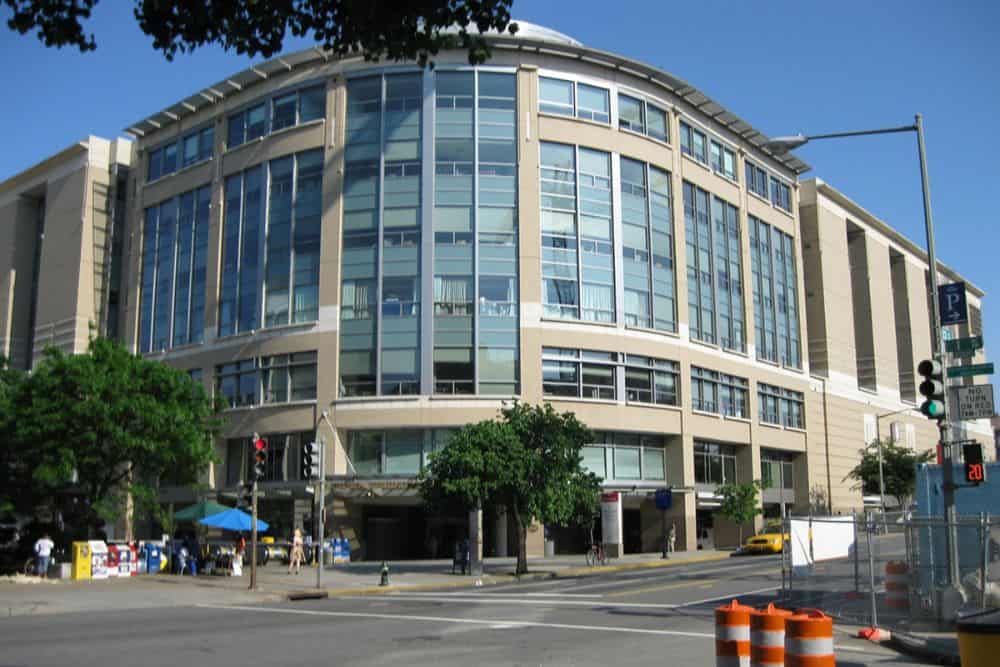 George Washington University School of Medicine was established about 196 years ago, in 1824.
It is a professional medical school of the George Washington University in Washington D.C. George Washington University of Medicine and Health Sciences is striving hard to improve the health of the people who are in need of a better health.
It is one of the most selective medical schools in the United States, based on the number of applicants.
It offers a variety of programs such as the M.D. Program, Physical Therapy program, and the Physician Assistant program. This school has maintained various research centres and institutes, including The Dr. Cyrus and Myrtle Katzen Cancer Research Centre, The Rodham Institute, Washington Institute of Surgical Endoscopy and any other notable hospitals.  
Also, read 10 Best Economics Schools In Washington DC 2021
It seeks to promote healing through innovation and compassionate care, and providing education to a diverse workforce for the future generation physician leaders in medicine, science, and health sciences. It promotes culture of excellence through inclusion, service and devotion.
As a prestigious medical college and globally recognized academic medical centre, George Washington University School of Medicine and Health Sciences embraces the challenge of eliminating health disparities and transforming health care to improve lives of the people who are in need.
Georgetown University School of Medicine
Georgetown University School of Medicine was established in 1851 and is located on Reservoir Road in the Georgetown neighbourhood of Washington D.C. 
It claims to train medical students within the domains of knowledge, skills and values. It strives hard to impart the best education possible in the entire region and tries to inculcate certain values and attitudes needed towards serving the society.
This medical school is committed to bring out and utilize the maximum potential of its students, thereby indulging them in various research and extra curriculum, thereby making them not just the best future physicians but also good human beings.
All the curriculum modules, courses, research etc. are designed solely to make the best future generation physicians, giving them the chance to explore their skills and knowledge.
This medical school is committed to evaluate the health care system and identify the strategies to improve the organization, financing and delivering safe and effective health care.
The school offers various dual degrees including MD/Ph.D., MD/MPH, MD/MALS, MD/MS and many other. They aim at taking the best candidates into their program and giving them experience and trainings which are necessary to make a difference in the society. 
The students are advised to check the college prospectus for further course related information.