Either you want a full-time dedicated job from home or want to earn extra pennies to build a secondary source of income, this post has got all these benefits for you. The post is all about the Best Freelancing Jobs for Beginners.
Freelance services have always been in demand and there is no doubt that they can make anything happen. That is why there are several opportunities knocking at the doorsteps for freelancers on the various beneficial freelancing sites on the internet. But, the truth is it is not that easy for new job seekers! Yes, that is true!
Then? What to do? Should you drop the ideas? NO!!! NOT AT ALL!!!
If you aim to beat your experienced competitors, all you need is good skills, sheer dedication, and an eagle's mind to judge which job suits you the best. The easiest Freelancing Jobs for Beginners to choose in 2021 are:
Writing
Graphic Design
Web Development
App Development
Consulting
Video Production
Animation
Audio production
Virtual assistance
Data Analyst
Website Critique
Travel planner
Private tutor
But, what do these terms mean? What kind of job these are? Are these restricted to a particular field? What are the minimum criteria to gain huge money? Do you need any additional work experience? Yes, there are a lot of other similar questions that must be popping out of your head.
But need not worry.
Below is a detailed description of these jobs and positions in different segments to crack the desired job.
Freelancing Jobs for Beginners
Beginning with freelancing is not going to be an easy choice. It might feel irritated to see other people getting hands-on with your desired project. But, in later terms, it will be as easy as making a hot sip of coffee.
Wait!! I am not kidding!
If you are skillful and can work online from home, then the best jobs for you are mentioned below. Read along to know in detail about these freelancing jobs for beginners.
1. Writing
Writing???
This seems simple!
Right?
But it is not that easy as it seems in the job world. Whether you are an experienced writer or a -new one, this is going to bother you always.
New ideas! Better choice of words! correct information! The right piece of content and a lot of other important factors to keep into consideration. And if you know how to do this with ease, then the best freelancing jobs for you are:
Article Writer
Blog Writer
eBook Writer
Fiction Writer
Web Content Writer 
Copywriter
Writing Translator
Press Release Writer
Ghost Writer
Legal Writer
Resume & Cover Letter Writer
Product Description Writer
Transcription Writer
Technical Writer
Guest Writer
Academic Writing
Editor
Proofreader
Requirements for the job:
You need to have a Bachelor's degree in creative writing, journalism, communication studies, or an adjacent field and Excellent communication and time management skills.
Also, read 7 Expert Writing Strategies to Improve Communication
2. Graphic Design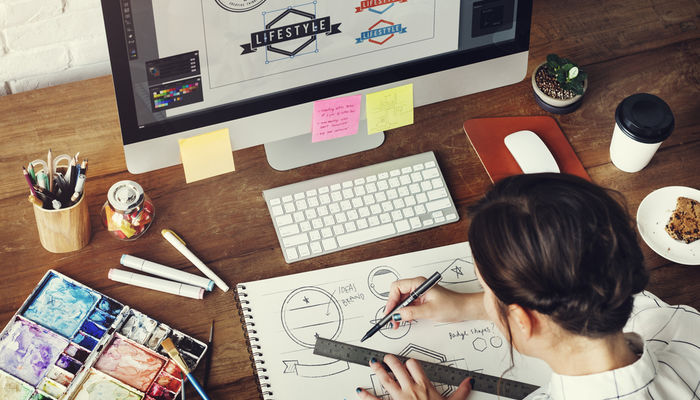 Graphic design- sounds so easy!
Right?
Yes, it is easy when learned right.
What is graphic designing anyway?
Here is the answer- Graphic designing is when the designer combines signs, symbols, typography, visual art, and page layout techniques to convey a message to the audience.
Graphic designing, in simple words, is the art of visual communications and conveying the message to different social groups and communities- one of the best skills to freelance!
The best freelancing jobs for beginners in this criteria are:
Logo Designer
Photoshop Editor
Website Mockup Designer
Photo Editor
Photo Retouching
Graphic/Poster Designer
Icon Design
Book Cover Designer
T-Shirt Designer
Infographic Designer
CAD Designer
Vector Designer
Cartoon Artist
Banner/Ad Designer
Wedding Album Designer
Sketch Artist
Digital Artist
Vector Illustrator
Print Designer
Concept Artist
Oil Painter
Flyer Designer
Brochure Designer
Requirements for the job:
To fetch the job of a freelancer in graphic designing, you need to hold a Bachelor's degree in graphic design or a related field. You can have an upper edge if you have demonstrable graphic design skills with a strong portfolio. Also, you need to know how to use publishing and editing tools like Photoshop, Illustrator, and InDesign Quark.
3. Web Development
As the digital industry grows, Web development is coming up as one of the most profitable skills to freelance.
If you have got the mind and know how to develop a website on the internet, this can be your perfect shot at freelancing this amazing skill.
There is immense scope in web development- but you must really know your work. You can:
Front-End Designer
Back-End Developer
UX / UI Designer
Plugin Developer
WordPress Expert
Web Font Designer
Bug Fixing
Server Administrator
Website Builder
Requirements for the job:
If you are planning to be a Web designer, a Bachelor's degree might help but a certification in the same or any similar thing can boost your chances. Also, you need to know about the programming languages that include JavaScript, HTML, Python, etc. Also, you know how to operate Web design software like Adobe Dreamweaver and WordPress.
Also, read OMG! Top Earning Bloggers of the World Earns More Than $1,000,000/ Month in 2021
App Development
Got a head for tech and know how to develop apps but don't know how?
App development is the thing for you to flex and freelance!
App development is basically developing a mobile app for mobile devices- build your own personal assistant or build an app just like your client wants when you start freelancing this rare and great skill into the FREELANCING WORLD!
For the students interested in this field, the great freelancing jobs for you as a beginner are:
App UI Designer
App Developer
Game Developer
Requirements for the job:
Just like the web developer, you need to have a control on the programming languages like HTML, Java Script, etc and there is no such role of a degree.
Consulting
Are you good at advice? Have you been giving your valuable advice for free to the people who did not even ask for it?
Well, say no more!
Consulting is a skill you can use and even get paid for! So, stop giving advice for free.
you must really be an expert in the subject of consultancy or it really is going to be a disaster so make sure you consult the people only on the matters that you are an expert in.
The best freelancing jobs for beginners in this criteria are:
Financial Advisor
Legal Consultant
SEO Consultant
Health Advisor
Parenting Advisor
Fitness Advisor
Career Advisor
Requirements for the job:
The job requirement completely depends on your niche of expertise.
Video Production
Are you the one person always seen with a camera and making dope and aesthetic videos? Well, now stop doing it for free and start freelancing this skill of yours.
With the boom in YouTube and other video apps over the past few years, the video producers have really come in demand!
So, stop making that video for free and freelance your skill and earn bucks too- even as a beginner.
The best freelancing jobs for beginners in this criteria are:
Intro Videos
Explainer Videos
Video Testimonials
Stop-Motion Videos
Video Animator
Social Media Video Creator
YouTube Video Editor
Requirements for the job:
A bachelor's degree in film and mass media production is the basic requirement. In addition to this, you need to have a huge knowledge of graphics and video motion production along with 3D filming, video editing, and playback codecs. A better understanding of using Video editing software like Photoshop, Adobe Premiere, etc.
Animation
Oh! This one is mu favourite in the list!
I mean, who would not like those little cartoons to come into life? I sure would love to see that happening.
Good thing for you, the animation is one of the most paid freelancing skills ever! It is rare in the industry and also, there is an obtuse need for it!
So, if you know how to animate and still not doing anything about it, you really are missing in on a lot! A LOT!
The best freelancing jobs for beginners in this criteria are:
Explainer Video Animation
3D Model Designer
Requirements for the job:
If you are obsessed with animation and want to fetch a job in this, you need to have a bachelor's degree in animation. Also, you should know how to handle the animation tools, should have an edge in character building/ drawing.
Also, read Best YouTube Channels to learn Animation
Audio production
Audio production is when audio is recorded and is made to sound a certain way.
Yes, audio production and music production are two different things however often confused with one another.
Anyways, let's not get mixed with the terms, audio production is also a very marketable skill and if you start with freelancing your audio production skills, you could very easily land a project in no time!
The best freelancing jobs for beginners in this criteria are:
Virtual Assistant
Data Entry
Marketing Strategist
Social Media Manager
Live Chat Agent
Recruiting Agent
Customer Support Representative
Zendesk Consultant
Technical Assistant
Bookkeeper
Project Manager
Requirements for the job:
You need to have a bachelor's degree in Audio Engineering.
Virtual assistance
Virtual assistance is one of the most trending freelance skills ever. They never go out of the trend.
If you have got the nut to keep people under control, well congratulations for you because now you can even get paid for it.
It is basically keeping an administrative check in the client.
Requirements for the job:
You need to have a hold on word-processing software and spreadsheets٫ particularly MS Office.
Data Analyst
if you are good at the following things-
Inspecting, cleansing, transforming and modeling data with the goal of discovering useful information, informing conclusions, and supporting decision-making, The skill to freelance with the post of a data analyst is the perfect skill for you to go and freelance with.
Requirements for the job:
For this job, you need to have knowledge and skills in Excel, SQL, analytical mindset, business acumen, mathematics, statistics, domain expertise, and data visualization.
Website Critique
Have you got an edge for design and can easily point out the mistakes a website has made, there is a job for that and now you can criticize people for the mistakes they have made and even get paid, Website Critique– DREAM JOB OF MANY!
Requirements for the job:
A Website Critique should know Website Designing, Business Analysis, and Business Coaching.
Travel Planner
Remember that world tour you planned with your friends that didn't happen, well now you have the chance as a travel planner to make it happen for someone else.
This job is for you to do if you are dang good at planning things and never miss out on any minor and major detail!
Requirements for the job:
You need to Bachelor's degree in travel, tourism, or an equivalent.
Private Tutor
Super witty and intelligent? An excellent teacher?
Well, now you can put your mind at work and be someone's private tutor. Teach your student your favorite subject and even make bucks doing what you love!
Not everyone gets to do that my friend!
Nutshell,
So these are the 100+ freelancing jobs for beginners. All these jobs have good income packages.
Now time is yours, grab your devices and check for these jobs. Who knows, you can get your dream project now? Also, don't forget to tell us in the comments section, which job proved to be best for you.