AFL 2021 LIVE updates: North Melbourne loses two players to injury as Walker kicks two goals for Crows
We're sorry, this service is currently unavailable. Please try again later.
Loading
QT: Adelaide 5.2 (32) to North Melbourne 2.2 (14)
Adelaide's Tex Walker has two goals and North Melbourne have lost two players to injury in a wild start to their clash at Marvel Stadium today.
The Crows lead by 18 points at quarter-time and more worrying for the Roos is they have lost key players Luke McDonald (pectoral muscle) and Cameron Zurhar (head knock) for the day with medical sub Lachie Young taking over for McDonald.
Walker kicked two goals in the opening minute and his teammates could be even further ahead if they can knuckle down in defence.
Seedsman kicks truly for Crows
Paul Seedsman has extended the lead for the Crows running into an open goal and rolling his kick over the line.
The Crows look deadly when they get running with the footy.
Crows up 32-13 with 90 seconds until QT.
Crows face injury concern
Crows youngster Will Hamill is being assessed after a head knock with medical sub David Mackay now stretching up.
Very heavy body count to open today's game with two men down and Lachie Young already on field for the Roos.
Stephenson fires for Roos, Zurhar out
The Roos are taking hits from all sides so far today but they are fighting on.
Jaidyn Stephenson has come up with a hard ball on the edge of the goal square and snapped it for a goal.
Zurhar is officially out of the game as well. That's two down for North.
Crows lead 24-13 wtih five minutes until QT.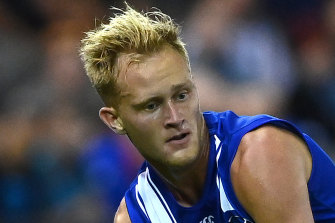 McDonald out for Roos, Crows go further ahead
Updated: Roos star Cameron Zurhar has gone down with a potential head knock and been taken from the ground for treatment while Luke McDonald is off seeking treatment for a pectoral injury.
Fox Footy reports Zurhar is expected to be ruled out of the game while McDonald has been ruled out meaning Roos medical sub Lachie Young is coming into the game.
Darcy Fogarty has kicked another goal for the Crows who lead 24-7 with seven minutes left in Q1.
Crows forward Lachlan Murphy was kicking for goal and his shot fell short allowing Crows ruckman Reilly O'Brien to mark it on the goal line.
The Roos defence paid no attention to him and he was able to turn and boot it through with no one stopping him.
That one will hurt.
Crows up 18-7 with eight minutes left in Q1.
Roos forward Nick Larkey has given his team a huge boost chasing down a Crows opponent to earn a holding the ball free-kick and then going back and kicking the goal.
Larkey is seen as the team's future key forward but he's been switched around a lot this season. He has made a great start today.
Crows lead 12-7 with 10 mins left in Q1.
Fans making outlandish predictions for Tex Walker
Oh no! Tex Walker has again earned a free kick after he was interfered with while attempting a mark.
He went back again and kicked it through the middle from the right side of the forward 50.
Roos full-back Ben McKay looks furious at how quickly the ball is coming into the forward line.
Crows up 12-0 with 17 mins left in Q1.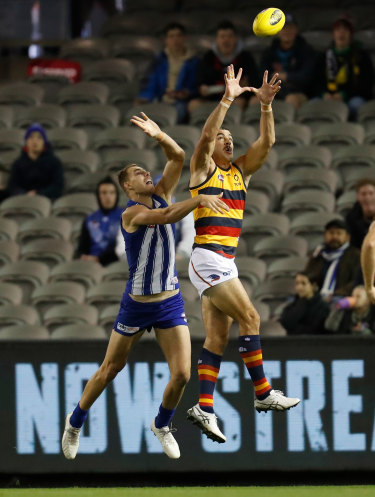 Walker gets an early look at goal
Taylor "Tex" Walker has already earned a free kick after a North player was caught holding the ball.
Walker kicks it through the middle. He has 18 from three games and two minutes!
North fans will be praying this isn't the start of another big bag from an opposition forward.
Crows up 6-0 18 mins to go in Q1.